Kristy Thirsk's first official solo album Souvenir is released in March 2004. "Run Away" will be released as a single in February with accompanying video to support the album release. The album comes on the heels of a Delerium tour to promote Chimera and an extensive long distance commute between the singer's home in Vancouver and Los Angeles, California, where she worked with producer Eric Rosse on the project.
Thirsk is known for her work with Juno Award-winning Rose Chronicles as well as the best selling Delerium albums that featured her vocal work. Our first interview with the singer was shortly after the Balligomingo album Beneath The Surface was released. The indepth discussion exposed many of the previously unwritten stories about the project and delved into Kristy's first decade of recording history. Kristy joins the elite group of Musical Discoveries featured artists in January 2004. At this writing she is the only artist to have her own digest page, embracing her entire recorded output to date, in the publication.

Kristy Thirsk and Shelley Harland
Pillofite Sessions - Vancouver - November 2003

We received our copy of Souvenir just as the 2003 Delerium tour came to a conclusion and began planning our latest interview with Kristy. In the run up to the article, Kristy initially suggested that we interview with her and Delerium singing partner Shelley Harland together. They were working on new material in Vancouver at the time. Kristy told us, "It's just been a busy time. Shelley is here and we are trying to make the best of our time together as she is back home on Saturday. I think I will have to do the interview without her as she is working with a few people here and when we have time together we are ususally writing." Excited to learn more, we reviewed both of Harland's albums--Salt Box Lane--and did the interview with Shelley on her own.
This article includes another in-depth Kristy Thirsk interview. Read about the making of Souvenir and the people involved in every aspect of the project. Kristy also talks about her recent Delerium tour, working with Shelley Harland and her hopes and dreams for the future. Our album review concludes the article. Follow the links listed in the title block above to further reviews of Kristy Thirsk's work at Musical Discoveries.
Interview
Musical Discoveries: How about we begin by you telling us about some of the high points in making your new album.
| | |
| --- | --- |
| | photograph by Johann Wall 2003 |
Kristy Thirsk: Well, after a year of trips back and forth from Los Angeles to work with producer Eric Rosse, who has worked with Tori Amos, Lisa Marie Presley and Nash Kato, my album Souvenir is finally finished! It was a crazy year and of course when I paid for the costs of the record in American funds it was when the Canadian dollar was at it's all time historic lOW. Now--months later--it is at an historic high. Anyway, maybe this will make the Karma Gods will smile on me and repay me in a big big way.
So, what can you say about the final result?
I think the way souvenir turned out is wonderful. I am very pleased and it definately captures a time in my life--though it was not the easiest thing to make it all come together.
Nothing in life worth bragging about is usually easy though. The main reason it was a little more difficult to pull off was of course, not only the limited budget, but also Eric was working on the Lisa Marie record at the same time and had to try to slot me in when he could. Of course, her budget was much different than mine, so I understand why it had to be the way it was.
How did you deal with the competition for Eric Rosse's time and artistic attention?
I actually started to find it quite humourous and start to challenge her to mud wrestling matches and pony tail pullings on the internet and in interviews. Even though, I am most certain she had no idea what was happening outside her world. And why should she? She's got enough money to make the rest of the world dissappear if she wants--OK, it's just a little dig, but it's all in good fun (laughs).
Anyhow, by Eric working on Lisa's album it allowed him to do mine for the budget that I could come up with at the time, so I really am thankful to her and Eric. Mostly Eric.
So tell us a bit about the making of the album.
The first trip down to Los Angeles we had roughs of the songs done. Eric had a drummer that he really liked, Jimmy Paxson, who come in and he did all of the drums for the record. He is really a fantastic drummer. He comes up with such unconventional stuff for the most part and I liked that alot. Also, he was hiliarious and made the whole week really fun!
Well, after driving to Los Angeles with Johnny, who played bass and guitar on my album and whom I love and cherish, Lisa Marie reared her head so we had to leave. I think we left the day before Christmas Eve. What a hell of a drive back that was! Johnny does not have a drivers license so I ended up driving the whole way there and back--sometimes squished between two semi trucks in a blizzard! Anyway, we made it obviously.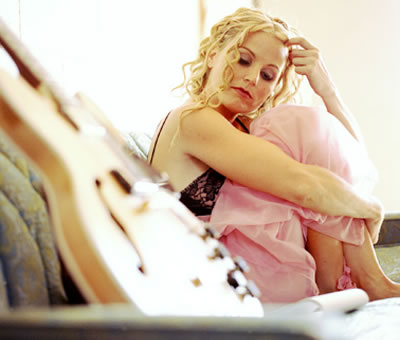 photograph by Johann Wall 2003

And you returned to put the bass and guitars down. Tell us about the cello.
A few months later Johnny I were back in Los Angeles to do some guitars and bass. This time we flew and rented most of the amps and other gear when we got there. During these sessions we put down all of the guitars and bass. Eric also brought in this amazing cello player named Cameron Stone to put cello down on "Indifference," "Hollywood" and "Souvenir." After he heard "Run Away," he wanted to play on that one too, but we had run out of money for that part of the budget. Maybe someday he'll get to play on a remix or something? That might be cool.
Is there any particular experience that stands out as most memorable?
We thought we were done with the guitars and all the music and then one day I was just sitting in the studio while Eric was twiddling knobs on the console --ya know, doing that producer kind of thing--and I started playing this chord progression, just out of boredom and Eric spun around in his chair like a mad scientist and said, "What's that?, It is classic, we have to record it!"
Next thing I know he's wheeling a chair into the control room setting up a mike and I am recording--while I am still writing--this song. Anyway, that song is "At the Border." That is just one of the stories about my whole experience with recording with Eric that I like to tell, because it is that excitement and knowledge of a good thing that I love about him and working with him.
So we got all of the music done that trip and a few months later I was back to record vocals. Then a couple of months after that we mixed it in Los Angeles So all in all it took the better part of a year, but I feel it was well worth the wait.
| | |
| --- | --- |
| photograph by Johann Wall 2003 | |
Who did the new photographs?
When we had the whole album finally in the can, so to speak, I started thinking about album artwork. My friend Shauna, who works at Nettwerk Management and basically manages Avril Lavigne, had suggested this new photographer named Johann Wall (website), who had done some shots for Avril that she really liked. So Johann and I had a meeting and figured out a concept and then made it all happen.
I really think the photos turned out beautifully. He is really into capturing candid moments and he would not let me pose for anything. The album artwork is supposed to basically depict that I am on a journey--on the road, then by the car, with my guitar, then in a motel room, then leaving the motel with my suitcase. The word "Souvenir" was to explain that all of the songs on this album were written at different times over the course of musical career, starting from Rose Chronicles days, and I wanted the album artowrk to depict that same kind of "capturing" of moments in time. (acknowledgement)
How would you say the finished product varied from your initial vision?
I think that the result was pretty much what I had expected. I knew alot about Eric's production and was expecting nothing less than something with excellent production and feeling. I feel that the material on Souvenir is like a roller coaster ride--sometimes up , sometimes down, makes you feel like laughing, crying and screaming all at different times.
What did you draw on for the inspiration for the music?
I drew on alot of different things for inspiration for the songs on Souvenir. First of all the reason I named it Souvenir was because the songs were written over an extended period of time, some of them dating back to when I was still in the Rose Chronicles. We thought that Souvenir would be a fitting title for the CD due to the fact that each song was like a souvenir from a time or circumstance over the last ten years or so.
Most of the inspiration was from my own feelings regarding relationships, friendships, depression, but some were based on how I was feeling about the state of the world we now live in and are bringing children into--that of course was a big source of the depression songs I wrote.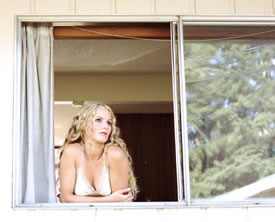 photograph by Johann Wall 2003

What was it like to work with Eric Rosse?
Well, working with Eric was amazing. He is a really creative person and such a kind, warm soul, and very open and willing to try anything. We got along wonderfully and had alot of laughs. I started working with Eric a few years ago when my manager got in touch with him because we thought we had an investor for my album and the investor wanted us to get a reputable American producer.
So we found Eric and he loved my voice and the songs we sent him. Initially we thought we wouldn't have any problem paying him and it was all set to go. But then the investor dissapeared and we had to tell Eric the bad news. Fortunatley though, Eric still wanted to work something out so I went out to Los Angelese a couple of times over the course of a few months for some writing sessions with Eric and just to see if we jelled together.
We both became very excited about the prospect of doing a record together so I cashed in my life savings and borrowed some more from friends. Eric and I worked something out. After that was all set, we started in on the recording, but soon after that Eric was offered the Lisa Marie Presley record and, since he was doing my album for a cut rate, he had to take that project as priority. So I ended up working around her schedule alot, which is why it took awhile to get finished. I am very pleased with the result.
How did you launch and promote the album?
After we had the album mixed and mastered, I did a photoshoot for the CD and finished the artwork. I got 1,000 pressed so that I could sell them on the Delerium tour which went out in September. The response of fans on the Delerium tour was just amazing. They were so excited and I ended up selling 20 to 30 a night sometimes.
When I returned home I inked a distribution deal with Maple/Universal for Canada and started to sell CDs on their website. I was up to the #1 seller about a week after they were available and have remained in the top ten since then without doing any promotion so far.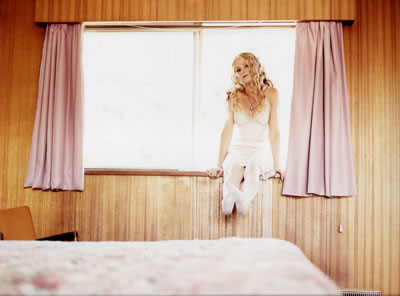 photograph by Johann Wall 2003

My official cd release date for Canada is at the end of January. I will be doing press, promotion, a single and video. And hopefully and, most likely, some touring. So hopefully that should translate to some sales. As far as the United States, I am waiting to see about a label who wanted to sign me there, but were waiting to see what their year looked like in January. So I'll keep you posted.
Several of the tracks have been in your repertoire for some time. How would you say they developed in the Souvenir production?
We had to look at the album as a whole and with the help of a professional ear, like Eric's, the songs did develop to make them sound like they all belonged on the same record.
How was the recent tour with Delerium? Did you sing Sarah McLachlan's hit "Silence?"
I loved performing on the Delerium tour. I got to put away my guitar and just be a stage Diva. The reaction of the fans was amazing for every performer on the stage.
I did not sing "Silence," and personally I was happy about that. It is a great song, but I would have been a bit nervous about trying to fill Sarah's shoes. However Shelley Harland, who was the other Delerium singer on the tour, did a fantastic job too.
How were you introduced to Rhys Fulber and Bill Leeb?
I was originally introduced to Bill and Rhys by Mark Jowett, A & R at Nettwerk Records, when I was in the Rose Chronicles. They were looking for some vocals for their first Nettwerk release and Mark suggested me. They came and saw me sing with Rose Chronicles and the rest is history.
| | |
| --- | --- |
| photograph by Johann Wall 2003 | |
What else have you been involved with over the past couple of years?
I have mainly been writing, performing and touring in the last few years. I did do a song and performed in the score for a movie called Kissed (review) that got rave reviews in Canada and at alot of film festivals. I keep working with Delerium. But mostly I have been working toward where I am now--ready to release my debut full length solo album!
If you had to pick the single musical artist that has had the biggest influence on you, who would it be?
Probably my father. I grew up in very musical family. My dad played sax in a gospel group called the Royal Heirs--they were actually signed to Virgin at one point--and there were always rehearsals at the house, tours, shows at churches and other events. My mom would sometimes accompany them on piano. But my dad was the one with the musical dream and I think I was infected by his love for music.
You've indicated that you and Shelley Harland get along quite well and that you are preparing a "side project." What might it sound like?
We don't really have a pre-conception about what Pillofite is going to sound like. Shelley just came to Vancouver last month and we wrote a bunch of really great songs and right now we are just getting them put together as demos so we can see if we can get some support for the project. But what we want to to do is write more and go from there. I am trying to figure out a way to get out to New York for the next writing session. Basically imaginine us singing together on most of the songs. I think it will be "brill" as Shelley would say. You'll just have to wait and see.
| | |
| --- | --- |
| | photograph by Johann Wall 2003 |
If you were not a singer, what do you think you would you be doing?
If I was not a singer I might be a newscaster or a kindergarten teacher.
What has been your biggest challenge as a musician?
Dealing with the industry and all of the rejection that goes along with it. Though now, I am alot tougher and a lot smarter!
What has been the highest point of your career thus far?
I don't think I have reached that highest point. I think it is yet to come.
What is something about you that most fans would not know?
I love chihuahua's! I grew up with them. Everyone in my family had one at one time because my uncle used to raise and breed them. We like the long haired ones. When I was a kid I had one named Tiny who weighed barely two pounds--probably one and a half--and now I have a little one named Quita (Key-ta) who has her own section on my website!
Is the internet and your website working for you? Did you think of selling your music through iTunes?
I think the website is a good way to keep fans in the loop about tours, progress, etc. I hadn't thought about selling my stuff through iTunes--but now I will.
What are your hopes, aspirations and dreams for 2004 and beyond?
I just hope one small, tiny, itsy-bitsy, wee, little thing: that I take over the world!!
And on that note, we conclude our second interview with singer songwriter and musical personality Kristy Thirsk!
Album Review
| | |
| --- | --- |
| image © Pretty Noise Productions 2003 | |
Canadian vocal siren Kristy Thirsk is beloved by many as lead vocalist of the now defunct Rose Chronicles and oft-contributing singer for electronica band Delerium. Let's be clear from the outset--Kristy Thirsk is an amazingly gifted singer, hands-down. With her uncanny ability to stretch her voice from the lowest growl to the highest celestial tones, Kristy Thirsk is a naturally blessed talent.
After working for months in the studio with producer Eric Rosse, Kristy has finally released her full-length debut album, Souvenir (Pretty Noise Productions (Canada) 8 21228 80076 6, 2003). An attention-grabbing collection, it is chock-full of great songwriting and incomparable singing.
Kristy does not hold back with the kickin' opener "Indifference." Strumming guitars create a folksy Jewel vibe, but the percussion and electric guitars shape the song into a rocking number. One is instantly drawn to Kristy's gorgeous and emotive singing.
Kristy pushes more fully into the rock-n-roll realm with songs like "Imagination." "Home for Angels" is a slightly more ambient and gentle number reminiscent of Cocteau Twins and featuring light percussive elements and fantastic layered vocals.
| | |
| --- | --- |
| | image © Pretty Noise Productions 2004 |
Certainly a standout track, "Runaway" is a racing, energized and vibrant song. Kristy's voice perfectly fits the accelerating beats and dark guitar rifts. When this song reaches the chorus, it explodes with energy and intensity. Songs like "Hypnotized" and "Second Fiddle" are breezy pop-tinged numbers that meander in summery fashion. At points the album veers towards an almost alt-rock/gothic sound--reminding us of her days with Rose Chronicles--as with the song "Whitelight." Even at these shadowed points, Kristy is something mesmerizing to hear.
Incandescent and pensive, the final track "Souvenir" is a gentle and tender goodbye. The 2004 release includes the stunning bonus track "Over It" co-written with Eric Rosse. Mixed a little rougher than the preceding tracks, Kristy's lead and backing vocals blend wonderfully in this heartfelt rocker that includes a chorus with a tremendous hook.
There's no question that Kristy Thrisk is a musical force to be reckoned with. With numerous collaborations under her belt Kristy is finally stepping into the spotlight on her own--and the results can only speak of greater things to come.--Justin Elswick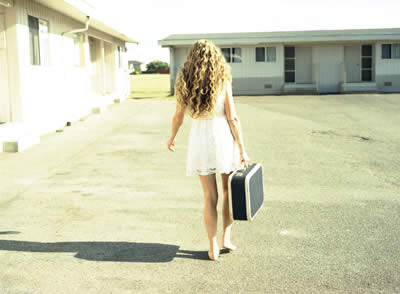 photograph by Johann Wall 2003

Johann Wall. An extra special acknowledgement goes to photographer Johann Wall who provided all of the original images used in this article. We asked Johann to tell us a little bit about himself. "I am a contributor to nylon, fashion, butter and flare and am currently working on a new exhibition. Working with Kristy was very cool and now I have a lifetime guestlist (one of the things I like about working with musicians). I have also worked with Avril Lavigne, Adrienne Pierce, The Hives, Leeroy Stagger, Catatonia, Lindy and Billy Bragg." Check out Johann's website for further information and a selection of his work. <! do not remove these lines>
---
Return to website contents
---