Luna Rossa is the new acoustic singer-songwriter styled project by Jonathan Edwards and Anne-Marie Helder. Their debut release in June 2013 is an eleven-track collection entitled Sleeping Pills & Lullabies. Listeners will be enthralled with the sound that has been created by combining Anne-Marie's vocals with piano and string-based arrangements. Read our album review and interview with the artists below.
Album Review
The duo's musical paths crossed initially in the British band Karnataka. A studio recording, long run of live dates, and live album memorialized that period. With two others from Karnataka, Edwards and Helder formed Panic Room, a modern rock band whose three outstanding studio albums and live performances around Britain have achieved significant acclaim. Despite the musicians' busy schedules with Panic Room and their other projects, Jonathan and Anne-Marie wrote and recorded the Luna Rossa material.
In addition to the vocal work, Anne-Marie Helder and Jonathan Edwards play acoustic guitar, autoharp, celeste sample, flute, grand piano, harp, organ, rhodes, and wine glass samples. Contributing artists are: Andy Coughlan (double bass); Leah Evans (cello); Tim Hamill (dobro, electric guitar and rhythm programming); and The Luna Rossa Quartet who are: Artem Kotov (violin); Rebecca Brown (violin); Ronan MacManus (viola); and Leah Evans (cello). The string arrangements that span the album were written by Anne-Marie Helder and Jonathan Edwards.
Sleeping Pills & Lullabies showcases Anne-Marie's vocal work, the duo's songwriting and fabulous arrangements. In addition to singing all the lead parts, many of the album's tracks include layers of Anne-Marie's backing harmonies and vocalise. The singer-songwriter style that spans the album sharply contrasts the artists former or current band work, clearly illustrating their musical breadth and maturity. While some may draw comparisons to the singer's solo work, the Luna Rossa material has deep, throughtful and extremely well produced arrangements that feature tender piano melodies, warm string washes and, in some of the tracks, well-played acoustic guitar passages. The string section has added significantly to the overall sound of the album.
While the album works well as a whole, several tracks stand out over the others. "Scream At The Sky" has an especially great dynamic range that develops through the song's length. While power of "Fight Or Flight" is created with light percussion, the rich string arrangements and Anne-Marie's soaring vocal parts contribute an airborne component to the mix. The sparseness of the brief track "Cloud" provides a unique insight into Anne-Marie's piano prowess and a close-up of her British voice. It perfectly serves up the album's final dramatically delivered "Gasp," that will certainly leave listeners longing for more.
We are confident that the album will appeal to a very broad audience and expand listeners' interest in Edwards' and Helder's other work. Learn more about the project and the album at the all new Luna Rossa website. Sleeping Pills & Lullabies is released on Firefly Music and is available from the band's website and at most popular online outlets in the UK and worldwide.

Interview
Musical Discoveries: What led to the formation of the Luna Rossa project, and what were the goals of it when you began?
Anne-Marie Helder: Jon and I have been working together for several years now, and our songwriting – individually and as a team - is probably best known from our albums with Panic Room. We released our third album SKIN in the summer of 2012. And as such, this is mostly rocky, full-band stuff. But we have both always had a strong interest in acoustic music and listened to so many great singer-songwriters over the years; from the well-known legends like Joni Mitchell and Bob Dylan to the more obscure artists throughout the decades. Jon has helped to educate me a lot more on the latter! And we've been to see some incredible singer-songwriter shows in the last couple of years, including the Norwegian artist Susanna.
I also began my live performance career as a solo artist in the acoustic genre, long before I became better-known for fronting Panic Room. And in this solo guise, I've had the privilege of playing some great venues and also supported artists including Ultravox, Fish, Glenn Tilbrook (Squeeze) and most recently, Steve Hackett on his "Genesis Revisited" Tour.
I have woven in and out of my acoustic performances depending on how busy I am with Panic Room at the time. But while I had lots of solo opportunities, I had never actually recorded an acoustic duo album until Jon suggested that we try one! And with our keen interest in all things acoustic, plus some great ideas already floating around that we knew wouldn't really be right for the full-band setting of Panic Room, it seemed to make perfect sense to try and record an album where we explored this area! All we needed to find was the time! But we did, and I'm so glad that we did.
Jonathan Edwards: Both Anne-Marie and I have very eclectic tastes and that certainly comes through in the way we write for Panic Room. But as well as amplified music, we're both really into acoustic music right through from the 70s, people like CSN&Y, Nick Drake and Pentangle, to the people making great acoustic music today like Laura Marling, Agnes Obel, Jose Gonzalez and Sun Kil Moon. So we do find that we sometimes write songs that are more in the singer-songwriter area than songs for a rock band. While some of these have made their way onto Panic Room albums, like "Muse" on Satellite or "Velvet & Stars" on the last album, SKIN, we thought it would be nice to just follow that path for a whole album. So we decided to work together as a duo and record an acoustic album without the constraints of thinking of how to make things work in a band context.
We decided fairly early on that we'd like to play as much of the music as we could between the two of us and try our hands at some instruments that we'd not previously played, like celtic harp. The other thing we also knew that we wanted to try out on the album was string arrangements and we asked a cellist friend of ours, Leah Evans, who had recently graduated from Trinity College, London, to get a quartet together for the sessions. It was the first time that we'd written for strings and it worked out really well. It's such a joy working with the string players to bring the music to life. The album was recorded prior to the last Panic Room album, SKIN, and it was the success of our experience working on Sleeping Pills & Lullabies that gave us the confidence and drive to then go on to write string arrangements in a rock band context.
In terms of the sound of the album, we wanted to really strip things back and try to give the arrangements a beautiful simplicity. To have nothing in the songs that doesn't need to be there, so the purpose of the other instruments is to enhance and provide the best setting for Anne-Marie's voice, which is the main instrument throughout all the songs bar one piano and flute instrumental, which was improvised late on in the recording sessions.

click on image to visit artist's FaceBook
image © Firefly Music 2013


How did you divide and/or combine your roles between yourselves and the guest musicians?
Jonathan: We set out to try and play all the instruments ourselves, and really only called on a couple of other musicians as we went on, when we found there was something that a particular song needed that we couldn't do ourselves.
Anne-Marie: We were pretty ambitious with these recording sessions, trying new instruments and also swapping our regular instruments around. So Jon would play acoustic guitar--for example on "Mad About You," which is all Jon!. And I played piano on "Gasp" and "Clouds." But there comes a point where the old saying "horses for courses" rings true, and if you feel like it'd be nice to add a certain instrument or sound, it really is the wisest thing to call in the "best person for the job"!
Jonathan: So, for example, we hadn't thought of using double bass on the album at all, until we were working on one of the song arrangements and realised that there was an element missing. Our sound engineer, Tim, suggested that a friend of his, Andy Coughlan, come in and play on the song. He's such a great musician that he quickly added just what the song needed, and that inspired us to add his skills to a few other songs too.
Anne-Marie: Heheh, that's what happens with great musicians – they're addictive! So once they've done one song, you just want to hear them on more!
Jonathan: Similarly, at some point in the studio, we were listening to play-back of "The Dark Room" and just felt that a dobro was what the song really needed, and fortunately, Tim has one! So he stepped in to play, and added the great licks you hear on that song. So really it was just a matter of going through the songs in the studio and when we found a musical hole that we couldn't fill ourselves, we got Andy and Tim to fill them for us!
Anne-Marie: Careful Jon, that could be misinterpreted, haha!
Jonathan: With the string players, that was mostly worked out before going into the studio, with the cello solo parts or quartet arrangements written in advance. Although some of the arrangements were actually written all through the night, for the session the next morning, so not always that much in advance!
Anne-Marie: Yes, I refer back to my previous point. Great musicians are addictive! We'd only intended for the Luna Rossa string quartet to play on a small handful of songs, and had those parts already written and prepared for them when they came down to do the recording sessions. But then when we heard how absolutely amazing they were, and how our arrangements were actually working… well! Suddenly we could hear strings on lots of other songs too! So, cue lots of sleepless nights as we sat scribing brand new string parts for the extra songs, just so that we could get it all recorded while we actually had the quartet players in town!
How would you both best characterize the music for those listeners and followers that have heard you with Karnataka, Panic Room as well as Anne-Marie's solo work and performing with Mostly Autumn?
Jonathan: I guess for people coming to Luna Rossa having only previously heard our band projects, then it'll be quite a surprise, though hopefully a good one. It's not really rock music, although followers of Panic Room should recognise the same DNA in some of that band's material, as Anne-Marie and I are also the main songwriters for Panic Room. Also, as Anne-Marie's voice is the golden thread that runs through all of the Panic Room songs, the Luna Rossa songs aren't too distant in their relationship to those.
The difference is more in the approach to the songs. It's a different dynamic, a quieter way of working with the music. The songs are more fragile, but that also allows you to make the music more intimate. If you think of it in terms of movies, Panic Room is the big blockbuster movie with the expansive widescreen cinematic soundtrack while Luna Rossa is the cool independent movie that touches you on a more personal level.
Anne-Marie: Ooh, I like that analogy Jon! You're quite good with words really aren't you, who knew? Haha! I'm only joking. Jon contributed some stunning lyrics to the Luna Rossa album, and is also an English graduate! But yes that's exactly right. Panic Room is a very diverse sounding band, but in its biggest and most epic moments there is definitely a wall of sound effect going on!
But the nearest you'd get to that in Luna Rossa would be the piano, guitar, harp and strings all going at it together. So, it's a rich and lush sound, and wonderfully evocative… but not at all bombastic and loud! For people who follow Panic Room, I'd say that Luna Rossa is a bit like the band's "little sister" sharing some of the same DNA, of course, because it's Jon and I writing, playing and producing. But it has a unique character and style all of its own. Luna Rossa's music is quirky, delicate, intimate, stripped-back and very emotive.
It's a fragile and beautiful wild-flower, bathed in the soft and melancholy moonlight. But it has the strongest of roots.
Where was the recording and production done and who was involved?
Jonathan: Sleeping Pills & Lullabies was recorded, mixed and produced at Sonic One Studios here in South Wales, where we've recorded the past two Panic Room albums. It's our co-producer Tim's studio, and it's a great place for being creative. There's a wonderful relaxed atmosphere that really encourages creativity and experimentation. He's a great musician himself and that really helps, as he understands both the creative and the technical sides of the process. And he's happy to just pick up a guitar, dobro, or whatever and join in too!

click on image to visit artist's FaceBook
image © Firefly Music 2013


The studio has a lovely baby-grand piano, on which all of the piano parts were recorded. The acoustic guitars, harp, autoharp and flute were close mic'd, giving as intimate a tone as possible.
The piano, acoustic guitars and guide vocals were recorded first, with the other instruments being added later. The string arrangements were written to the basic original recordings, played into a PC via MIDI from a keyboard, and then printed out for the quartet to play live in the studio. Final vocals were added last, just before mixing.
A couple of pieces were last minute additions, written or improvised in the studio. "Leaving For The Last Time" started from just playing the piano during a studio break with Anne-Marie playing along on the flute, and evolved over just two takes into the finished piece that's on the album. "Clouds" was another late addition.
After finishing the mixing sessions, we then spent some time living with the tracks and trying them out in various combinations, to work out a running order that gives a good flow to the album and makes for the most satisfying musical journey for the listener.
Anne-Marie: You'd be amazed, but after all of those weeks and months of hard work, it's actually deciding the album-order that takes the most time of all, hour for hour! It's such a crucial thing to get right, and when you're so close to your songs--as of course you are, after putting each one together so painstakingly--it becomes a real obsession to try and get the flow of the album absolutely perfect. We often joke about how later down the line, when the album's out, we'll probably have forgotten all about how important the track-listing was to us at that time! But, it's like everything else on the long and devoted journey of making an album. At that moment, you are just totally absorbed with it, and can't think of anything else until you get that decision right.
Jonathan: Sometimes, if you've recorded more than an album's worth of material--which was the case with these sessions--that process can also involve deciding which songs are going to be left off the album. Songs can get left off for many reasons. It's not that they're not as good as the ones that do make the album, but because they may be too similar, sonically or thematically, to other songs on the album; or perhaps they don't fit in the context of the album. Sometimes, it's simply because the album would feel too long if all the songs were included!
For the Sleeping Pills & Lullabies sessions, we did record five more songs than appear on the album. One didn't get past the initial recording stage, but four others were completed and mixed, and we'll probably release those separately at some stage.
The album was mastered by the lovely and talented Jon Astley in his studio which is on the top floor of his wonderful house overlooking the river Thames, near Eel Pie Island in Twickenham. It's a great experience hearing the finishing touches being applied to your music while, just through the window, the sun shines through the weeping willows hanging over the river on a summer's afternoon.
Anne-Marie: Yes, it's the perfect way to finish off an album, because his mastering suite there has just the most amazing, idyllic and inspiring setting. It's not very far at all from busy hustle & bustle of London, but you could be in a different world! And it's totally possible there to just breathe, relax and let yourself do just that: immerse into the musical world you have created with your album! It's the last special part of a very moving process.
Tell us more about the writing and the making of Anne-Marie's solo number "Clouds."
Jonathan: That was another piece that happened quite late in the recording sessions.Anne-Marie recorded just two takes and absolutely nailed it on the second which is what appears on the album.
Anne-Marie: I'd written this piece while on holiday a few months earlier, and it was more of a lazy, dreamy poem at the time. Capturing the peace and tranquillity of the moment that I was in, staring up at the blinding sun in a perfect blue Mediterranean sky, and at the same time feeling a genuine heartache about ever having to leave that moment behind. Because I had had such a stressful time leading up to then, and was finding the idea of returning to the everyday world pretty tough. Hence the words 'back, back, I don't wanna go'. But, reality comes crashing in and hey, I'm actually glad it did! Because with hindsight, I wouldn't have ever recorded this song or shared that precious feeling with people if I was still lazily draped on a sunbed somewhere in the middle of nowhere!
When it came to recording the piece, I knew that I wanted to just freestyle on the piano, while delivering the words on top. I worked on putting together some chords which really felt the essence I was wanting to share - that timeless floating sense, both blissful and slightly tinged with sadness.
And as with any song, however small or epic, it's best to just feel it and see where it wants to take you. As soon as I started playing these chords, they next one would just fall from my hands like it had always meant to be there, and it just felt right. So much so, I was worried that it might only work the once, and I'd forget all the chord ideas!
So I had to jot them down; I was in the studio writing them, so I was scribbling away leaning on the grand piano! But then when we went for a recording of it, I wanted to try and capture the piece in as raw and uncontrived a way as possible, so I just laid the piano part down once or twice. I felt every note, and I can still hear that when I listen to this track now. There's a lot of my heart and soul in this track, so it's one of the most intimate things I've ever done.
I recorded the vocal after the piano, and dimmed the lights down in the studio so that there was literally no light in there except a few candles around me on the floor. It was a very, very intimate thing, and I wanted to more whisper the words than sing them. There's a hint of melody line there, but it was very much just felt as I went along.
This is one of those tracks that makes me incredibly grateful for the way we get to record in both Panic Room and now Luna Rossa. I can't think of any other studio, or any other people who I'd feel so truly comfortable baring my soul with, in such an intimate musical way. That makes Tim, Jon, and everything about Sonic One Studios very special to me indeed!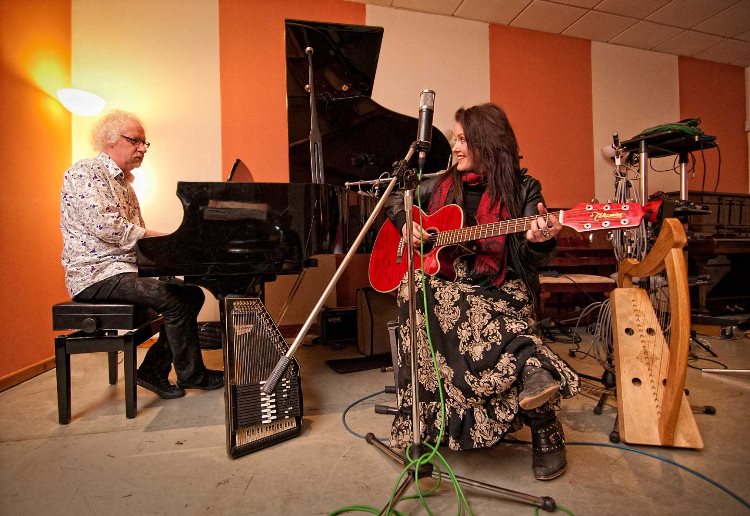 click on image to visit artist's FaceBook
image © Firefly Music 2013



What kinds of things will you do to promote the new album?

Jonathan: We will be doing some promotional dates to promote the album at some point.

Anne-Marie: Yes we're really keen to try and play this material live, and people are already begging us to do so! But we'd want to get it just right, and make the performances as special and inspiring as possible. ust as we do with Panic Room, but probably using very different venues; we have some nice churches and characterful venues in mind. And we are very active online. You won't be able to miss us!

Jonathan: Our new website at www.lunarossa.co is now live, and folks can support our music and buy the album directly from us there. It's also available from the usual online retailers and any physical outlets that still exist. We also have a Facebook page where people can keep in touch with all things Luna Rossa at www.facebook.com/LunaRossaWorld and a Twitter account too at www.twitter.com/LunaRossaMusic.

How on earth did you have time for this project between Panic Room and Anne-Marie's other performing engagements?

Anne-Marie: Haha, I don't actually know how we managed it! You're right, we're super busy with Panic Room and each have our own lives to live too, of course, although really music is our life! But we got ourselves organised and just booked the recording sessions for the first window that looked available, and made damn sure that we were ready for when it came around!

But after the recording, mixing and production were all finished, it did take quite a long time for us to actually release this album! And that was a lot to do with Panic Room being so busy. But I think the Luna Rossa album is now coming out at just the right time, and we're really excited to finally get it out there and share it with everyone!

Jonathan: When you love making music, you just want to do as much of it as you can, so you just find the time to make things happen. It is hard work, but at the same time, it's not a chore. When you're doing something this good, that gives you so much pleasure and getting such great results, it just seems like you're doing what you're meant to be doing – it's really a privilege.

Thanks for the interview Jonathan and Anne-Marie!

<! do not remove these lines>
---
Return to website contents
---