The long-awaited followup album to Karnataka's The Storm is entitled Delicate Flame Of Desire (Immrama Records (UK) KTK CD003, 2002). Since their last studio album, the band have also released the Karnataka Live In Concert DVD (Classic Rock Legends (UK) CRL 0939, 2002) which was recorded live at London's The Mean Fiddler on 27 October 2001. Karnataka's new album includes lush studio versions of tracks performed live for the 18 months leading up to the release including several tracks performed live on the DVD. Mixed by Steve Evans and Joe Gibb at Mighty Atom Studios in Swansea, it was masterd by Nick Webb at Abbey Road Studios. The new album clearly plants Karnataka as one of the best female vocal-oriented progressive bands on the planet.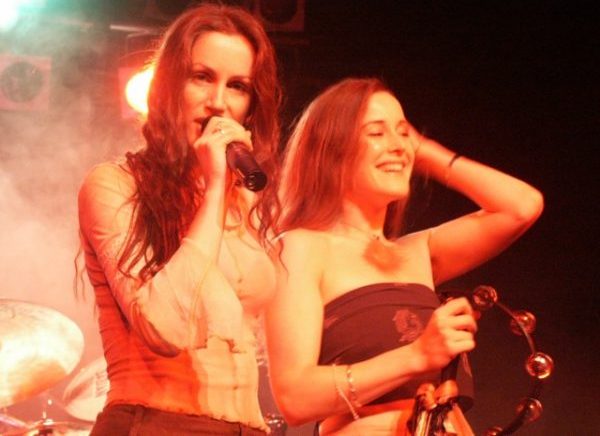 Rachel Jones and Anne-Marie Helder
Image © Chris Walkden 2002

Fronted by 2000-2001 CRS best female vocalist, Rachel Jones, Karnataka have added Anne-Marie Helder (backing vocals, flute, percussion) to their already strong lineup of Ian Jones (bass, acoustic guitar), Jonathan Edwards (keyboards), Paul Davies (electric guitar) and Gavin John Griffiths (drums). Anne-Marie is one of three backing vocalists from The Mean Fiddler gig and associated DVD; she joined the band in mid-2002 as a full-time member. Karnataka have amassed several additional awards from the Classic Rock Society including best gig 2001 performed with Mostly Autumn.
The new album effectively combines the texture of The Storm with Karnataka's best live attributes but delves much further with dramatic, lush and multi-layered vocal arrangements attributed primarily to world-class producer Steve Evans. Rachel, Anne-Marie and other guests--including Mostly Autumn's Heather Findlay--voices have been layered in lovely harmonies to support Rachel's stunning lead in every one of the tracks. The album is equally strong instrumentally with guitar, bass and rich keyboard effects effectively underscored by crisp percussion. But this is a female vocals album: listeners will be drawn to Rachel's sensual and evocative vocal delivery from first notes.

Paul Davies
Image © Chris Walkden 2002


Ian Jones
Image © Chris Walkden 2002

Delicate Flame Of Desire begins an ambitious new chapter that makes for a compelling listening experience. Sensual, spriritual and unrestrained by musical boundaries, the dramatic, multi-layered arrangements combine with haunting vocal melodies to create a powerful and epic work where panoramic soundscapes give way to fragile moments of acoustic intimacy. From the evolving intensity of "Heart Of Stone" to the desolate imagery of "Out Of Reach," this is an album that embraces the agony and ecstacy of the delicate flame of desire.
Karnataka's live sound is more dynamic and dramatic--some say rockier--than the studio quality found on The Storm and the audience reaction at their concerts has demonstrated significant appreciation for the sound. Delicate Flame Of Desire captures the texture from the outset with the orchestral self-titled introductory number "Karnataka" which precedes the classic rocker and audience favourite "Time Stands Still." The movements within this first epic piece draw the listener into a true progressive rock experience. But Delicate Flame Of Desire is by no means entirely a progressive rock album. Music spans many genres and will naturally appeal to enthusiasts of Celtic, pop, alternative and progressive rock. Musical themes introduced early in the album develop as they recur throughout.
While the majority of the material on the album has been played in front of live audiences with evolving arrangements before the release, several of the studio versions are positively surprising. The funky rhythm and rich pop-oriented arrangement of "One Breath Away" is certain to bring the band a range of new listeners, especially when the band begin to play this version in front of live audiences. "After The Rain" highlights the individual and combined vocal talents of Rachel Jones and Anne-Marie Helder with perfect clarity.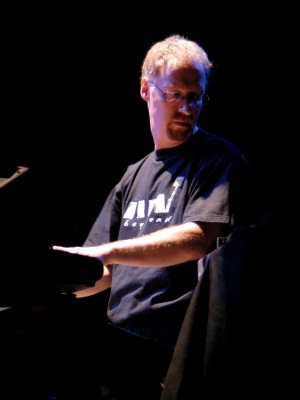 Jonathan Edwards
Image © Chris Walkden 2002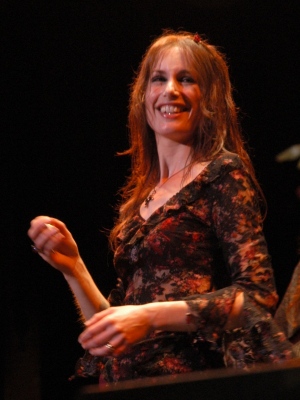 Rachel Jones
Image © Chris Walkden 2002

Rachel's lead vocal work is especially clear and supported well by both backing harmonies and strong arrangements. Bass perfectly punctuates the rhythm while flute, electric guitar and keyboard excursions continue to build melodies. While the material is all tremendously strong, further favourites to new and existing fans will likely be the multi-dimensional "Strange Behaviour" and evocative "Delicate Flame Of Desire."
Listeners will be drawn to Paul Davies' dynamic guitar solos and Jonathan Edwards virtuous Emerson/Wakeman style keyboard work, especially in "Out Of Reach," the one track that has had only limited live audience exposure prior to the album's release. The drama of the lush harmony and solo work that conclude the epic indeed lifts the band's sound to another dimension. "Heart Of Stone" has also been signficantly enhanced on the studio album with vocal harmonies, various effect and keyboard excursions all reminscent of some of Yes' best work.
In addition to the superb sound on the compact disk, the band have produced a stunning 20-page full colour booklet with complete lyrics and incredible artwork. A first class release in every respect, the album has been well worth the wait and is a tribute to the fantastic progress the band has made since releasing The Storm in 2000. A tour to promote the album is already scheduled for March-May 2003 with many of the April dates supporting All About Eve. Dates for further appearances in North America are being discussed following the band's warm reception at the Classic Rock Festival in Trenton, NJ in October 2002 and an unplugged gig with October Project in New York City's Soho district. Indeed the future is very bright for Karnataka. <! do not remove these lines>
---
Return to website contents
---