Shortly after our first listen to Magenta's two-compact disc set Revolutions we approached F2 Music about an interview with the band's principal artists Rob Reed, Christina Murphy and Steve Reed. The team have worked together for a several years, initially in Cyan (feature article under construction-return for link), and just prior to Magenta in the 'edgy industrial pop' band Trippa (review). Trippa have recorded enough material for several albums and initial releases are scheduled for later this year. This feature includes the results of our interview interview—completed on 01 December 2001—and a comprehensive review of Magenta's debut album.
The debut album from Magenta entitled Revolutions (F2 Music (UK) 200105, 2001) is an incredible two compact disc set comprised of five epic-length numbers and two short acoustic guitar interludes. Written by Rob Reed with lyrics by Steve Reed, the album's vocal work is dominated by the stunning Christina Murphy.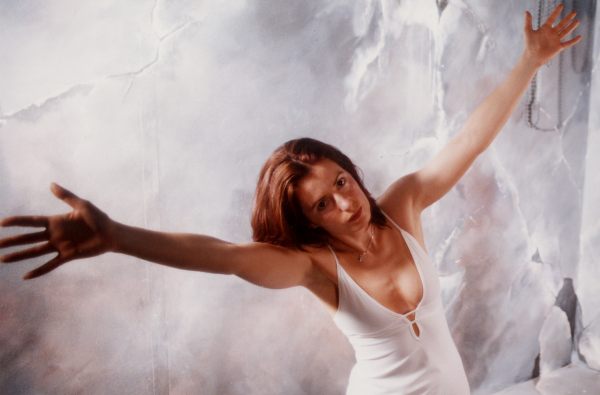 Image © F2 Music Ltd 2001

Rob Reed provides vocals, bass, keyboards, electric and acoustic guitar and tambourine. Additional contributors include Tim Robinsion (drums) and Tim Short (percussion) while lead guitar duties are split across Cyris Fry, Martin Shellard and Andy Edwards. The album was recorded between September 1999 and February 2001. We are informed that the band are planning a tour in 2002 and that work on a second album is already underway. Enthusiasts of Renaissance, Strangers On A Train and Janison Edge—all reviewed at Musical Discoveries—are certain to adore Magenta's work.
The Interview
We asked Rob about his background prior to Magenta. He told us about how it all began, "My first band, Cyan was formed in 1984 while I was still at school. We took our main influences from Genesis, Mike Oldfield and It Bites, but split up after a few gigs and one demo tape release. In 1991 I re-recorded the five original Cyan tracks in my own studio, playing all the instruments and singing."
It was then that Rob's work crossed paths with work by Clive Nolan, Tracy Hitchings and Richard Wileman. Rob told us, "The tracks attracted the interest of the now defunct Dutch Progressive Rock label SI Music, so in 1993 I recorded three more new tracks and all were released on CD under the title of For King & Country."

Rob Reed and Christina Murphy
Image © F2 Music Ltd 2001

Rob told us about Cyan's evolution and about his original work with Christina. "I met Nigel Voyle whilst recording the second Cyan CD Pictures From The Other Side and he took over lead vocals for that recording. Christina was a guest on this, singing backing vocals. I then produced and played keyboards on the debut CD by the Fyreworks that attracted the interests of F2 Music who eventually signed the band."
The demise of SI music took the project to the next stage. Rob told us, "F2 Music asked me if Cyan would like to sign to them. I was impressed with their dedication to music and was happy to sign to the label, releasing a third Cyan CD called The Creeping Vine that sold extremely well and featured Christina on backing vocals again."
He continued, "As well as my work in the field of Progressive Rock, I have also formed many bands covering many different styles, although their styles were sometimes hard to describe! The most successful of these bands was called described as 'a contemporary Eurythmics for the new millennium mixing their own brand of edgy industrial pop with soaring orchestral arrangements' which was sort of what we were about! The band has Christina on vocals and I played guitars and keyboards. We had a couple of other musicians on drums and backing vocals. We have so far released one single that was voted 'Record of the Week' on Virgin Radio, and have also appeared on TV a number of times. It was during this time that I decided that Christina has the perfect voice to sing lead vocals on a future Progressive Rock project." The initial ideas for Magenta were formed then.
Rob told us, "I then worked with a new signing to F2 Music called The Othello Syndrome, playing keyboards and producing the CD and started the writing of an album that was to become the debut Magenta release Revolutions. I wanted to do something new, something bigger and more conceptual. Current Prog bands were always scared and shy about admitting influences of the great bands of the 70's and I wanted to come clean and admit and celebrate these influences and hopefully create something as worthwhile as these classics." Clearly he has done so. How? "To do this all I had to do was to give priority to melody rather than technical showmanship, something I have always tried to do with all my work although many current Prog bands seem to forget about it."
We asked Steve how long it took to write the lyrics. He responded, "They were the longest, length wise, that I have ever written. From concept to finish, they took about three months actual hands on time, spread over about a year. They went through various re-writes and changes, but I am very pleased with the way they turned out."
| | |
| --- | --- |
| Image © F2 Music Ltd 2001 | |
We asked the artists about their influences. Rob went first, "My tastes are a real mixture that includes Bjork, Abba, Genesis, Yes, ELO and various film soundtracks." Christina added, "I listen to everything! I am a big fan of Annie Lennox of the Eurythmics and I really like the work of Peter Gabriel."
Christina told us, "I have sung in bands since being at school, including a punk band-spiky hair and leather-but my most successful work has been with Trippa (review). I just love singing, and my work with Magenta has introduced me to a whole new style."
We asked Rob about his musical training. He told us, "I classically trained and have been in bands since school. I also work full time as a producer." Christina told us about her vocal style, "My vocal style has been developed over the years from playing in many different bands that cover many musical styles, some very gentle, others very hard!"
As our readers will learn when they've heard the album, Magenta is actually very varied in their style of music. And the sleeve notes explain the meanings behind the lyrical segments. When asked to comment further on their influences Rob told us, "[We're influenced by] early Genesis, Yes (Drama and Going For The One), Mike Oldfield (Ommadawn and Incantations), Renaissance ("Northern Lights"), Van der Graf Generator (Still Life) and Bjork."
Rob added, "The reason for my notes in the centre of the CD booklet is to acknowledge the fact that every band has influences and I am not ashamed of mine! I hope that my recordings are still unique whilst drawing off influences from some excellent bands past and present." We could not agree more.
Rob and Christina are both professional songwriters. Rob also composes music for film and television. When asked to elaborate further on the writing and recording process, Rob told us, "The Magenta CD was written, recorded and mixed at the F2 studios in Wales. It's all recorded on computer-no tape anymore. It starts with a musical sketch and I will sing the melody with no words, just la la la's. I then send the tracks to Steve Reed who writes the lyrics to fit my melody. I then give Christina a demo with me singing the new words and finally she records the vocal. The same is done with the drums, guitar etc, where demos are sent to band members. I finally produce and arrange the music before mixing it to DAT ready for pressing."
Christina added, "Within Magenta, my role is relatively simple, with most of the lyrics being written before I become involved. However, I like to think that I add feeling and atmosphere to the tracks by delivering the lyrics with passion and using my voice as another instrument that compliments the music around it."
| | |
| --- | --- |
| | Image © F2 Music Ltd 2001 |
We asked Steve about Christina's vocal interpretation of his lyrics. He repolied, "When the album was first conceived, we thought it was going to be a bit of a gamble using a female vocalist. Prog Rock vocalists tend to be nearly all male, so we were concerned about how a female voice would be received. After hearing a few demos of Christina singing some of the tracks we were sold. We knew of her ability from her previous work, but she suits this type of music really well. She brings a great deal of depth and feeling to the tracks."
Magenta has not yet performed live. Rob told us, "There are plans for Magenta to tour, hopefully during May / June 2002, performing the complete CD. Christina is very theatrical and loves acting, so the stage show will be very visual. The shows will be recorded although it is up to the record company to decide if they will be released!"
We asked about the album's artwork. Rob told us, "Steve Reed designed the cover after writing the lyrics and developing the concept behind the CD. Each image represents a musical section of the story. Although the lyrics are not in the CD booklet, they can be seen on the F2 Music website (www.f2music.co.uk).
Steve told us about his views of the finished result. "Musically its faultless," he said. "The moods created to fit in with each part of the story are beautifully done. Each section evokes visions and feelings that make you feel you are part of the story. Rob has gathered together some of the best musicians in the country to perform on the album, and he has brought out of them some breathtaking performances. Listen out for the last guitar solo on the album. Say no more!"
Christina is pictured several times in the booklet. She added, "The photo shoots for the CD booklet were great fun. As Rob has mentioned I love theatrics and the costumes that go with it and I can't wait to take the Magenta show out on the road and perform the tracks on Revolutions."
We asked Rob about his impressions of the internet. He told us, "The web and the internet are essential in the promotion of Magenta. It allows us to communicate with the whole world, and for the whole world to learn about Magenta as well as my other bands. I envisage that within two years the CDs will be sold online and downloaded direct to your computer from the digital master recordings." He continued, "It's a changing world—let's hope that the whole thing goes too far and 'Revolutions' becomes a reality!"
Album Review
| | |
| --- | --- |
| Image © 2001 F2 Music | |
Revolutions is a highly thematic and faith-driven project. The lyrics of opening four part track, entitled "Children Of The Sun," communicate an ancient village's devotion to their religious beliefs and demonstrate how external forces have helped mankind evolve. The perfect balance of orchestrally-driven symphonic progressive instrumentals and vocal layers are evident from the first notes. The music is accessibly complex.
Listeners are introduced to Christina's vocals in the first segment of the epic entitled "Spirit Of The Land." Verses are offset by highly memorable and thematic choruses—especially the closing portion of the track—and guitar- or keyboard-driven instrumental bridges. The epic continues with "The Journey," is largely an upbeat instrumental romp with Rob's vocals complimenting Christina's.
The piece continues seamlessly into "The Battle," led by orchestrally arranged keyboards. Lovely vocal 70s-style vocal harmonies conclude the segment and introduce "Thanksgiving" which wraps up this tremendous piece with a lovely blend of vocal and instrumental harmonies. "Opus 1" is a lovely yet short acoustic guitar interlude reminscent of Steve Howe's Yes work.
| | |
| --- | --- |
| | Image © F2 Music Ltd 2001 |
The album's second epic is entitled "The White Which." Featured earlier this year on several progressive compliations, its lyrics are about the exploits of a herbalist. The track opens with a robust instrumental "Overture" and transitions rapidly into the title segment. Christina's vocals are especially sensually sung, blending progressive rock with elements of jazz to deliver the lyrical message. Robust instrumentals—guitar, bass and keyboard—effectively bridge the vocals.
"The Plague" is dominated by vast electric guitar and keyboard layers, perfectly bridging segments featuring layers of Christina's vocals—we especially enjoyed the conclusion of the segment. The orchestral foundation of "Reflection," obviously classically inspired—vocal work is tender and evocative. Chris Fry's electric guitar part that concludes the number is incredible. The contrasting layers of Christina's jazzy vocals in "The Spell," reiterating an musical theme introduced earlier complimented by lead guitar, are especially enjoyable.
The second compact disk opens with "Man The Machine," which describes how man has put faith into created objects. The number is vocally more dense with layers of vocals contrasting powerful lead guitar and keyboard. Christina's solos in "Rememberance" and "The Watchers" contrast the harmonies nicely and showcase yet another side of her vocal prowess. Chris Fry's lead guitar and Reed's keyboard work continue to reprise themes from the album's earlier tracks. The upbeat "Lightspeed" brings Rob Reed's bass right up front with the other instruments. The firework effects that segue into another Beatlesque track, entitled "First Contact," are well arranged.
| | |
| --- | --- |
| Image © F2 Music Ltd 2001 | |
"Opus 2," performed in a style similar to "Opus 1" is equally lovely and serves to demonstrate Reed's virtuousity with the acoustic guitar. Five individual segments comprise "Genetisis," an epic describing how genetic engineering is used to correct man's defects. Written much in a Yes/Genesis style, Christina's solo vocals in "The New Age" are contrasted by Martin Shellard's lead guitar. Additional vocal layers and Rick Wakeman-style keyboard passages continue to remind the listener of classic progressive rock in "Renewed Purpose."

An extended lightly arranged instrumental introduces "A New Life." Sweetly sung in an Annie Haslam style, the Yes-style keyboard and guitar solos that bridge the lead vocal and harmony chorus segments are extremely enjoyable. Guitar excursions contrast Christina's soaring vocal lead in "The Search For Faith," another number with a tremendous Rob Reed keyboard solo and "Roundabout"-style instrumental passage. Soaring vocals, lush keyboards and a dramatic guitar riff complete the epic's final passage entitled "The Creed."

Revolutions concludes with "The Warning." From the liner notes, "It says that we will always place faith in false Gods, whoever we are. There will always be something we praise. And, ulitimately, it will be this faith that takes us home." A duet sung by Rob and Christina, lush harmony layers and further instrumentals are perfectly balanced. The piano solos are quite reminscent of John Tout's work with Renaissance. Christina's lead vocals soar along with Chris Fry's dynamic guitar solos above the arrangements as themes introduced throughout the album recur bringing the project to a close.

Originally introduced to Magenta by Pall Allwood of the Classic Rock Society, our editors were quickly entranced with Revolutions. The album can be ordered from their label's website and most UK-based progressive distribution channels (Timelapse Records, GFT and Compact Disc Services—see the conclusion of our Tracy Hitchings feature for links). Clearly Magenta are a progressive band to watch this millennium. Return to Musical Discoveries for further coverage of the band's progress in 2002!

<! do not remove these lines>
---
Return to website contents
---