Magenta's third studio album, the concept piece Home (F2 Music (UK) 200606A, 2006), has been two years in the making. It marks a considerable development in the band's sound, away from the classic progressive tones of their debut Revolutions (review) towards a more song-orientated, emotional sound. The pivotal moment came quite late in the albums production, when the band decided to reduce the intended double album to a single, with an additional selection of progressive rock pieces The New York Suite (F2 Music (UK) 200606B, 2006) issued as part of the Limited edition Home two-CD set. While this makes Home a far better listening experience, the second album is vital for all those who wish to fully understand the story. It also and contains some superb progressive rock in its own right.
In May 2006, just as the new album was hitting the shelves, Associate Editor Stephen Lambe sat down with Rob Reed (music) and Steve Reed (lyrics) to discuss both albums. The two writers give us incredible insight into both the story and the music. We caught up with Christina and have captured her thoughts in this article as well.
Interview
Musical Discoveries: Tell us about how Home came about.
Rob: The plan was to do something different. Steve and I decided we wanted to do something a little less full-on, and a little bit more emotional. Our starting point was the song "Anger" on Seven, and we decided we wanted to make an album with that sort of vibe. It would have been easy to produce another album like the first two, but we wanted something with really strong melodies, that would also pull at the heartstrings. And that's how it turned out, really. One thing I really didn't want to do was rely on long solos on this album, I wanted each solo to really hit home. If you listen to the guitar on Pink Floyd's Final Cut for instance, the solo might only be 30 seconds long, but it knocks your head off. Every guitar and keyboard solo has to count and stand up on its own merits.
Steve and I sat down and decided that we wanted a concept album telling one story, and that it would be set in the 1970s. So musically it gave us the opportunity to make it a bit like those warm-sounding classic vinyl albums of the early 70s. We still wanted songs with different sections and moods, but not just with a prog influence, we also drew on people like early Elton John and even early Kiss.
Steve: We wanted an American feel and to make the music a bit more mellow. We first had the concept of the journey across America, with the idea of then using different moods and textures. Originally we were going to have the main character moving around from place to place, with a track for each location. From there it developed into a double album, all vocal tracks with no instrumentals, so we needed a lot more lyrics, which led to a big development of the actual story. The physical journey then became more of an emotional one.
Steve, can you give us a brief précis of the plot?
Steve: The character has a bad upbringing at home in Liverpool, and decides to get out to find a new "Home" somewhere where she fits in, so she goes to America. When she gets there, she tried to alter herself to fit in with the people around her, and eventually she descends into drink, drugs and prostitution--her old ways. In "Demons" she sees a vision of her dead mother, and then she later sees a vision of her father, which causes her to be hit by a car. After her recovery, she goes on a road trip, where she meets Joe, a Native American, and goes back to stay with him on his reservation, where she comes to realise that what she is missing is actually back home in Liverpool.
The process feels a little more collaborative than your usual way of writing.
Rob: We had the story early on, so we knew where it needed to go musically. I wrote some songs with guide vocals on them, then we fitted them together within the story line, so I went back and wrote a few more songs when we knew what we needed, so the whole process was indeed quite collaborative between Steve and I.
Steve, where did you draw your inspiration for the lyrics and story?
Steve: Stylistically, I draw lot of inspiration from Francis Dunnery for the lyrics of Home. As many of his songs are drawn from his personal experiences they feel very real, and it's that sense of reality I'm trying to emulate in home. There are some autobiographical elements, as there were with Seven. I've certainly had my share of experiences with downward spirals and depression. With Home I tried to draw on my own experiences to get people emotionally involved with the story to make it feel more realistic, even though the album is about a fictitious character. Obviously, I'd love for everyone to engage in the story, but if they just like it as a group of songs, that's fine, or even if they just engage with one or two moments in the story, as long as they've got something out of it, I'll be happy.
Christina, It sounds like there's a lot more emotion in the singing.
Christina: I had more of an idea about what the album was about. With Seven, I never sat down and talked to Steve about what the lyrics were about, but with Home I already knew the story, and so I was able to get into the character of the girl, and I was able to sing it with more feeling and emotion.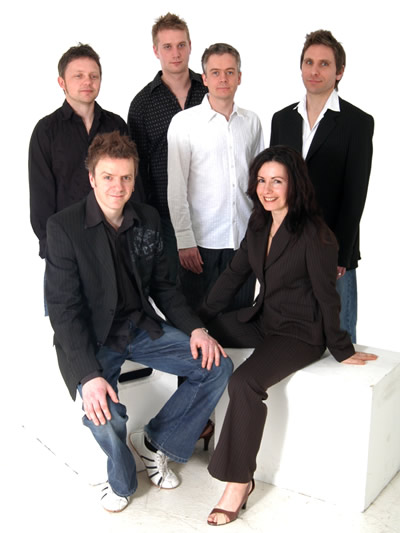 photo: Chris Walkden 2006

Are there any songs you particularly enjoyed?
Christina: The first time I heard "Morning Sunlight" I loved it. It's got a lovely melody and it's very enjoyable to sing, and "Towers of Hope" is very emotive. I always enjoy a good scream, so "The Visionary" was great too. That moment wasn't written, it's just something I did. I usually follow Rob's very "interesting" demos for the vocal melody--I really must blackmail him with them one day--but I'm free to add my "frilly bits," and that is one that just came out. It was quite frightening when it happened, and I had to stand right at the back of the vocal booth, because it keep distorting all the time. It was something I couldn't control, I either did it full on, or it came out like (she makes a strangulated noise in her throat). But overall I had more opportunity to play around with the vocals a bit. It helps that I'm singing much more confidently now.
The key decision seems to have been to cut the album from a double to a single, then to issue the remaining material on an additional disc. How did that come about?
Rob: It was weird. I wrote the songs for the single Home album as you hear it now, but then I started to worry that it wasn't progressive enough. I didn't want to alienate all our fans, so I went back and wrote a few more tunes, and all of a sudden it was a double. However, in the end, with the extra four songs making an extra 40 minutes of material I was worried that people wouldn't listen to it in one play. So quite late in the process we ended up taking out all those songs and making New York Suite out of them. All the songs on the Home single disc work as a whole, I think. With double albums it's very difficult to absorb the whole thing, and I wanted the whole album to have the same weight in people's minds. By taking it down to 68 minutes, I think we've achieved that, and peoples' initial comments have born that out.
Steve: I was originally going to write up a detailed précis of the plot, but I've always felt it's better to allow people to take their own meaning from the lyrics to a certain extent. The album works very well as a single listen, but obviously you need to listen to the second disc to get all story. The whole New York Suite section is a very strong part of the story, because you get the whole self-destructive descent into drink and drugs and the final accident, which leads to her road trip. The beginning of the album, which is set in Liverpool gives quite a lot of detail about her emotional state, and it's The New York Suite which really does that for her stay in Manhattan, so it's very important.
Christina: I think Rob made the right decision. Giving people the option of buying the single album or the double, for those who like their prog, I thought was a good one, too.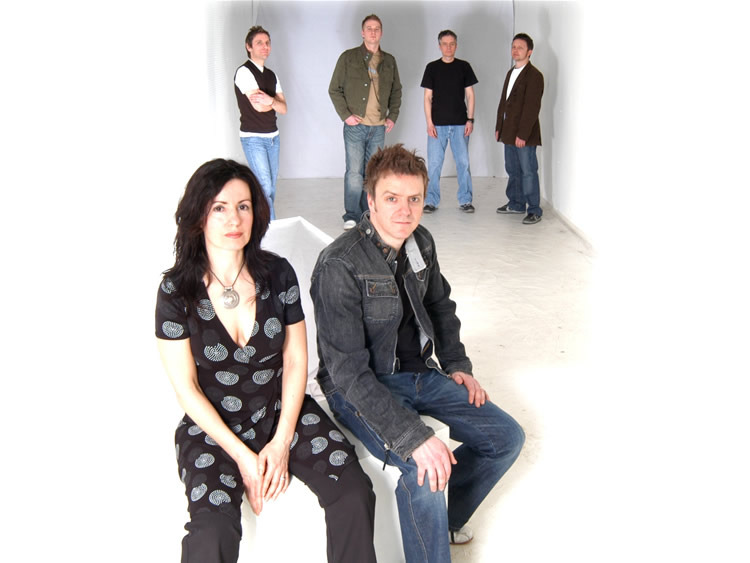 photo: Chris Walkden 2006

MD: Rob, can you take us through the album telling us what you were trying to do in each section?
Rob: I was trying to get atmospheres from each part of the album that matched the main character's emotional journey and the dynamics of the story. So, with "This Life" I started with piano and voice to set the scene followed by a real "kick ass" opening, originally called "Overture" now called "Hurt". "Moving On", the second main song, was always called "Elton", because I was trying to go for that gorgeous vibe Elton John had on his great early 70s albums. It's got a Pink Floyd-y bit, a bit of funk and a sax solo, which I thought would cause a bit of a stir, but I've always been a fan of the sound of the deep tenor sax, which Floyd use, and it can be really effective when it's used in the right way.
The version of "My Home Town" was the demo I originally recorded. It came out so well, we just kept it. I play the solo on it, and I'd just bought a mandolin, so I put some of that on there and I'm playing my big tenor recorder. It's very Mike Oldfield, and it typifies the sound I was trying to achieve on the album. "Brave New Land" was originally part of "The Journey," and originally had me singing on it, rather than Christina, whereas "The Journey" itself is a bit of fun, quite Yes like in places with some nice harmonies. It represents quite a positive moment on the album, so it's fun to play live.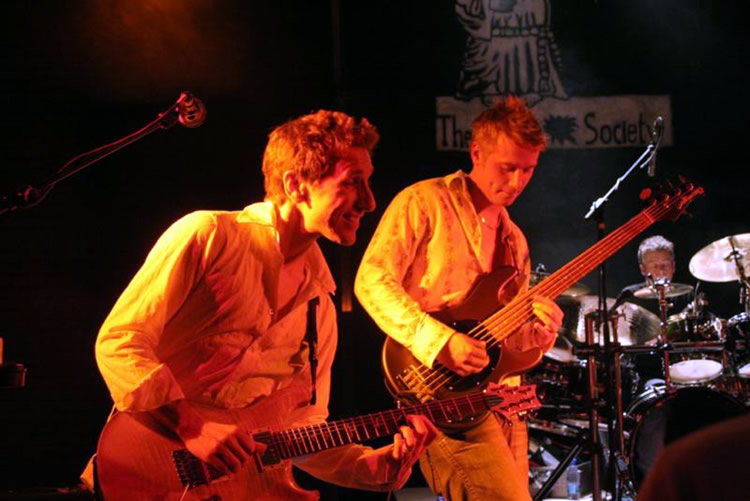 photo: Chris Walkden 2006

The first time I heard Christina sing "Towers of Hope" in the studio, it was an amazing moment. She's singing so much better than on the first two albums. She's so much more confident and she understands the music so much better, and what we are trying to achieve. It's a key moment for the album--as the character sails into New York harbour full of hope--and you can really feel the emotion. That leads onto the tracks that have become New York Suite. After she arrives in New York we follow her descent, represented by "Demons" on Home but covered in more detail on the other album. "Demons" has also been in the live set for a while. I love the vibe of the twin guitars. The second half of the track is inspired by a song on the last Oasis album--which I guess will also cause a scandal--and is completed by Chris Fry's great solo.
One of the last songs I wrote was "Morning Sunlight." I had been mixing one of the other tracks, and I just sat down with an acoustic guitar, and started playing. The final song is exactly what I wrote then, chords, melody, everything apart from words. The original demo is very similar--me with a single microphone thinking "I'd better get this down before I forget it". It matched exactly the kind of lonely, emotional vibe I needed--it's almost like an Eagles song! "Joe" is the longest track,and has the longest guitar solo on the album, played by Hywel Maggs. The middle solo is by Martin Shellard, but again I didn't want any waffle, I wanted everything to be condensed, and to earn its place on the album, so if something didn't work we kept re-doing it until it did. Even the bass, which is one of the first things that goes down on a Magenta album, I try to make as melodic and interesting as possible.
| | |
| --- | --- |
| | photo: Chris Walkden 2006 |
"The Dream" is inspired by Massive Attack, and has a really haunting vocal from Christina, and is a great intro to "The Visionary", which is quite a poppy song – my favourite vocal moment is Christina's Kate Bush bit at the end, which as she's already said was a nightmare to record, as it was so loud. Like the rest of the album it's also pretty compact. I could have extended the solos, but I really didn't want to do that.
"Journey's End" starts with a great moment, just Fender Rhodes and voice, and Hywel Maggs provides a really tortured guitar solo. I really wanted to take the album down as far as it can go at that point, so that the next section of the song provides some real relief and becomes much more upbeat. "Traveller's Lament" is a solo from Troy Donockley, which sets the scene for the reprise of the "Towers of Hope" theme in "Home" with the final guitar solo doubled by Troy. Again, I wanted that to be full of emotion--the big pay off.
Do you have any further thoughts on The New York Suite?
Rob: I think the four pieces stand up on their own, there's a lot in each of them and so they work fine as individual pieces. With Home it's the song writing that makes the album to a certain extent, these are more complex pieces of music. The important thing is that musically these four songs are not so attached to the story, whereas all the music on "Home" is directly related musically and emotionally to what is going on in the story. We weren't originally going to release the four songs until later in the year, but when I went back and played them again, I realised how good they were, so we decided to put them out as a complimentary disc to Home. We'll definitely play one or two of them live at some point, too.
How do you feel about Home now it's out?
Rob: I realise that the album won't please everyone, but I'm delighted with it. It's certainly the most emotionally honest album we've done, and it's the album that most represents "us" as a band.
Thanks!

Magenta's Home album limited edition complete with the New York Suite CD is available while supplies last via SonicBond. Use the link to point your browser there now. July also reveals Magenta's project "Night And Day" with Annie Haslam. Stay tuned to Musical Discoveries for details!

Spring Tour May 2006
Rotherham (UK), Zoetermeer(Netherlands), Stavanger (Norway), Poole (UK)
Magenta launched a revamped live show in 2006. This two hour-plus set revolved around a 40-minute continuous excerpt from Home. Beginning dramatically with "Hurt", a piece that has been in the live set for some time, they continued with "Moving On", the pivotal song early in the album, accurately reproducing the sassy Elton John and Pink Floyd influences, before "The Journey" and "Towers of Hope" (played as a hybrid of that song and its reprise "Home") continued the set. A powerful "Demons", with Chris Fry's solo a high point of the entire set, gave way to th tender "Morning Sunlight" with acoustic guitar played by Daniel Fry – a nice moment, that. "The Dream", with a sensitive vocal from Christina, built a little tension, before the climactic masterpiece "The Visionary."
| | |
| --- | --- |
| photo: Chris Walkden 2006 | |
With Home taking up so much of the set, the band also took the interesting decision to perform two full-length pieces from Revolutions, "Children of the Sun" and the perennial late-set favourite "The White Witch", with the rest of the set chosen from Seven and the singles.
The first date was the official album launch, for the Classic Rock Society at the Herringthorpe Leisure Centre in Rotherham. With many of the audience well familiar with the band's material, Magenta opened with "Children of the Sun", before continuing with "King of the Skies" and "Lust." Probably the bands only mistake was omitting "I'm Alive," a favourite on the group's Myspace site, in this gig, though closing with "Gluttony" with it's embellished intro seemed to work well. With "The White Witch" plus an abbreviated version of "Pride" (which feels a little like desert without the main course, but works well at the end of the set) closing the concert this was an excellent start to the band's Spring outings, despite a few minor ailments within the band.
The band decamped to the wonderful Borderiji in Zoetermeer, Netherlands for a headline spot at the Progdecennio festival on May 20th. With two other bands on the bill, Satellite from Poland and the excellent Mangala Vallis from Italy, this was not a partisan Magenta audience, and as a band that thrives on crowd reaction, they clearly found things a little more difficult than they would like. Having said that, the band played well, and the audience was attentive and appreciative. An even better performance of the Home selection was perhaps the highlight, though "Envy", replacing "Lust" in the set was also a pleasing change. With a podium on either side of the stage, Martin Rosser came into his own during his solos and the twin guitar moments with Chris Fry.
The best-received performance may well have been saved for Folken, in Stavanger in Norway on May 27th, where an enthusiastic audience gave the band a huge welcome, with the support act, the brilliant Norwegian group Magic Pie adding to what sounds like a superb evening's entertainment. However the best band performance seems to have been a couple of weeks later at Mr Kyps in Poole, where a relatively modest turnout, not to mention a superb sound system, led to a very relaxed band delivering a massively assured performance, with both "Lust" and "Envy" played, in place of "Children of the Sun," and "Broken," not to mention the full version of "Pride" reinstated in the set.

<! do not remove these lines>
---
Return to website contents
---