A private loft decorated with stunning works of modern art was the venue for the debut American performance of Karnataka in a double bill with the latest incarnation of northeast favourite October Project on October 4, 2002. Organised by the bands as a reservation-only gig, the two bands performed a tremendous double bill unplugged to their sell-out audience in New York's Soho, only a mile from 9-11's ground zero.
Attended by longtime October Project (review) enthusiasts as well as Karnataka fans from the northeast, the audience also included artists that Marina Belica, Julie Flanders and Emil Adler have worked with. We were pleased to finally meet stunning Sylvia Tosun (feature, review) as well as Julia Macklin in the margins of the show.
October Project performed their set first. Lead vocalist Marina Belica (feature) was supported by lyricist/singer backing Julie Flanders and composer husband Emil Adler on keyboard. Original October Project percussionist Urbano Sanchez joined on bongo and Martha Colby played cello and provided further backing vocals. The set, comprised of tracks from October Project's self-titled album, Falling Further In, and all-new material, worked quite well unplugged. The rich collection of material contains melodies that transcend lush electronic arrangements working equally well in this setting as some might recall from the band's rare "Be My Hero" EP backed with live acoustic versions of classics "Ariel," "Where You Are" and "Return To Me" as well.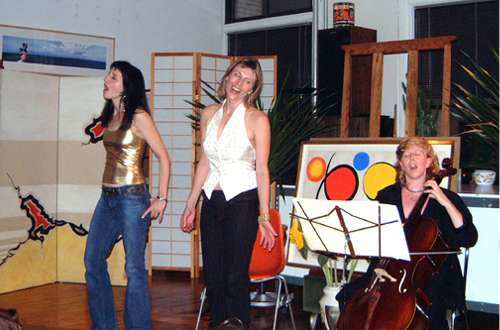 Julie Flanders, Marina Belica and Martha Colby
Image © Steven Lowy 2002

Some will be familiar with Marina's lead vocal work from her decembergirl EP and guest spots on various albums, yet most October Project enthusiasts have only heard her perform the classic "Return To Me" previously. Marina's powerful and sensual delivery of the lead vocal lines worked extremely well with the material and was perfectly complemented by Julie Flanders' evocative harmony vocal delivery. Emil's and Martha's supporting instrumentals and further harmonies provided the additional texture to October Project's music and Urbano Sanchez' contribution was as solid on the evening as it had been to the band's sound years before. October Project enjoy a huge repertoire of wonderful material to draw upon for their live performances.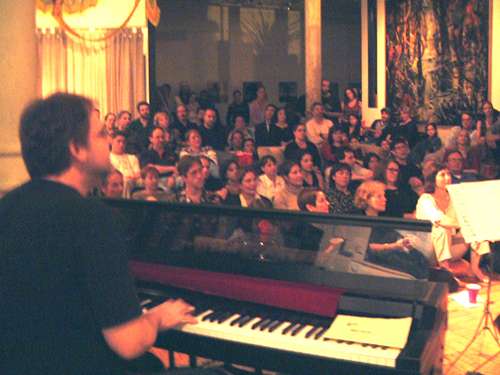 Emil Adler, The Audience and The Loft
Image © Steven Lowy 2002

While several new songs were played for the audience, the set was primarily comprised of earlier favourites which each worked extremely well in the unplugged setting. Tracks performed included "Return To Me," "Deep As You Go," "Ariel," "Paths Of Desire," "Take Me As I Am" and the stunning "Eyes Of Mercy." We especially appreciated Marina and Julie's rendition of "Sunday Morning Yellow Sky." The lovely new tracks "If I Turn Away," "Long After Tomorrow" and "In the Mind's Eye" performed on the evening will be included in the forthcoming EP. Audience reaction was predictably positive--the band's most memorable melodies were appreciated by all--and an ovation after their final track "Always" performed with a cappella vocal harmonies clearly demonstrated an appreciation of the performance.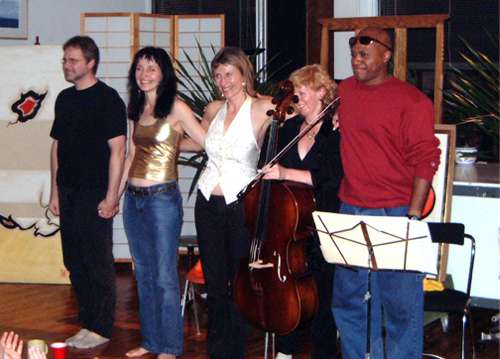 Emil Adler, Julie Flanders, Marina Belica, Martha Colby and Urbano Sanchez
Image © Steven Lowy 2002

Karnataka's third unplugged performance worked out equally well to the delight of established and new-found fans. Fronted by Rachel Jones (lead vocals, percussion) and Anne-Marie Helder (backing vocals, flute, percussion), the band's unplugged lineup also includes Ian Jones (acoustic guitar), Paul Davies (acoustic guitar), Jonathan Edwards (keyboard) and Gavin Griffiths (percussion). Karnataka's sound complimented October Project and their performance certainly attracted a significant amount of attention from the audience. Check out further reviews of Karnataka at Musical Discoveries here.
The set included material from the band's self-titled debut album, follow-up The Storm as well as unplugged versions of material from their forthcoming album Delicate Flame Of Desire. The vocalists' interaction "on stage" was similar to their electric live performance but both Rachel and Anne-Marie were somewhat subdued from their dynamic interchange when the band plays in full electronic splendour. Backing harmonies and underlying instrumental arrangements perfectly supported Rachel's evocative lead vocal. Jonathan's keyboards were perfectly set in the mix as well.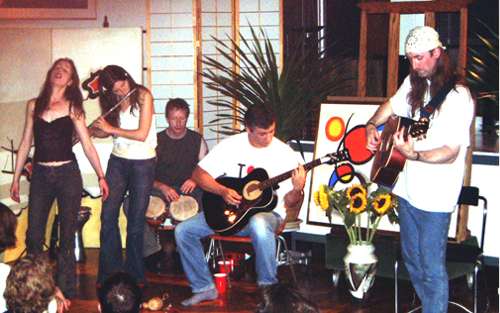 Rachel Jones, Anne-Marie Helder, Gavin Griffiths, Paul Davies and Ian Jones
apologies to Jonathan Edwards who is out of photo range stage left!
Image © Steven Lowy 2002

Acoustic versions of "Writing On The Wall" and "There Must Be A Way" were joined by "Must Be The Devil" and stunning renditions of "Closer" and live classic "Heaven Can Wait." A highlight of the evening was the band's new track whose working title is called "The Donut Song" to commemorate an acoustic performance the weekend before at a festival the band organised in their home country. Several other classics rounded out the set before it came to an end with the acoustic version of "The Journey" and an ovation from an audience delighted with the band's first American performance.
Rachel Jones vocal performance was superb and illustrated the range and power that earned her the "best female vocalist" award from England's Classic Rock Society two years running. Anne-Marie Helder's performance has been fully integrated into the band's sound with flute parts, percussion, stage show and stunning backing vocals complimenting the overall sound. Her lead vocal in "The Donut Song" was a special treat to hear emerge. The unplugged performance denies Karnataka the opportunity to showcase the dynamic instrumentals of Paul on electric guitar, Ian's Squire-style bass, Jonathan's Emerson/Wakeman-style keyboard and Gavin's intense drum playing. Americans were treated to their full sound in Trenton on 06 October (review).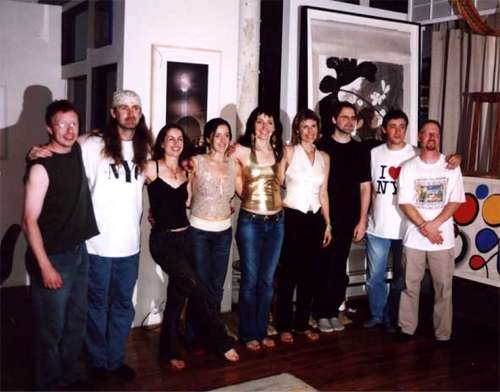 L-R: Gavin Griffiths, Ian Jones, Rachel Jones, Anne-Marie Helder, Julie Flanders
(continued) Marina Belica, Emil Adler, Paul Davies, Jonathan Edwards

Audience members were given an opportunity to interact with both bands socially before the venue closed for the evening. Merchandise sales and overall audience enthusiasm clearly indicated the evening was a complete success. While plans and tour dates are not yet established both bands have indicated a commitment to perform together in America and the United Kingdom in the future. We can't wait! <! do not remove these lines>
---
Return to website contents
---