The Limelight Theatre in the Queens Park Arts Centre just outside of the pedestrian district of Aylesbury was the intimate venue for a warm evening of rocking music by Sleeping Giant and Karnataka. Aylesbury is Marillion territory and with theatre-style seating, the artists performed for a near sell-out audience of newcomers and established fans. Their sounds entirely compatible with both featuring well established female singers, the bands performed together earlier this year at the Classic Rock Society's Rotherham Rocks Spring Festival. Plans are in place for the bands to play again together in the months ahead.
Sleeping Giant (feature) began their set with "My Release," a track from their current album Primates. The Liverpool-based band is comprised of the remaining members of the former Mr So & So whose tours supported Marillion years ago. Sleeping Giant lead singer Charlotte Evans introduced the many of the new tracks that followed as well as band members Dave Foster (guitar), Simon Crumley (bass), Leon Parr (drums) and James Rimmer (keyboards). Some of the new tracks played were "Everything Comes To An End," "Empty Room" and "Embers."
The band were in fine form this evening with the bass more heavy in the mix than earlier performances and Charlotte's wide ranging vocals right up at the top of it again drew full attention from the audience. Marillion guitar player guest Steve Rothery joined for "Nobody Knows" and demonstrated his virtuousity sharing solos with Dave Foster within the extended arrangement. Played first live at Rotherham Rocks, "December Moon" was a crowd pleaser. The band concluded their 45-minute set with their favourite track "Precious" to vast acclaim. The song was only the second in this new live set from their existing album.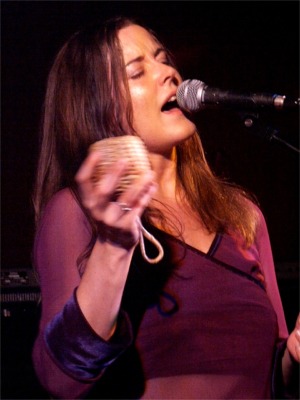 Anne-Marie Helder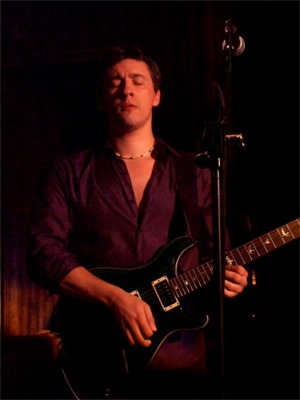 Paul Davies

After a brief interval, Karnataka's symphonic intro--a new self-titled track from their forthcoming album--began, and before concluding, the six band members took their positions under the lights. Paul Davies (guitar), Ian Jones (bass, acoustic guitar), Jonathan Edwards (keyboards) and Gavin Griffiths (drums) came to the stage first. Then--both dressed in all-new sexy white outfits--Anne-Marie Helder (backing vocals, flute, percussion) and Rachel Jones (lead vocals, perscussion) joined the lineup on stage.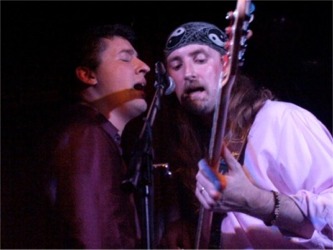 Paul Davies and Ian Jones


Jonathan Edwards

Clearly having stepped up the live show at least a full notch from earlier performances this year, the band opened with the new album's arrangement of "Time Stands Still." As with many of the previously performed live tracks, new vocal, keyboard and percussion arrangements have been worked into their set. Anne-Marie is fully integrated to the live performance with backing vocals, playful interaction with the others and warm flute parts appreciated as a welcome addition.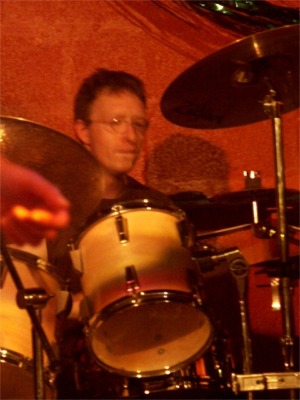 Gavin Griffiths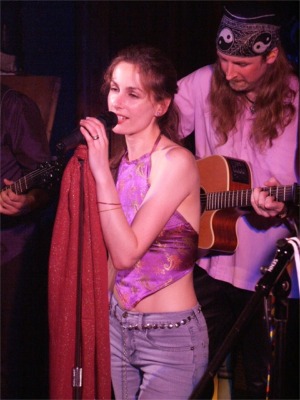 Rachel Jones

Paul's dramatic guitar solos continue to attract significant audience attention while Jon's keyboard excursions have become more pronounced. The band's rhythm section--Ian on bass and Gavin on drums--has become even more powerful and dynamic. We especially appreciated Ian's growing confidence with acoustic guitar in "I Should Have Known."
The band played favourites from their first two albums and debut DVD including "Crazy," "Dreamer" and "I Should Have Known" with their new percussion and keyboard arrangement of "Heaven Can Wait" clearly standing out. Now a concert classic, their new track "The Right Time," was appropriately placed within studio material released earlier.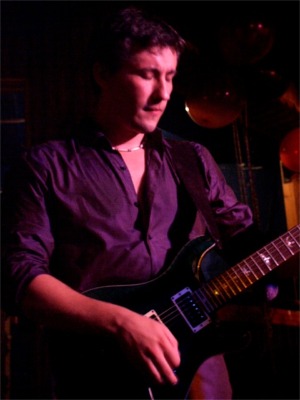 Anne-Marie Helder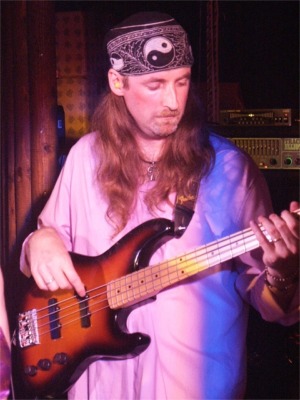 Ian Jones

The audience was treated to an incredible performance of "After The Rain," a track from the forthcoming album that had been rehearsed at Swansea's Uplands Tavern earlier this week and at the soundcheck before the concert. The middle part of the set continued to blend Karnataka's classic tracks--"Everything Must Change," the upbeat "Writing On The Wall" and "Tell Me Why"--with the new. On-stage arrangements in "Strange Behaviour" have been recently enhanced to closer match the version on the new album.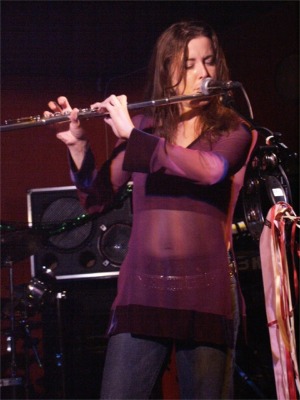 Anne-Marie Helder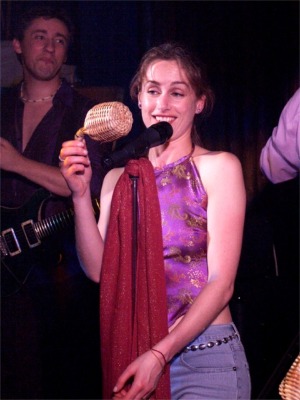 Rachel Jones


The main set concluded with "Delicate Flame Of Desire" and "The Journey." The new percussion and keyboard arrangements featured in "The Storm" were especially appreciated by long-term fans. The band returned to play the album version of "Heart Of Stone," the arrangement making its debut live performance this evening.

With the space to breathe lots of energy and drama into the new arrangements as the headline act, Karnataka have clearly taken their live performance to a new level. Their diverse and active touring schedule ahead and a new on-stage act commands attention from their new, established and emerging fan base and the music media as well. Watch for the release of their new album Delicate Flame Of Desire soon.

<! do not remove these lines>
---
Return to website contents
---