Yesterdays' is a progressive rock band based in Transylvania, Romania whose original roots trace back to the now defunct Hungarian band You And I (feature). Our Visitors should be familiar with the band You And I and their stunning female vocalist Völgyessy Szomor Fanni (feature, review, interview). Yesterdays was formed and is still led by former You And I guitarist, Ákos Bogáti-Bokor . There are You And I references as well as Yes allusions within Yesterdays' music. pologies to the band and to our readers for the delay in publishing this article. The original manuscrupt was prepared in April 2007 but had been lost in our archives and was only recently discovered.
Yesterday's first semi-official release, Dream Is Now, A Whole Half, is considered and EP by the band. The material included two Yes and Steve Howe cover as well as a Pat Methany, Norah Jones and Rush cover, as well as a selection of original recordings. It was an outstanding first release. The lineup at the time consisted exclusively of Ercsey Andrea Emese (vocals) and Ákos Bogáti-Bokor (guitars, keyboards, bass, vocals). Readers should note that in Hungary and Romania first names appear last.
At the time of their first official album, Holdfénykert (Moonlit Garden) (Rockszerviz (Hungary) rsz-001, 2006), Yesterdays' lineup had already undergone a change in vocalist and was omprised of: Kinga Jánosi (lead and backing vocals); Timea Fülöp (backing vocals); Emese Kozma Kis (flute); Tubor Bazsó (sound engineer and vocals); Domokos Csergö (drums); Zsoltz Enyedi (keyboards); David Kósa (percussion and vocals) and Lehel Vitályos (bass). ÁkosBogáti-Bokor makes vast contributions to the band in addition to being their primary composer. He plays acoustic, electric and steel guitar, bass guitar, guitar synthesizer, and additional keyboards. Our review of the album and interview with members of the lineup are presented below.
In an update to our original manuscript, Yesterdays lineup evolved as they continued to write and record music, including Yesterdays-styled contributions to a range of various artist compilations. For Dante's Inferno - The Divine Comedy Part I (Musea (France) Records, 2008), they contributed "Divine Play" (music: Ákos Bogáti-Bokor (ABB), lyrics: ABB and Stucz Timea) with the lineup: Timea Stutz (vocals); Emese Kozma Kis (flute); Ákos Bogáti-Bokor (guitar, vocals, keyboards); Zsolt Enyedi (keyboards); David Speight (drums); and guest Jonas Reingold (The Flower Kings). On The Spaghetti Epic III - The Great Silence (Musea Records (France), 2009) they contributed "Suite Pauline (music: Ákos Bogáti-Bokor (ABB), Zsolt Enyedi, lyrics: ABB) with the lineup: Ákos Bogáti-Bokor (vocals, guitars, keyboards); Zsolt Enyedi (keyboards); Zoltán Kolumbán (bass guitar); Sorohan Mihai (trumpet); and David Speight (drums).
Yesterdays Female Vocalists :: 2004-Present

2004-2005: Ercsey Andrea Emese


2005-2007: Timea Fülöp [bv]


2006-2007: Kinga Jánosi


2007-2008: Timea Stutz


2009-2010: Hanna Horváth


2010-Present: Linda Horváth

all vocalist images © Yesterdays 2004-2011
Their next two songs appeared on Tuonen Tytär 2 - A Tribute To Finnish Prog (Musea (France), 2009). Entitled "Lost Without A Trace" (music and lyrics by Wigwam) and "Colossus C. Dal" (music and lyrics by Wigwam, with contributions by ABB and Zsolt), the lineup included: Ákos Bogáti-Bokor (lead and backing vocals, acoustic guitar); Zsolt Enyedi (mellotron, Yamaha CP-70, moog); Timea Stutz (vocals) and David Kósa (chimes). On the follow up to an earlier project entitled Dante's Purgatorio - The Divine Comedy Part II (Musea Records (France), 2009) Yesterdays' song "Félúton" (music: Ákos, Zoltán, Zsolt, lyrics: Ákos) included a new vocalist named Horváth with the rest of the lineup: Ákos Bogáti-Bokor (guitars, vocals); Zsolt Enyedi (keyboards); Zoltán Kolumbán (bass guitar) and János Murányi (drums).
Yesterdays also contributed to Dante's Paradiso - The Divine Comedy Part III (Musea Records (France), 2010) with the song "33" performed by: Hanna Horváth (lead and backing vocals); Ákos Bogáti-Bokor (guitars, keyboards, backing vocals); Zsolt Enyedi (moog), Zoltán Kolumbán (bass guitar); Domokos Csergo (drums); and Dávid Kósa (percussion). The band's latest contribution was to A Flower Full Of Stars (A tribute to The Flower Kings). Their song "Cosmic Cover (I. My Lover From Outer Space, II. My Cosmic Lounge)" included the lineup: Karola Antal (vocals); Ákos Bogáti-Bokor (guitars, piano, mellotrons, vocals); Gábor Kecskeméti (flute); Zoltán Kolumbán (bass); Domokos Csergo (drums and percussion).
The second full length Yesterdays album Colours Caffe was released in December 2010. A bonus CD with rare unreleased and compilation contriubtions was added to their Japanese release. Read our review here.
Interview
We conducted our interview with Yesterdays members Ákos, Kinga, Emese and Timea between January and March 2007. The results are published below.
Musical Discoveries: Please fill us in on the formation of Yesterdays.
Ákos Bogáti-Bokor (guitars, keyboards, composer): Our story begins in 2000 when I met our bass player Vitályos Lehel. We played together in so many styles; he wanted to play jazz, I wanted to play progressive rock, so for many years we played a mixture, an interesting kind of fusion, but while we were students, we could not afford to buy the instruments of our dreams.
So we kept on trying and in 2004 we won two festivals and released our first EP A Whole Half. Due to our first lead singer Andrea Ercsey Emese's delicate jazzy voice this EP had a strong jazz-pop aftertaste--bossa-nova songs, Metheny transcriptions--and I could pay a tribute to my greatest influence Steve Howe too with three Yes covers. After many member changes the lineup of the present got together at the end of 2005, and we started to record our album in February 2006, and now, here we are.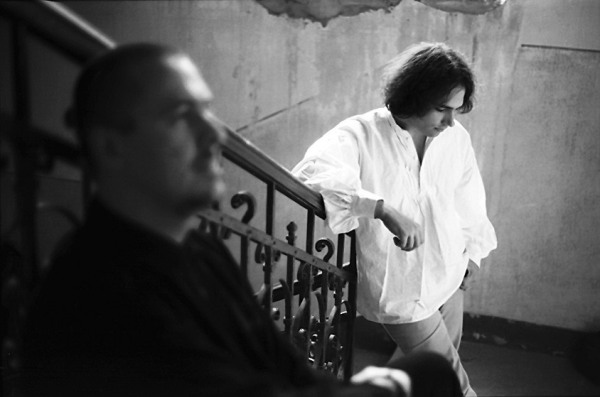 Akos | click to visit the band's website

Yesterdays is a progressive rock band based in Transylvania, Romania. We have Hungarian members too. Eight people are involved but we have wonderful musicians, friends all around us, a choir, a string quartet and we can perform together anytime. We play symphonic prog, mainly with vintage instruments, but by using modern stuff too, our sound remains vintage, this is our main aim.
I wouldn't say that we blindly follow our infuences, like Yes, The Beatles, Gentle Giant or Genesis, I mean we love these bands and many others, but naming all of them would take hours). We don't struggle to sound just like them. We have our own sound, thanks to our present lead singer Kinga Jánosi, she's fantastic!
We love to use rich vocal arrangements, flutes, mellotron, moog, hammond and all kinds of guitar-wonders. After six years, we finally have assembled the best line-up ever and this encouraged us to record our first album Holdfénykert or Moonlit Garden in English in 2006.
Can you tell us a bit about your musical background, that is, what training you had, and what other bands have you done work with and perhaps your solo work?
Kinga Jánosi: I attended the School of Arts Of Tirgu Mures since I was six years old. Until the ninth grade my major was the piano, and after that, the canto. I was very lucky because I had the chance to learn with some of the best teachers in the region. I don't have the greatest musical skills; all I've achieved was because of my work and practice.
During my high school years I had several opportunities to sing solo at all kind of events, but mainly in the bell-canto stile. For example, in March 2003, I sang some of the alto solo parts of Vivaldi's vocal-symphonic masterpiece Introduzione et Gloria, at a charity concert of the Maltese Charity Organization. In the same year I was asked to sing the alto solo parts of Pergolesi's Stabat Mater with local choir Musica Humana and I also have a CD recording of that material. I performed several times at religious events, book debuts, exhibition openings, memorials and so on.
For a year I was a background vocalist for the band Zakusca, lead by Zeno Apostolache. I'm a presently a freshman at the University Of Theatrical Arts Of Tirgu Mures, at the Music Pedagogy Department and I'm a volunteer substitute music teacher at a local school where I teach 3rd graders. Since 2001 I've been a member of the Nagy István Mixed Youth Choir, since 2003 the member of the Musica Humana Women's Chamber Choir and between 2002-2004 I was also member of the Bagatell Mixed Chamber Choir. Aall of these are local ensembles but the first one is pretty well known in Europe.
How did you join Yesterdays?
Kinga Jánosi(lead vocals): As I was saying, I am the member of the Nagy István Mixed Youth Choir. There I have a friend Ildikó Molnár, who actually designed the cover of the Holdfénykert album. She was told by Ákos Bogáti-Bokor, that the band, Yesterdays, was in need of a lead vocalist. She immediately thought of me and sent me a CD of Yesterdays and the phone number of Ákos.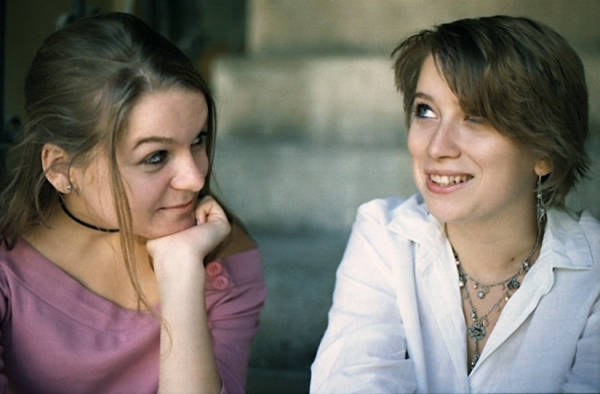 Emese Kozma Kis (flute) and Kinga Jánosi (lead vocals) | click to visit the band's website

The minute I heard their music, I had this instant desire to sing along with them. This is how I got to call Ákos, and we settled for a hearing. This was in July 2006, I believe. Then, in August, as I was travelling to the Black Sea, the bass-player, Lehel gave me a call to say that I was going to sing with them at a concert that would help them make a decision. I was surprised and scared, but I was also very happy, as you can imagine.
Back then I hadn't had the slightest idea how I should sing these songs. Luckily the concert was canceled but Yesterdays still decided to release this album Holdfénykert with me. I have to say, we worked really hard to find this way of handeling my voice, because until then I sang mostly in bell-canto stile, which wasn't eligible for these tunes.
Who are your musical influences? What artists have you found yourself listening to?
Kinga Jánosi: Well, I'm very fond of jazz, blues, Latino American music and musicals. This is why my favorites are: Ella Fitzgerald, Judy Garland, Doris Day, Ginger Rogers, Fred Astaire and so on, but I also listen to Katie Melua, The Cranberries, Alanis Morisette and many others.
I'm open to all kind of music, all kind of performers; I'm not one-sided in this matter, but I have to say there are many big names that I'm not familiar with, although I should be. Before joining Yesterdays, I hadn't heard about progressive rock. This is why Ákos gave me a load of music, he told me stories about the bands that he liked and he insisted that I would get familiar with that era so I would know what I'm being part of. This helped a lot.
How does performing live in front of an audience makes you feel personally?
Kinga Jánosi: This singing stile is rather new for me so I do not trust it yet; I have this urge to interpret correctly and allow no mistakes, so this makes me very nervous before each concert. But when I manage to get carried away with the music, then it's like loosing touch with reality; it's like I'm not aware of myself anymore, but instead I become a sound, a tune, a word, I become one with the music.
Can you fill us in a little more about how your spend your days?
Kinga Jánosi: As I said before I am a student, but not only at Music Pedagogy, but I'm also a sophomore at another university's Communication and PR Department. This occupies a lot of my time so I can't work yet.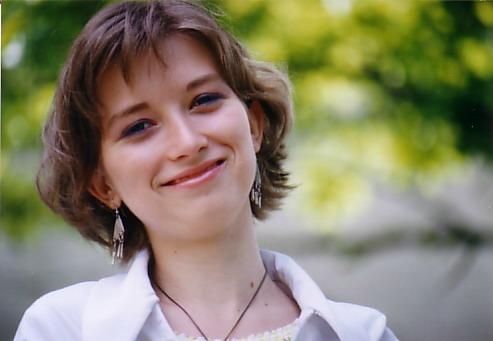 Kinga Jánosi (lead vocals) | click to visit the band's website

How has the response to Yesterdays been locally and worldwide?
Kinga Jánosi: I was surprised of how well people reacted to Yesterdays. I think we really touched an issue that is present in everybody's life somehow and we presented it in a way that was comforting for the ones who were hurt. I wouldn't have thought that we were going to have such an impact on people. This made me realize again how much power can music have and now I understand how big our responsibility is towards our audience.
Can you tell us about some of the releases listed on your website that are not generally available?
Ákos: There are 3 kinds of releases listed on our website: official, that is, Holdfénykert (2006) and Holdfénykert Remaster (2007); semi-official, A Whole Half EP (2004). There are also many bootlegs--thanks to our fans and friends--along with a double DVD of an early Yesterdays show. Of course the bootlegs are "out of print" and are available only in the fanclub. The Limited Edition EP (2004) is out of print but it was a great success in Transylvania. The 2006 album is available and thanks to its success, it will be re-released as a remaster in 2007 by Musea.
What would you say has been the most significant developments in Yesterdays over the last several years?
Ákos: After many member-changes, this current line-up is the most important for us and of course the most significant is that we found this "common language" of progressive rock music.
How did you join up with your current label?
Ákos: Rockszerviz is a small label in Hungary. Their manager, István Matusa saw me playing in the famous Hungarian progrock band, You And I in December of 2005. After You And I's disbanding he found out that Yesterdays just started to record its first album and he offered us a collaboration, and here we are, working together in harmony for a year.
Describe the progressive influences in your music in detail?
Ákos: Yes, of course, as a big collector of prog I can say that there are so many bands that I can consider influences: Gentle Giant, early Genesis, Spock's Beard, Annie Haslam and Renaissance. I am so happy to see that there are many young prog bands with female voices: Magenta, Mostly Autumn, Flamborough Head.
Since we are fans of Yes, we love the high voices and the vocals. It would be hard to reproduce this with a male singer, and with female voices our music gets a unique taste, so it is more now than just a Yes-clone.
We hear that you may perform in the UK later this year.
Ákos: Yes, we have a very important invitation in the UK this September. We have many plans in the future. This month we'll play with Peter Banks, Yes' first guitar player and Flamborough Head in Budapest, we will play a few gigs in Romania and Hungary on some festivals.
What would you say are the three things that set Yesterdays apart from other progressive rock bands currently?
Ákos: Interesting question. I think the deepness of the lyrics and the concept is very important to us. We do not struggle to be like Yes or Genesis and while listening to our first album you'll find that the infuences are not so strong. We have our own sound, not a very usual progrock sound, more acoustic, more sensitive, a bit jazzy. That is why Yesterdays is more and more popular in Hungary and Romania. Many non-prog listeners like it and buy the album.
Has the internet been a useful tool for you and the band?
Ákos: Since the eight band-members live in five different cities, without internet I couldn't arrange the rehearsals and to organise gigs. We have many friends all around the world. Beeing invited to Holland or to England are some of the blessings of the internet. Many people found us thanks to our website and the Myspace page too.
Myspace is great! Can you imagine what it's like when out of nowhere you get a mail from Peter Banks, that he is interested in our music? We only had to correspond with him, and here we are, playing together in Budapest. Fantastic!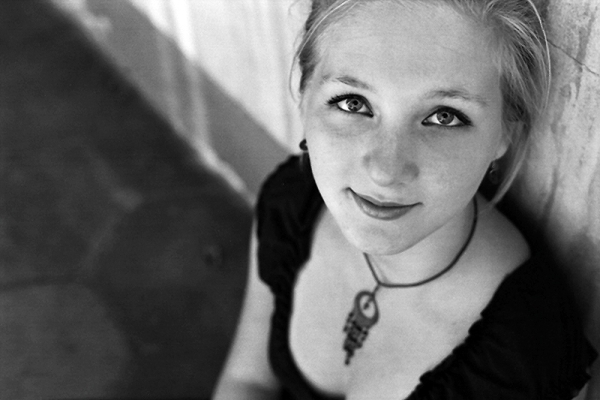 Timea Fülöp (backing vocals) | click to visit the band's website

How often you rehearse?
Ákos: It is hard to get this band together for rehearsals. We have only two rehearsals a month, and some extra stuff before the shows. Yesterdays works in a very professional way and I am very proud of my mates. Everybody does his work at home, so when we are together, everything goes fine, we do not have time to argue, we live every special and joyful moment of playing together again. I think this is the secret.
What are your plans for the next album?
Ákos: We are currently working on it, we have two new songs. We hope that we can record the album this winter, and release it in spring of 2008. It has a more electric sound, but the mood is the same. We are very inspired these days.
What are the band's hopes and dreams are for 2007 and beyond?
As many shows as possible, preparing the new album and to stay to together as much as possible playing our music, developing our style, sound. As a band, Yesterdays is a dream-come-true for all of us, right now we live in this wonderful dream, and I think we wouldn't want to wake up.
What can tell about your musical background, the training have you had and what other bands have you done work with and perhaps your solo work?
Emese Kozma Kis (flute): I've been learning in a Music School since the first grade and I've been studying the flute for eight years. I study and play mostly classical music, I only got to know progressive music by joining Yesterdays. I haven't been working with any bands before, just played only in symphonic orchestras and in a chamber orchestra.
Timea Fülöp (backing vocals): In my opinion, the fact that I've been studying at a musical school for twelve years explains all about my musical bases. The everyday practice is something normal for me and I got used to freqent piano concerts. This is the first band in which I play a part and although I've grown up on classical music, I adore our kind of music.
How did you join Yesterdays?
Emese Kozma Kis: Two years ago, Ákos, the guitarist was looking for a flutist and he found me. Everything was totally new for me, but I've found good friends and good musicians in Yesterdays, so I'm glad to be with them.
Fülöp Timea: In one word my story is the following: Emese, the flutist who is also my classmate, told me that she was member of this band, and what is more, once I went to their concert at the Bonchida castle. In the summer of 2005 she came to me and asked for my help. The band needed somebody's contribution for the very well-known hit: Spock's Beard June, in which there are three vocal parts. I helped with pleasure and from the very first moment it became my favorite tune. So, this song brought me in the band, and since then I'm a member of it. (smiles)
And who are your musical influences?
Emese Kozma Kis: I'm influenced mainly by classical music, but I like jazz, pop and rock, too. I've been listening to The Beatles, A-ha, Jethro Tull, Genesis and since I'm in the band, Spock's Beard and Yes, and I like them very much. It's so exciting to find similarities between progressive and classical music.
Timea Fülöp: After twelve years of musical school, one can imagine, that my favorite type of music is the classical one, but I am also influenced and charmed by the opera. As music is my life, I've learned to appreciate every genre, especially the music of good quality. If I have to mention names from the classical scene, then I would say that Beethoven, Schumann and Chopin are those musicians and composers that I listen to with pleasure and who inspire me. Since I've been a member of Yesterdays I listen to Sting, Peter Gabriel, Genesis, Spock's Beard and Yes, too.
What's it like performing in front of a live audience for you?
Emese Kozma Kis: Well, that isn't a problem for me, because over the years I've got used to it, but playing in a band is much different than performing alone or in an orchestra. When I performed before, I concentrated upon the audience to feel good, to enjoy themselves. But now I can enjoy the music on my own, too. I feel myself very happy when I'm on stage with Yesterdays, I forget all my problems and this state fills me with energy.
Honestly, I recommend this feeling to everybody. Before getting on stage, I usually am overwhelmed by intensive emotions. Furthermore, until I play or sing the first tune, I am not totally lucid. But all these emotions are normal and have their limits. I can control myself.
On stage everything changes: you start making the music and transmitting something to the audience. And if the audience reacts, receives positively your music and you feel that they are with you, they encourage you, you'll feel more and more self-confident. You forget all disturbing emotions, and all you do is concentrating on the music. This concentration takes you into another world.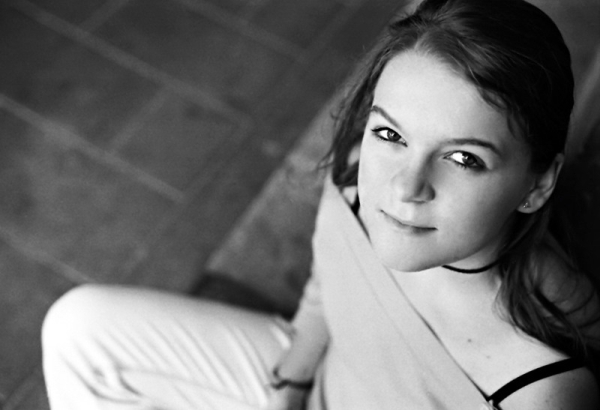 Emese Kozma Kis (flute) | click to visit the band's website

Of course, if you love and enjoy what you are doing. What is specific in my case, is that on my piano concerts I am usually very nervous, although the audience is made up of very few people. Many times, due to these emotions, I cannot give all that I feel or all that I am capable to show when I'm not under stress.
On the other hand, during my appearances with Yesterdays, I don't have have to face this kind of problem. Maybe, the simple fact of using my voice gives me more confidence. Singing is very something very natural and comfortable to me. Zoltán Kodály says: "Humans' most beautiful instrument is located in the throat." I admit this, the human voice is the most wonderful instrument for me, too.
Is music your full time profession?
Emese Kozma Kis: Yes, music is my full-time profession. My dream and aim in life is to become a soloist.
Timea Fülöp: Me too. Music takes all my time. I am still at high school and my world spins around music.
How has response to Yesterdays has been locally and worldwide?
Emese Kozma Kis: The response to Yesterdays is pretty good, I think we are getting known by more and more people locally and worldwide.
Timea Fülöp: I consider that we are welcome worldwide. The best proof to this is our concert in Holland. Far from our native town, in a land where nobody knew us, nobody has heard about us, we were received in a way that I cannot even put into words. What is more, even if we sang in Hungarian, and they didn't understand a word, we could see the audience understood our message. In my opinion, the point is that people taste the world created by us, not the language in which we address to them. The world became attached to us and appreciates us. But this is just the beginning. Let's not hurry and see what comes.
Album Review
Yesterdays' first full length album is entitledd Holdfénykert (Moonlit Garden). Ten tracks appeared on the original 2006 Rockszerviz release. Musea's remaster includes the same track list. We also obtained radio edit of the final track, "Valahol a térben." Says Musea, "Yesterdays is composed of musicians belonging to the Hungarian minority of western Romania. This is why the vocalist Kinga Janosi, on top of a few titles in English language, also chose to sing in Magyar. Musically speaking, the atmosphere is quite mellow: this is a refined and colourful opus, bursting with sunshine. Somewhere between atmospheric rock, Latin and jazzy sounds, Canterbury School style, with languorous Mellotron and enchanting flute melodies."
Listeners will be stricken from the first track with the band's flute parts and the glorious and crystalline vocal work. We found the overall production to be outstanding in every respect. While the tracklist on our copy is entierly in Hungarian, the tracks are titled in English as follows: "Sunlit Garden," "Infinite," "Don't Be Scared," "It's So Divine," "If Ever," "Where Are You?," "Just Stay," "Moonlit Garden," "Seven" (Part I. "Your Colours"; Part II. "My Words") and "Somewhere In Space." "It's So Divine" and "Seven" are the only track that is sung in English.
The music on Moonlit Garden is fantastic. Vocals are clear and tenderly delivered and always mixed perfectly. Acoustic guitar parts are crisp and so well recorded that every element of the musician's work appears on the recording. Listeners will hear the player's love of Steve Howe's work in the acoustic guitar parts. And while the material is new and unique to Yesterdays, and there are very few references to the music of Yes, there are allusions to both You And I and Quidam (Camel) in several of the tracks. The first clear tie to Quidam appears in one of the flute solos in "Ne félj." And with the lovely vocal harmonies that add texture to the track, further Quidam flute and You And I sung references continue into the lovely and most accessible English lyric track "It's So Divine." Further thematic references to You And I and Renaissance tracks appear within "Hol Vagy?"
Yesterdays doesn't play aggressive or metallic progressive rock. The music is more delicate and peaceful, even in their upbeat numbers. While the English lyric tracks will sound most accessible to a broad audience range, many of those sung in the singer's native tongue are equally so. These will, however, require more serious listening by English speakers. The band are instrumentally divine and make excellent use of both backing arrangements and solo parts. The flute work is extremely notable. We especially enjoyed how the backing vocals add texture to the band's arrangements. Their epic "Seven" is astounding and must be very exciting to see and hear performed on stage.
Yesterdays Moonlit Garden has been a longstanding favorite of our editorial staff and we are embarassed that our interview and album review from 2007 were lost for so long in the archives. The latest

reissue of the album is available online from many outlets including amazon.com and others. In the run up to their second full length album and celebration of their contributions to the Musea various artist compilations, Holdfénykert remains a classic progressive rock masterpiece.

<! do not remove these lines>
---
Return to website contents
---