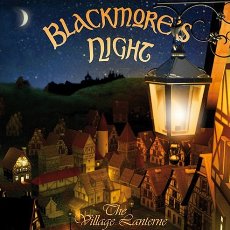 Image © Steamhammer/SPV
Minstrel Hall Music 2006

More Blackmore's Night:
reviews and interview (1997-2004)
Castles and Dreams (2005)
Winter Carols (2006)
Paris Moon (2007)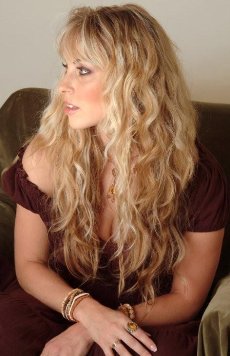 Candice Night (lead vocals)
Image © Steamhammer/SPV
Minstrel Hall Music 2007

&nbsp
(03 February 2008) Individuality and true musical greatness are marked by an artist who follows his own intuition, without being influenced by other people's expectations. Ritchie Blackmore's integrity may occasionally seem strange, if not indeed doubtful to many a Deep Purple and Rainbow fan but it shows that he is one of the best and most exceptional contemporary musicians in every respect. With his band, Blackmore's Night, featuring his partner, the vocalist Candice Night, Blackmore has certainly not broken with his previous creative forms of expression. Quite the opposite: the songs on his current album, The Village Lanterne, document unmistakably that there's still the rock musician inside him. But Blackmore has not remained static in his development, he has allowed his penchant for medieval music, which already shone through on many of his hard rock compositions, to culminate in his very own, unique style of music.
The album is in some ways their most realized effort. After several releases and years of touring together, Ritchie Blackmore and Candice Night seem to have a more clear idea of what they want to do with their music, and where to take it. Especially Candice Night has grown and improved immensely both as a lyricist and singer. Her voice is more mature now, with a distinct sense of confidence and passion. She sings with sheer emotion and conviction through the whole album, proving she's a key element in the unique sound of Blackmore's Night. As for Ritchie Blackmore, no words would do justice to describe his talents and songwriting skills, let alone his distinctive tone and phrasing he puts behind his compositions.
On The Village Lanterne (SPV/Steamhammer (USA/Germany) SPV9970A CD, 2006), Blackmore´s Night combine great vocal melodies, seemingly archaic instrumentations and virtuoso guitar parts with lyrics that allow the listener to dive deep into a mysterious, romantic world. In the process, Blackmore continues to develop his ability as a composer and instrumentalist without ever denying his former artistic identity. "Mond Tanz/Child In Time" is the resurrection of one of Deep Purple's greatest hits in a new guise, and "Street Of Dreams" is a haunting new edition of the Rainbow classic. Both songs represent the close artistic links to Blackmore's work in the aeventies and wighties.
At the same time, "Just Call My Name," "St. Teresa" or "I Guess It Doesn't Matter" show that his rock musician's heart remains ever-present in his new compositions. On the title track and on "Faerie Queen," Candice Night seems to blend together with Blackmore's acoustic guitar, while "25 Years" displays oriental influences. Then there are wonderful moments, such as the folkloric instrumental numbers "The Messenger," "Village Dance!" and the beguiling "World Of Stone," "Olde Mill Inn" and "Windmills." The album is rounded off by a new version of Ralph McTell's "Streets Of London."
For those of you not familiar with Blackmore's Night, they play an impressive style of Renaissance era music, combining it with elements of new age, folk, rock, and blues, among others. Though heavily acoustic guitar driven, their songs blend a rich array of mandolins, violins, cellos, tambourines, drums, trumpets, bagpipes, and keyboards. Still retaining the classic Blackmore's Night sound, The Village Lanterne is arguably their most modern-sounding release to date. This seems to be because of the recording techniques they employed in the studio, rendering some of the pieces noticeably more contemporary than their earlier work. They are not omnipresent, however.
It's more like the band and producer Pat Regan decided to incorporate some new textures and a heavier focus on atmospherics on some tracks. Songs like "Olde Village Lanterne" and "I Guess It Doesn't Matter Anymore" are both marked with effective rhythmic patterns, particularly in the way the drums and percussion are played. Aside from that though, the songs are your typical Blackmore's Night numbers, highlighted by Night's convincing voice and Blackmore's crystal-clean acoustic guitar, both worth dying for. The symphonic backdrop on "The Olde Village Lanterne" lends it an ethereal new age vibe thanks to its creative arrangemen) while Blackmore fuses wonderful blues licks with 16th century folk melodies on its successor.
As with previous albums, there are mini instrumentals on The Village Lanterne as well. "The Messenger" merges Blackmore's love for new age and acoustic guitars, utilising subtle keys and orchestral motifs; while "Village Dance" is a more laidback yet more direct acoustic number. Much like these two tracks, "Mond Tanz" (Moon Dance) is the first instrumental part of the band's "Child in Time" rework on track nine. The instrumental piece starts out as a happy, upbeat cut, secretly slipping into the classic Deep Purple anthem, where Candice Night's harmony vocals are so beautiful you may want to freeze. Blackmore throws out full-on blues-inflected riffs before the band goes back to the playfulness of "Mond Tanz" to wrap the piece up. Another "cover" song on the album is the special bonus track "Street of Dreams", found only on the Japanese import of the album. This one features Blackmore's counterpart Joe Lynn Turner, who exchanges verses with Candice Night. The two singers duet, harmonise, and swap choruses, while Blackmore plays an enchanting lead solo with a medieval touch.
Candice Night's vocals on the emotional "Once In A Garden" recall her pure yet powerful performance on the debut album Shadow of the Moon, still a personal favourite of mine. The chanting-like male back vocals and Celtic bagpipe melodies on "World of Stone" and the almost-live performed "Olde Mill Inn", or the hard-rocking "St. Teresa" all help diversify the album, with impressive results. The Japanese version of the CD contains the aforementioned essential bonus track with Joe Lynn Turner, two booklets (the black and white one being in Japanese) and a neat packaging with a nice sticker.

Though Shadow of the Moon and Fires At Midnight will remain on top of many lists, The Village Lanterne will make a great addition to the Blackmore's Night discography.--Murat Batmaz in Istanbul, Turkey