click on image to visit Charlotte Martin's website
Image © Erin Russell 2006

Charlotte Martin
Something Like A DVD
interview and DVD review
more Charlotte Martin:
Interview (On Your Shore) (December 2004)
Interview (Darkest Hour) (July 2005)
Interview (Veins) (October 2005)
Test-Drive Songs (2002)
In Parentheses (2003)
On Your Shore (2004)
Veins (2005)


review and interview © Audrey and Russ Elliot 2006
click on images to visit artist's website
all photos used with permission
formatted for 800 x 600 or larger windows
Last updated: 20 March 2006

We caught up with Charlotte Martin as she was putting finishing touches on plans for her latest coast-to-coast tour and continuing work in the studio on her forthcoming full length album Stromata. In our latest interview, Charlotte spoke with us about Something Like A DVD and also disclosed some of the details behind her "Rarities" series. The DVD will be released on May 1, 2006. The DVD as well as the second and third installments of "Rarities" are also planned to be available during the tour. Our review of the DVD is also presented below.
Interview
Recently, Musical Discoveries spoke with Charlotte Martin about her new DVD, Something Like A DVD. As always, Charlotte was welcoming and bubbly, anxious to chat about her newest achievements. She was quite excited about her new DVD which we had recently viewed. When asked how much input she had in the final outcome of the DVD, Charlotte replied that she was standing over Ken's shoulder the whole time! She said she didn't have a lot to do with the actual editing of the performances. They recorded twenty songs and only fourteen made it on the DVD. The performances that appeared on the DVD were exactly what Charlotte wanted. She said that she had also performed "Wild Horses," a cover she's well-known for, but it wasn't her best performance so she and Ken decided to scrap it.
Charlotte explained that there is a tremendous amount of editing that goes on for just one song and they only had four cameras. She said that the next DVD will have cranes. Even though you could see some of the cameramen, she wanted it extremely organic and wanted her audience to see she was shooting a DVD. She liked some of the wobbles that appeared a couple of times in the shooting. While all the cameramen were professionals, she didn't want the DVD to be "slick." She wanted more of a documentary than a live show. She enjoyed having the fans explain what the live show is and what going to a Charlotte Martin show is, having an inside peek at the studio footage, the on-the-road clips, and bringing them up-to-date on what's happened in the last four years. Charlotte explained that she's done the big video, and she didn't want the slick $40,000 video. She feels her DVD is visually more interesting. "Image wise, I didn't just want 'here's the Charlotte Martin show' since there's lots of bootlegs going around. People can videotape my shows anytime they want, and I wanted the DVD to be something they couldn't get. The production was very personal."

Photo Exclusive to Musical Discoveries
Image © Ken Andrews 2006


On the DVD, fans revealed that they came from all over the country to see Charlotte perform. She was delighted that fans came from all over, and said they went to great expense to see her. She said that it was a really long show and that made it even more personal. She thoroughly enjoyed having the fans interviewed and would have liked more fans to be appear, but not everyone likes to be on camera. Charlotte said that for everyone who listens to her music, she wanted the DVD to be as much for them as it was for her.
Initially, Charlotte thought this DVD would help her overseas exposure. She said she was working hard on getting overseas, but wasn't sure about doing a tour. She'd like to get over to Japan at some point as well as tour in Canada again. She said, "When I do it, I want to make sure I can do it properly and get the right times as we're very busy right now." Her next tour begins March 2nd, kicking off in Portland. We mentioned that we'd see her in Cazenovia, New York since it is only an hour away from our headquarters. Charlotte said she'd never been there, and knows the venue is at a college and is close to Syracuse. She said she is performing at two colleges this time.
This tour will be different from her last one with the addition of a new piano, two synthesizers and an upright. Charlotte said she stands up during a lot of the show and she is trying to get everyone ready for Stromata, slowly. She is currently in the middle of starting her own label called Dinosaur Fight Records, and is in the midst of negotiations with distributors. She is looking at a fall release for Stromata, or maybe later since the album is still not quite done. She would like to shoot a couple of videos for the new album and get some photos. After the six week tour, things will be put on hold for a short time to give some of the staff a well-deserved time off.
Charlotte explained that her brother was instrumental in setting up her Indie label. She said she is still interested in the major labels and she's not shutting the door on anyone. " I'm just trying to make sure that wherever Stromata lands that it will be best, where it will be nutured and promoted properly." She said that she, Ken and her brother have been talking about setting up their own label on and off for the past year. Charlotte's brother has been following her career for years and was frustrated with the way things were handled. He helped an established but privately held firm go public and he wanted to start the new Indie label to see if together they could make it fly. She admitted that it would be a lot of work and they were planning on signing a few bands since the industry was all about distribution.

Photo Exclusive to Musical Discoveries
Image © Ken Andrews 2006


After the upcoming tour, Charlotte plans on finishing Stromata and getting some images together. She said that the tour and the sound of this tour would set up Stromata. She plans on playing a couple of songs from her new album and did a preview show in LA in January which was well received. "I got to introduce my Korg and my new songs and I'm slowly trying to get people into that sound. Stromata is so different than On Your Shore. It's extremely electronic and I get far away from the acoustic piano and keyboards. There's still a little bit of acoustic piano on it."
Charlotte regularly performs a solo act, but for Stromata she plans on taking some players. She said she is slowly building on and may just take a drummer with her. Her new show will have lots of drums coming out of the keyboards, and she's been playing with her new toy - her Korg. She is delighted with the ability to run her voice through and do loops and all sorts of other 'crazy' things on it. With this new instrument, Charlotte has reinvented a lot of the older material for this tour. She has new and completely different versions of "Limits of Our Love," "Monster" and "Haunted." She's even pulling out some material from One Girl Army which she hopes will make it a really fun tour. She mentioned that there are a couple of songs from the DVD that people haven't heard that she will play.
When asked about her favorite part of the DVD, Charlotte enthusiastically said that she loves the fan interviews. She also mentioned that she likes the behind the scenes footage from In Parentheses in the studio. All of In Parentheses except for "Monster" was recorded in that studio. Charlotte remembers a 'rad' seven foot beautiful Yamaha piano in the studio at a time when she didn't have her own big one. She spent about fourteen hours a day there for about a year and a half, and the footage brings back many old memories. She said they put "Lost In Space" on the DVD and she didn't even remember writing that song. The segment on the DVD is the only recording she has of "Lost In Space" and she doesn't even have words for it. She recalls there may have been another song played afterwards, but she doesn't remember what it was and it is lost because she asked not to have it recorded. Charlotte said that not recording some songs happens all the time and so much material then disappears.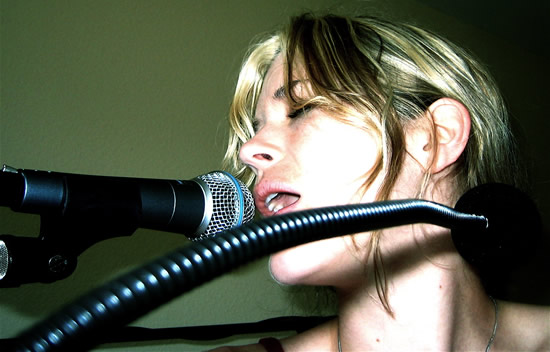 Photo Exclusive to Musical Discoveries | Image © Ken Andrews 2006

We also wondered if there was anything else that Charlotte would have added to her DVD. She told us the big debate was whether or not to should put "Beautiful Life" on there. Although she had a great performance of that song, as well as "Snowflake," the DVD was too long and some segments needed to be cut. She wanted to make room for "Lost In Space" and the behind the scenes footage to make the DVD more of a documentary. Charlotte said there was so much footage that the DVD could have gone on for four hours! She did say that she will always have the footage now and she may put some up on iTunes. She and Ken spent a whole month in Illinois and edited the entire time. She tried various approaches and felt the photos were instrumental to place before the songs. Charlotte really wanted the images Erin Russell took in the DVD since Erin has been such a large part of her work since On Your Shore. She recognized Erin's genius as a photographer and feels strongly about how the images are very important to her music. Charlotte also said she likes the slide show at the end of the DVD. She enjoys seeing fans, the tour managers, people she's toured with, and friends she's made over the last On Your Shore period.
Charlotte explained that her first "Rarities" EP is going to be part of a bigger project. She doesn't have all of One Girl Army as opposed to what the popular consensus may be. She does not have the masters with every song on it; she only has some old demo versions back before she recorded Mystery, Magic and Seeds. She said there are many collectors who are interested in the old stuff and she wanted to document a part of her life when she started out. Eventually, Charlotte may put together a box set of the Rarities and make them available to the public. She's made two hundred pressings of the Rarities.1 CD, and plans on doing ten or fifteen numbered CDs in total. The CD was on sale at an LA show on the west coast, and she will probably do another for the midwest and one for the east coast while on tour. She said there is so much material and doing the Rarities is good fun. She said it will be a fun scavenger hunt for the fans.
Charlotte thought it would be cool to put tracks from One Girl Army on the Rarities. She said there are about seventeen songs from One Girl Army and even though she doesn't have the master, she has demos. Charlotte said she's always liked the songs from that album but never played them. "Raven" was written around that time and there was a lot of arpeggiation. She said you can hear the same sort of arpeggiation and the same sort of piano work in "Raven" as you can in "Quickdive" even though they are different songs. She's given "Raven" a face lift and she thought people would want to hear songs that never made it anywhere. "Across The Water" was on One Girl Army and never came out.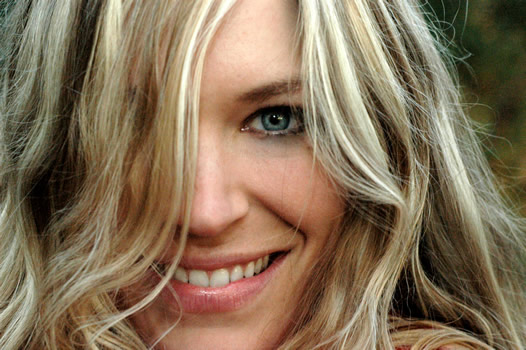 Image © Erin Russell 2006

In order to market her DVD, Charlotte is doing her tour and pre-selling the DVD while on the road. The DVD will be available to the general public May 1st and she plans on releasing the digital version on iTunes. Although she's been approached by different distributors to put it out, she may choose to release it through Dinosaur Fight if the timing is right. She would like to get the DVD into stores, but she does well on iTunes. The bulk of Charlotte's work is sold digitally or on the road, and she'll be on the road for six weeks to support it. She did say the DVD is a great introduction for people who don't know who she is. She added that the DVD marks the end of On Your Shore project.
Most recently, Charlotte did a song for the movie London. She worked with The Crystal Method on a song called "Glass Breaker" a couple of years ago and the movie was just released. This song is available from iTunes. She also said it's really good timing since The Crystal Method are DJ's. It's another sign that Stromata is going in the right direction. Charlotte also worked most recently with a DJ named BT writing a song called "Sweet Thing." BT is an electronic artist who's also a film scorer - he's worked with artists such as Peter Gabriel, Tori Amos, and Sarah McLachlan. His biggest record is called Movement in Still Life. BT is putting out this record and he is huge in Europe. Charlotte went on to say she just sang for a Christian band from San Diego called Something Like Silas. Their music is very creative, extremely metaphoric and very beautiful. They play at a church called The Flood in San Diego.
Our chat with Charlotte ended with her saying she is really excited to be able to do this music and she hopes people will like it. She is a bit nervous about Stromata but is looking forward to seeing everyone on tour.
DVD Review
| | |
| --- | --- |
| Photo by Erin Russell | Image © One Girl Army 2006 | |
Something Like a DVD was performed live and recorded at The Silent Movie Theatre in LA on November 17, 2005 before a crowd of approximately two hundred. The DVD is intended to play as a documentary, and the exquisite footage in black and white along with crackling film in the main menu lends itself to this genre. Charlotte Martin performs her one-woman show before a most appreciative and adoring crowd. There is no scenery on stage except for her piano equipment and some simple lighting, backed by a shimmering curtain.
Prior to each song performed, beautiful still photos by Erin Russell that relate to Charlotte's music are shown and incorporated into the DVD. Charlotte enters to cheers and audience enthusiasm. She begins her concert with her invigorating "Veins." She engages the audience with her magnificent voice and expert keyboarding. She shows great facial expression while maintaining wonderful eye contact with her audience. She totally captivates the listener with her powerful vocals and emotion.
The following segment explores some of her studio recordings, beginning with Justin Meldal-Johnsen, her studio bassist from In Parentheses and the On Your Shore sessions. These behind-the-scenes views also show Charlotte closely watching the On Your Shore string sessions conducted by David Campbell as well as her husband, Ken Andrews, controlling the mixing board during the In Parentheses and the On Your Shore sessions.
Back at the theatre, Charlotte performs a moving "On Your Shore." The camera focusses in on her keyboards at times so the viewer can see her expert piano playing. There is a delicacy and dynamic force that unite while she sings. The next shots are some on-the-road scenes which give the audience an inside peek at the real Charlotte. She is playful, humorous and one can see her sparkling personality shine through. "Madman" is the next song in her set that has an electrified feeling that builds and builds. She also has a mischevious look in her eye, and at one point sticks her tongue out at you! Charlotte sings with splendid determination and ease, enrapturing the listener.
The fans are interviewed next, and they have come from all over the USA to see Charlotte's show. It is truly amazing to hear how far people have traveled to hear her sing live. Once again in the theatre, the mesmerizing "Steel" is played next with its wonderful arpeggiation. She follows up with the breathy "The Girl I Left Behind" with its electronic interludes. Charlotte is very relaxed and at home on the stage as she interacts with her audience, displaying her raw emotion in her music.
To personalize the DVD even more, the fans are asked about their favorite songs. The choices run the gamut and it seems that each and every song is a favorite to someone in the crowd! The beautiful "Up All Night" follows next with its simple piano accompaniment. Her soaring vocals display her incredible range and proficient singing ability. The next shot is a glorious picture of the sky filled with clouds and the sun's rays to open for "Lost In Space" which was considered, but not recorded for the On Your Shore sessions. Charlotte is at the piano in this old studio clip singing this tune not heard by the public. We are so pleased to finally hear this wonderful song even in its raw form.
"Bones" is next with its sweet, flowing melody. It is a tenderly sung ballad with rich keyboard washes supporting the gentle melody. Charlotte's compassionate vocals highlight the content of the song. Another moment with the fans is interspersed in this DVD, asking about their favorite show moments from her different tours. There are some wonderful stories about some personal moments between Charlotte and her admirers. A fan's last comment about "Every Time It Rains" segues into her next song. There is a delicacy and gentleness to this song, but it climaxes with and emotive passion. She follows up with her moving and robust "Darkest Hour." "Limits of Our Love" begins with gentle piano and flows into a powerful, driving force. Charlotte's voice penetrates with amazing strength and energy sending shivers up and down your spine.
The fans appear again, describing her music. They say her music is likened to an unfolding and growth as she keeps putting out new albums as well as her music being apocolyptic and revealing, igniting the soul. "Under The Gravel Skies" is the next song in her set filled with heavy reverb in the vocals. Her vocal power is evident in the soaring notes of the chorus and especially in the a capella middle eight; layers contribute additional texture to this track that grows significantly on the listener.
The DVD continues with more behind-the-scenes looks at Charlotte as well as a radio interview, some more on the road peeks, and even a glimpse at one of her performances. "Four Walls" ensues with its upbeat electronic rhythm and heavy bass riffs within this pop-oriented song. You can't help but move to the hypnotic beat. One can easily see how much Charlotte enjoys herself with this powerful performance. The next set of clips is a studio out take of "Step Back" from On Your Shore. It includes wonderful stills in slideshow format of Charlotte and stills of Joey Waronker who is the studio drummer from In Parentheses and the On Your Shore sessions. The slide show continues with great photos of Charlotte with fans, people she's met on the road, and folks she's toured with over the years. The photo montage is priceless and provides a glimpse into the real Charlotte. Especially endearing was the childhood photo spread.
The DVD concludes with another fan interlude and the electronic "Something Like a Hero." She entices the audience to sing the words along with her (who happily oblige), often turning the microphone towards the crowd. Her playfulness is evident as she persuades everyone to join in. Charlotte's light-hearted interaction with the audience is a most appealing feature of her live performances. In addition to the live performance, there is a great slide show with marvelous, inside look at photos of Charlotte.
It is evident that throughout this DVD, one can see the real Charlotte Martin, up close and personal. Her talent abounds and if you've never seen Charlotte perform live before, this DVD gives you the perfect insider's view. Watching the DVD is the next best thing to seeing her perform live, which is a treat in itself. Her bubbly personality and musical expertise are clearly demonstrated and anyone viewing this DVD will certainly be totally captivated by this incredible musical artist. She is a true virtuoso. Bravo!

<! do not remove these lines>
---
Return to website contents
---