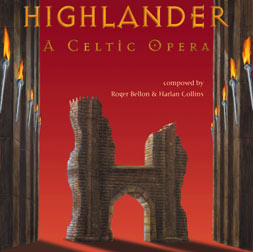 Image © 1999\r\n\r\nB. C. Electrola
&nbsp
(04 September 2000) Roger Bellon and Harlan Collins' Highlander- A Celtic Opera (B.C. Electola (USA) 001, 1999) is a professionallyproduced recording in every respect. It has a running time of over 70minutes. The project was written, composed and produced by Bellon and Collins. Bellon also composed the music for Highlander The Seriesand Highlander The Series - Volume II. Although (to our knowledge) the opera has not been staged, the recording and accompanying package isfar more than a demo, although it may have been developed for that purpose initially. Clearly the album is catching on with intense audience interest expressed by comments made in the offial website's guestbook.
The story spans a period from circa 1600 until the modern day,takes place in Scotland and Paris and involves six characters: Duncan MacLeod (Steve Amerson), Aurora (Karen Fineman), Frtagern (Sean Wright), The Witch (Adelaide Sinclair), Mirrdhen (Virenia Lind) and Dr. Rodia (Paul Stowe). Although labeled an opera, the parts are clearly performed in a modern West End or Broadway musicalstyle. Instrumental arrangements are orchestral and are richly producedin every respect. The album certainly presents the image of a soundtrackfrom a major musical. Professionally sung and performed in every respect,the album leads us to believe it would succeed in the theatre district.We especially enjoyed the vocal parts sung by Steve Amerson andKaren Fineman.
Solo parts and those with the company are well sung and evocativelyperformed. The variation in mood as the story unfolds is expertly delivered. A modern West End musical-style story tells of the immortal life of Duncan MacLeod and his first love Aurora who diesin the first act. Set in Paris, a modern miracle brings about her rebirth in the second act, but her love of another man drives Duncan back to his homeland. She joins him again in the third act, however,evil returns and slays her once more. The story blends bliss with strife in a highly dramatic setting. It is well supported musicallyboth with the singing parts and orchestral arrangements.
You can order the album, listen to samples from it and read further about the story at their official website.The album blends classical operatic treatments with contemporary Celtic themes. The full libretto is in English and is easy to follow. Production quality and packaging of the album are superb. A wholelot less expensive than an evening out in the theatre district, thealbum is worthy of further exploration—a very nice and dramatic listen!