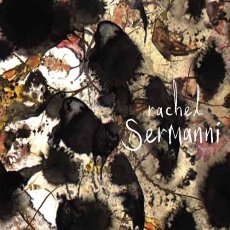 click image to visit Rachel's website
Black Currents front cover image
© Middle of Nowhere Recordings 2012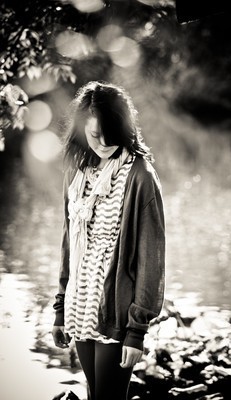 click image for Rachel's FaceBook
image © Rachel Sermanni 2012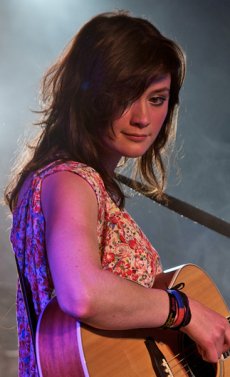 click image for Rachel's MySpace
image © Rachel Sermanni 2012

&nbsp
(11 February 2012) For more than a year now, the name of Rachel Sermanni, a singer-songwriter from Carrbridge in the Highlands of Scotland has been cropping up with increasing regularity, often uttered in suitably hushed and impressed tones. Sometimes, with an artist that has yet to release any music to the public, such a buzz is created by clever publicists, but in Rachel's case it's definitely been a case of "street up" rather than "industry down," based on her extensive gigging, mostly in the UK and Europe, but also in the US. And, usually a good sign, the whisper has been particularly strong amongst other songwriters and musicians.
"Dreams are a good reflection of what songs are. It's quite a nice way to think about it. When I have a good dream, things are sorted out in my head, and when I have a good song things are sorted out in my head. And everyone has their different interpretations of dreams and it's the same with songs." -- Rachel Sermanni
I don't know if Rachel considers Black Currents (Middle of Nowhere Recordings (UK), 2012) to be her proper debut CD or whether that honour goes to last years Bothy Sessions EP, but Black Currents certainly provides the first opportunity for a wider audience to hear this Scottish 20-year-old.
Rachel's songs and voice have an intrinsic eeriness which creates a dreamlike, otherworldly atmosphere. The best way I can describe it, is that it's like being alone, deep in a vast forest on a warm, sunny summer's day, when suddenly the birds stop calling, insects stop buzzing and small furry creatures stop foraging in the undergrowth. And then, into this ominous, anticipatory silence comes a clear voice, singing, and you get this shiver, this primeval, visceral thrill, shimmering down your spine. That's the music of Rachel Sermanni.
Of course when it comes to recording, that magical atmosphere can easily be lost or buried by thoughtless arrangements or an over-enthusiastic producer, but mercifully on this EP, produced by Ian Grimble, the material is the recipient of sympathetic and blissfully understated acoustic-based accompaniment creating an almost cinematic feel, whilst, crucially, leaving plenty of space for Rachel to weave her spells. This is folk noir, and it will take your breath away.
Her literate song-writing and unusual subject matter show an originality and maturity far beyond her years, and each of the four songs on the EP are quite different. "Breathe Easy" is a gorgeous opener. Growing from a simple acoustic bass line and with Rachel's lyrical vocal melody front and centre, it builds with guitar, piano and judicious strings into a fully rounded and immensely satisfying piece. It's a beautiful song with a superb, emotive vocal performance.
"The Fog" which has understandably been chosen as the EP's first single, has an insistent chorus which, once it gets its claws into you, won't let you go. It's also where the darkness seeps in as she sings: "Must I hold my hands up / my bloody hands up….. / mercy, mercy I've been caught / lying with my darkest thoughts." It's a terrific, original piece and hopefully it'll get the radio play it so richly deserves. Title track "Black Current" has an intimate, almost spoken, story-telling feel to it. In many ways it's an extremely ambitious and, at times, weird and unsettling three and half minutes of music, passing, as it does, through a number of moods and rhythms as the lyrics unfold.
Rachel's sometimes vulnerably innocent vocal delivery together with clandestinely dark lyrics has a mesmeric quality which draws the listener deep into the songs, so that you "live" them as much as you hear them. A number of her songs also have something of the essence of a folk ballad, albeit more explicit in the atmosphere she creates than in the nature of the music itself. "Song For A Fox" is such an example, beginning with a minimalist sound-scape before Rachel introduces this urban fairy tale by singing, in a chillingly pure voice, "Balanced on the railway track / I felt your eyes upon my back ..." Both lines contain an implicit danger, introducing the trademark unease that pervades her songs.
All the recordings use the same basic musical palette of voice, guitar, piano and strings with the occasional unsettling sound-scape, which together, gives the EP a sense of unity despite the commendable variety in the nature of the four songs. Rhythms are subtly plied and never forced, in most instances any power and dynamism required is cleverly supplied by the imaginative string arrangements.
Rachel uses vocal harmonies sparingly which gives them all the more impact on the occasions they are employed. Melodies are wisely left almost exclusively to the sublime instrument that is Rachel's voice, which is nicely to the fore in the mixes, exactly as it should be. The official video for "The Fog" can be viewed here. It's early days of course, but this is a stunningly impressive and original debut.--Jamie Field in Kington, England