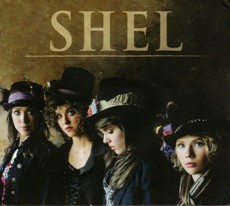 click image to visit SHEL website
\r\nimage © Moraine Records /
Mad King Records 2012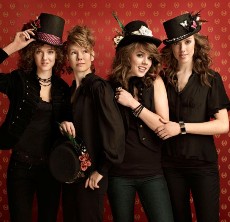 click image to visit SHEL FaceBook
Eva | Liza | Sarah | Hannah
image © Mad King Records 2012



click image to visit SHEL FaceBook
Hannah | Eva | Sarah | Liza
Acoustic Set - Boston - July 28, 2012
photo © Musical Discoveries 2012

&nbsp
(30 July 2012) Released on August 7, 2012, SHEL's self-titled album (Moraine Records / Mad King Records (USA) MR2012-4, 2012) includes thirteen well produced tracks that reflect the band's acoustic, folk, progressive and indie sounds. SHEL is Sarah, Hannah, Eva and Liza, four classically trained musicians who happen to be the Holbrook sisters. The daughters of musical artists, SHEL has emerged from the artist colony of Fort Collins, Colorado. They are sophisticated and youthful, emotional and lighthearted, classic and eccentric. Performing as an ensemble for the past six years, SHEL's engaging live show is marked with a prodigy's creativity and a veteran's instinct for entertaining. Also see our Live in Boston review below.
Album Review. The new album is comprised of tracks that span SHEL's history and new tracks as well. "Paint My Life" is a lovely, ethereal song that engages the listener with meaningful poeticism. The classical undertones in the music, combined with touching lyrics and beautiful vocals are a wonderful introduction to their distinctive sound. Eva performs lead vocals, backed by Sarah and Hannah, and each one has clarity and lucidity of tone. The decisive pluckings and strumming of Eva's sweet mandolin brings a dreaminess to "Like Minded Fool." There is a shining simplicity and purity of sound that lulls the listener, along with the melodic vocals. "Freckles" picks up the pace with its folksy and toe-tapping lively melody. There is a playfulness that gives this song a wholesome and grounded feel.
The poetic "The Man Who Was The Circus" showcases Hannah's sophisticated piano virtuosity with Sarah's beguiling violin. This song reflects a circus clown's demise - "And all the clowns gather round, Wiping off their smiles as the tears drip down, The man who was the circus is gone, Still the show must go on." The song has a restrained lead-in which turns to bacchanal since the show must go on. Celtic tones pervade "Lost At Sea." This richly melodic ballad has a haunting sound that was only missing the flute and uilleann pipes. But, SHEL took the traditional Irish folk sound and made it their own with invigorating, delightful tunes that would make Clannad proud.
From the whimsical "Wise Old Owl" to the complex "Vinyl Memories," SHEL continues to deliver. The latter has a wonderful sophistication and purposeful sound. "The Battle of Evermore" Led Zeppelin cover brings the mandolin to the forefront and the quartet performs superbly with their interpretation of this folk rock duet. "Stained" is a combination of folk/pop with the richness of the violin, in this vibrant melody. There is a bluegrass feel to this song of love gone awry saying "Walk on, don't look back, your love left my heart stained."
"On My Way" is an upbeat tune that seems reflective of the band's determination and drive to success. The lush mandolin-driven "Tuscany" is an incredible classically inspired piece paired with silken violin bowing. The maturity and sophistication of this piece exhibits the extraordinary talent of these young musicians. The sound is captivating and transports the listener to another realm. The vibrant "When The Dragon Came Down" has an explosive style and their final track is the playful "Latest and Greatest Blueberry Rubberband." A combination of quirkiness and operatic riffs makes this song a standout.
SHEL delivers to the nth degree. They are exceptionally talented musicians that exude savvy, confidence and maturity, yet they have a youthful innocence. Their sound is richly melodic - blending voices and instruments expertly. Be

sure to stream the tracks at their website and check out music videos and live performances on YouTube. It's great music.--Audrey and Russ Elliot in Boston, MA

Live in Boston. We ventured out on Saturday evening to Copperfield's Bar and Down Under Pub in Boston, to see SHEL perform an acoustic set. These four young women are beautiful, dynamic, and very talented. They are all accomplished classically trained musicians, both instrumentally and vocally. Having chatted with them before the show, each sister showed their enthusiasm and spirited personalities, but came across as being very genuine, respectful and portrayed their individual personalities. They all exhibit great comraderie and definitely know how to entertain.
Hailing from Colorado, this talented quartet exudes musical virtuousity and a level of excitement that is thoroughly engaging. Their sound is captivating, unexpected and well refined. Their classical training comes through loud and clear, and the audience feels an immediate and gratified connection to their unique sound.
SHEL came onstage wearing some funky hats, flashed some smiles and then released their incredible sound. Eva plays a mean mandolin, both acoustic and electric, and that instrumentation adds a whole new level to their music, in addition to her beautiful vocals. Hannah's keyboard skills are spectacular, with classical riffs and languid composition, that leave you wanting more and more. She also contributes to the lush vocal harmonies, along with Sarah, a very gifted violinist. Her command of the violin on stage was "music to our ears" and her proficiency was hugely appreciated. Last but not least, Liza provides the percussion to the group, and she absolutely rocked the house with her rhythmic talents.
The band performed for 45 minutes, and no one wanted it to end. Their unique sound, combined with energy and musical proficiency, was an absolute delight. The only negative for the evening was the venue itself. These young women need an environment that would be more conducive to the beauty of their sound, certainly with better acoustics. Yet, even with the hindrance of the venue, SHEL put their stamp on the evening with their magnetism, creativity and masterful musicality. We can't wait for them to return to Boston!--Audrey and Russ Elliot in Boston, MA