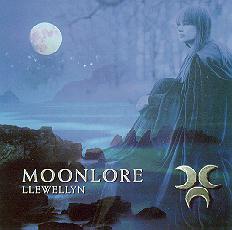 Image © 2000\r\n\r\nNew World Music, Ltd
&nbsp
(30 September 2000) The latest album from Llewellyn Moonlore (New World Records (UK) NWCD487, 2000) is meant to take the listener on a musical adventure tale into history, reconstructing one of the legendary druidistic games that took palce upon the full moon adjoining Samhain. Regardless, it again features stunning vocal work by Julianna and, written in a new age music style, can be closely compared in to music by Enya, Miriam Stockley and Shanon (Celtic Classics I and II, vocals by Leslie Dowdall). Woodwind sounds and vocal layers contribute significantly to the relaxing nature of the music. The album is comprised of nine tracks divided between instrumental and lyricalnumbers.
Musical Discoveries reviewed Llewellyn's TantricSexuality (review) earlier this year. His latest album combines the artist's signature keyboard textures with Uillean pipes, Irish Whistles, guitars, piano, flutes and Celtic skin drums. Layers of Juliana's vocals and Tori Donovon's recorders help transport the listener away into a mysterious and romanticworld of ancient landscapes. The album actually includes a "celebration of the feminine and the Triple Goddess of druidic lore" and "includes specially composed 'working' tracks ("The Maiden," "The Mother" and "The Crone") suitable for use during ritual at full time or other events on the pagan and personal calendar." While that may be a bit more thanwhat Musical Discoveries regular readers look for, the album indeedcontains some lovely music.
Llewellyn notes, "I wanted to further explore the topicstouched on my recent UK best selling album, Celtic Legend, especiallyone of the legendary druid games called the wild hunt. This hunt was reallythe first major test for young druids, an opportunity to flex new skillsand abilities by working on the elements around them, usually under thecover of darkness. Moonlore documents the trials and tests of one such druidic student, highlighting ativities with some of the chanteand vocals that may have played a part in such a test." The album'sfirst lyrical track "The Chill Wind" is an epic illustration of theartist's intent effectively blending keyboard, traditional instrumentationand layers of evocative vocals.
The stunning track "Sky Fire" most features Juliana's vocals. It is a lyrical number and she is most closely compared to Miriam Stockley,while airs of Enya can also be imagined in this number. This captivating track (and highlight of the album) for us features a lovely solo lead vocal while layers are used in the choruses to add further texture. Llewellynnoted, "I wanted the song "Skyfire" to capture the moment when the youngmaiden is trying to overcome her fears and remember her lessons to helpher win the wild hunt; the sky fire refers to the lightning (aka Mandragora'sspirit) that poses a challenge to the young druid. As you listen, you willnote that the tracks integrate the key natural elements of wind, sea, fireand stone, all utilized in the manner done thousands of years ago."
Llewellyn's latest album Moonlore is a lovely collectionof instrumental and vocalise tracks certain to bring relaxation to its listeners.A lovely booklet accompanies the compact disc with thumbnail photographs ofthe artists. Click on the album cover to visit the label's websites—there are two: one for American customers and another for those in the UK and Europe.
Drama develops as the album unfolds and while we would have enjoyed a fewmore lyrical numbers like "Sky Fire" we found the album to be refreshing in its combination of instrumentation and vocalise. Read further reviews, listen to soundbites and order the album from amazon.comhere.

Certain to appeal tofans of Enya, Miriam Stockley, and Maggie Reilly (next review) this album is worthy of further exploration and is a very nice listen!