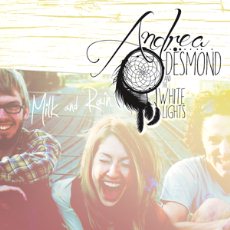 image © Andrea Desmond and the White Lights 2013
&nbsp
(25 January 2013) Andrea Desmond's debut solo EP is entitled Milk and Rain (Andrea Desmond and the White Lights (USA), 2013). It is a four-track collection of original pop-country numbers that demonstrate the artist's superb talent. She has written for numerous other artists and performed with Uh Huh Her, Chicago, Whitney Meyer, the Kyle Gass band, and Floater, from the Crocodile, Seattle to the Whiskey a Go Go, Hollywood.
Playing now with her band The White Lights, Andrea is also known as Seattle's "indie pop sweetheart" is a true musical free spirit. After years of playing in others people's bands, playing other people's music, Andrea Desmond took the bold and courageous leap that all who aspire to follow their heart must do. She launched her solo career and fearlessly ran to her destiny. Ever since that move in the summer of 2012, her career is already off to a fast start, and the Seattle Wave Radio said, "we expect to see a lot more of this amazing young artist."
Her music incorporates elements of indie, rock, jazz, folk, and pop. Desmond received training in songwriting under the guidance of Alan Menken, the Oscar-winning composer of such Disney classics as Beauty and the Beast and Alladin. Andrea's sultry sounds, conscious lyrics and high-energy presence radiate her pure soul.
The EP opens with the upbeat pop track "Block the Heart" which clearly draws the listener into her spell. Followed by "Teal Water," a countrified track accompanied by guitar continues to illustrate Andrea's vocal chops and superb range.
Andrea's voice glistens in the superb track, "Painting," a more lightly arranged ballad, that to this listener also appears to have country roots. We especially liked the buildup to the crescendo in the song's midsection and Andrea's crystalline vocalise. The EP concludes with the standout ballad "Run." It builds from a gentle piano-backed introduction to a more richly arranged electric-guitar backed rock number. The track will clearly make you tingle all over.
Andrea Desmond's angelic voice and incredible

songwriting will entice you and make you long for more. Four tracks are just not enough. We can't wait for a full length CD from this outstanding talent.