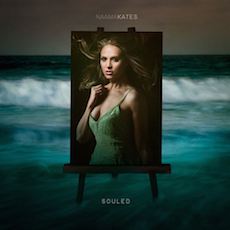 click on image for artist's website
\r\nalbum cover art and photo by Luis Aguirre
\r\nstyling by Lucy Meza
\r\nimage © Naama Kates 2014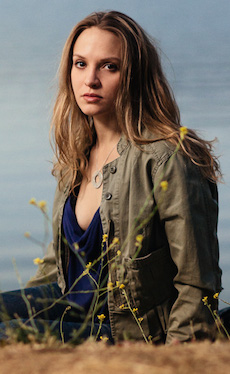 click on image to visit Naama's FaceBook
photo: Luis Aguirre
image © Naama Kates 2014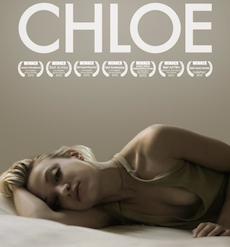 click on image to visit film's wiki
The Ten Commandments of Chloe
starring Naama Kates
image © Chloe Productions 2012

&nbsp
(20 July 2014) The third full length album from actress, singer, songwriter Naama Kates is entitled Souled. The artist's prior albums King For A Day (2013) and The Unexamined Life (2012) received widespread critical acclaim. Remixes by Mount Cyanide of "Beautififul Night" and "Airplanes" were released in April 2014. Born in Illinois and raised in Connecticut, formed in NYC, Naama Kates today calls Los Angeles her home. Featured in several earlier films, the artist co-wrote, co-produced and starred in the award-winning The Ten Commandments of Chloe, a forthcoming -- some say autobiographical -- film about a singer/songwriter making her own way into the music business.
On Souled Kates reunites with award-winning producer Cyrus Melchor, who also produced her first album, The Unexamined Life. The new recording is an ethereal reflection on life, love, longing, and Los Angeles. Souled's thoughtful lyrics showcase Kates' sultry voice and genre-bending arrangements. The album was recorded at Melchor's Mount Cyanide Studio in Atwater Village as well as engineer Scott Fraser's studio in Mount Washington, both in Los Angeles. Souled is a diverse eleven track collection with a typical singer songwriter album running time of just about 45 minutes.
The Naama Kates story begins on Christmas Eve in 2009 when she bought herself a small Yamaha keyboard and began writing her own songs, which she soon after performed at open mic nights and small venues around Los Angeles. A chance meeting with Cyrus Melchor, in 2010, led to an important collaboration with the CLIO and AICP award-winning producer/composer, resulting in the release of her first album, The Unexamined Life that she debuted in May 2012 to a packed house at the Hotel Café in Hollywood, CA. There, Kates played and sang with a six-piece ensemble. The Unexamined Life was a critical success, earning rave reviews from national and international press.
Listeners to Kates' material liken her sound in some ways to Tori Amos, others to Rachael Sage, and yet others to the legendary Kate Bush. Her lyrical delivery is often airy and whisky and is always emotion laden, lending perhaps to her acting experience and credentials. We especially appreciate the self-harmonies included in many of the Souled tracks and the overall arrangement and production work that was done on this new album. First and foremost, the single remark that that all listeners will come away from this album with is that the songs differ quite a bit from one another.
The first four tracks of the album "Hurricane," "For Our Friends," "Wait Until Bright" and "Sunrise" work around different moods, tempos and sounds, yet clearly reside very firmly in the singer/songwriter territory. And then, almost by surprise, the shorter, very accessible, story- and string-laden bluesy track "Waves" emerges. Oh, how we'd like to see this turned into a music video.
The electronically arranged "Run" while having a few somewhat annoying pulsing elements buried in the arrangement, is powerfully sung and is most likely the best illustration of Naama Kates vocal power and range. The electronic theme continues to build in power and intensity in "Growl." Naama's vocal work is reminiscent of the stunning Zoe Stafford of Great Britain's progressive band Fula (Dark Matter review) in these two tracks. In sharp contrast, "Windows" is a much more thickly arranged and accessible pop track, Naama's voice alluding very strongly to Andrea Corr! "Windows" is a certain crowd pleaser and one we hope to see in the artist's live set.
We loved the rich vocal work in the downtempo jazz-tinged track "Chime." Listen for the woodwinds and Naama's vocalise working together through the instrumental bridge. The gentle ballad "On My Love" provides an opportunity for Naama to show her tenderest vocal work on the album. The robust title track concludes the album. Listen for the breadth of music styles and the artist's widespread vocal excursions within this richly produced number.
This is clearly going to be an exciting year for Naama Kates. Souled is an absolutely fantastic album fueled by outstanding arrangements and powered by the artist's acting, singing and songwriting chops. Building on the success of her two remix singles, the release of

Souled planned for the autumn while the worldwide availability of the Chole film later this year are certain to draw significant attention to this rapidly rising talent.