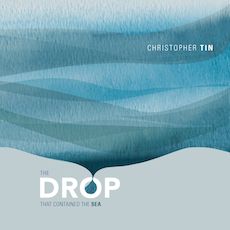 click image to visit artist's website
\r\nimage © Tin Works 2014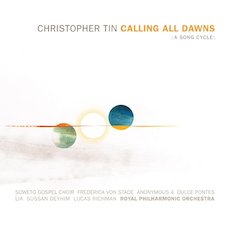 click on image to visit artist's FaceBook
image © Tin Works Publishing 2009

&nbsp
(20 July 2014) The Drop That Contained The Sea (Tin Works (USA) TW004, 2014) is the second full length album by composer Christopher Tin, the London Philharmonic Orchestra, and a vast array of vocal talents. The team's earlier album Calling All Dawns (Tin Works Publishing (USA), TW001), 2009) was the first and established a theme that continues in this new release. Christopher Tin is also half of the Stereo Alchemy electronic music duo, and Grammy-nominated percussionist Kametron. Their album God of Love was released in 2012.
Tin worked with Soweto Gospel Choir, Lia, Aoi Tada, Kaori Omura, Jia Ruhan, Dulce Pontes, Anonymous 4, Frederica von Stade, Sussan Deyhim on the first album. The overall construction of both of Chrisopher Tin's albums is similar both through the use of language and thematic development. Both close with reprises of opening themes. Clearly parked either in classical crossover or new age, these albums will certainly appeal to Adiemus enthusiasts.
Drop is comprised of ten individual tracks drawn from ancient texts about the sea with an overall running time of just under an hour. While lyrics are delivered in Proto-Indo-European, Turkish, Bulgarian, Xhosa, Mongolian, Portuguese, Sanskrit, Ancient Greek, Old Norse, and Lango, Drop is likely best characterized by neophytes as an African-sounding album. Listeners will be drawn to the powerful vocal parts and amazing percussion that spans the material. The epic closing track "Waloyo Yamoni (We Overcame the Wind)" to our ears provides an extensive reprise of the entire project.
The album features the return of many of the guest artists who performed on Calling All Dawns and several new ones as well. In addition to the Angel City Choir, the new album includes contributions from Kardeş Türküler from Turkey, the Grammy-winning Le Mystere des Voix Bulgares, the Grammy-winning Soweto Gospel Choir, Naminjin from Mongolia, fado singer Dulce Pontes, Roopa Mahadevan from India, a cappella quartet Anonymous 4 from New York City, and the Grammy-nominated Schola Cantorum from Norway. The recording also features the Royal Philharmonic Orchestra, which collaborated with Tin in October and December, 2013, at Abbey Road Studios in London.
The Angel City Chorale is featured in the brief opening track "Prelude." They were included on seven of the ten tracks on this album, and over 100 of the Angel City Chorale traveled from LA to New York to perform at the world premiere of Drop. And in Los Angeles, they gave Drop its West Coast premiere.
In "Haktan Gelen Serbeti (The Drink from God)," the Turkish lyrics -- that most English speaking listeners won't understand -- sung by Kardes Turkuler ensemble, make it clear that this is a deeply religious track. The Le Mystere de Voix performance of the extended track "Temen Oblak (Dark Clouds)" is the most reminiscent of Adiemus on the album although Soweto Gospel Choir's rendition of "Iza Ngomso (Come Tomorrow)" is certain to delight enthusiasts equally.
The album's centerpieces are solos by featured female vocalists. Listeners are certain to adore Dulce Pontes solo aria "Passou o Verao (Summer Has Gone)" from Sonnet CXCV by Luis de Camoes sung in Portuguese. The second solo performance on the album is by Roopa Mahadevan. Entitled, "Devipravaha (Goddess River)" it is sung in Sanskrit from the Gangashtakam by Adi Shankara, and is incredibly delivered by the singer. We were motivated to explore further recordings by both of these vocalists after herring their work on Drop.
Frequent visitors to Musical Discoveries know of our collaboration with Justin Elswick and Neurodisc that resulted in the Sirenes compilation album featuring vocalists reviewed here. So we were very excited to hear "Seirenes (Sirens)" by Anonymous 4. The extended track is a wonderfully performed classically arranged chorale, reminiscent in some ways of latter-day Adiemus. The Angel City Chorale return to join Schola Cantorum on "Haf Gengr Hridum (The Storm-Driven Sea)." The entire album cast return for the epic length and stunning reprise "Waloyo Yamoni (We Overcome the Wind)."
Christopher Tin's The Drop That Contained The Sea is a tremendous album for both classical crossover and new age enthusiasts. It will appeal to most on first listen. Richly arranged, sung in ten different languages, the orchestral arrangements and vocal melodies

will inspire listeners to search out more of the two-time Grammy Award-winning composer's work urgently.