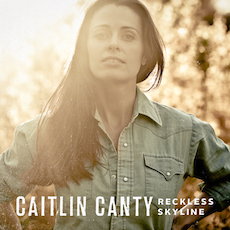 click image to visit artist's website
\r\nimage © Silver Giblet Publishing 2015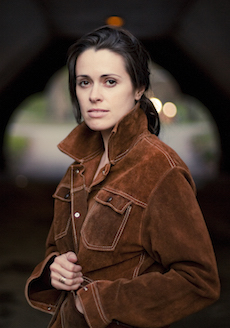 click on image to visit Caitlin's FaceBook
photo © Jay Sansone 2015


&nbsp
(27 February 2015) Every once in a while a record comes across my desk that quite literally stops me in my tracks and then before I know it 40 minutes have passed whilst I've been held in thrall. It doesn't happen often, but when it does you know you're hearing something very special indeed. Caitlin Canty's new album Reckless Skyline is just such a disc, combining elements of country, blues, rock, folk and even a little soul into a quite magnificent whole. My reaction on first hearing it was simply Wow!
One of the things that comes across on initial plays is that the album has an immediacy and a palpable energy, which is maybe explained by the fact that it was recorded live in the studio in just four days. There is also a sense of liberation in the music. In an interview with Folk Alley Caitlin says, "I spent five years of my life working in a beige cubicle chained to a computer. When I finally get to jump onstage with my friends or sit around the kitchen table with our guitars, it's pure joy."
The lead track on the album, and the song you're most likely to come across on the internet is "Get Up'" A splendid introduction to Caitlin Canty's music, the piece has its heartbeat in Billy Conway's insistent drum. Caitlin wrote the song on a mountain pass in Idaho ravaged by and recovering from wildfire,"Sleeping on embers, breathing in rivers / Waking up shivering on summer's hottest nightSalt crusted sweat dries dust deep in white lines."
Judging from the lyrics of the album, a number of the songs are informed, or inspired, by, nature and Caitlin's observations of it. Certainly the natural elements, earth. air, fire and water are prevalent in her taut, succinct writing The opening line of "I Never" which gives the album its title is an example "I was watching the sun paint, A reckless skyline" and later in the same song,"When I leave the door open,The wind blows in all the leaves."
She's also a fine observer of the human condition and has that very difficult-to-achieve knack of encompassing whole ideas, or painting complete scenes in a few choice words. Again in "I Never," she observes: "Dry as any desert, He drank everything in sight, He never has water, Always has wine."
The delivery of the songs is superb. There's something hypnotic, almost magical about Caitlin's voice. When she sings it's like she's casting a spell. You are compelled to listen, to absorb and to experience. Her vocals are mesmerising and take the listener through a kaleidoscope of emotions. It's so real that it's actually quite exhausting at times!
Jeffrey Foucault's production shows perfect empathy with the songwriting. In an era when it's possible to do just about anything in the studio, many albums are spoilt by having too much happening simply because it can. This album is a testament to taste and restraint, keeping the focus on the songs and allowing plenty of space for both Caitlin's voice and the lyrics to weave their magic. A prime example of this is the breathtaking "Wore Your Ring."
The musicianship is unimpeachable, there's not an unnecessary note, nor any note out of place. It's sheer class from start to finish. The studio and road band features Billy Conway (Morphine) on drums, Jeffrey Foucault (Cold Satellite) on guitars and backing vocals, Jeremy Moses Curtis (Booker T) on bass, Eric Heywood (Ray Lamontange's Pariah Dogs, Tift Merritt, The Pretenders) on pedal steel and electric guitars, and Matt Lorenz (Rusty Belle, Chris Smither) on pump organ, banjo, piano and fiddle. Kate Lorenz contributes additional vocals, and the cello is courtesy of Harris Paseltiner.
Caitlin is responsible for most of the writing on the album, on nine of the twelve songs she's the sole writer; she shares credits with Steve Addabbo on "Get Up," and with Matt Lorenz on "Enough About Hard Times." And the song that makes up the round dozen is a gorgeous cover of Neil Young's "Unknown Legend" the opening track from Harvest Moon. Interestingly Reckless Skyline also has a track called "Southern Man," but not that one.
This particular neck of the musical woods, loosely grouped under the term Americana, has been blessed with some quite wonderful releases in recent times, and Caitlin Canty's Reckless Skyline joins a list which includes, off the top of my head: Emily Barker and the Red Clay Halo, Dear River; The Red Head Parsons, Yearling; Sera Cahoone, Deer Creek Canyon; Ruth Moody, These Wilder Things; The Mastersons, Birds Fly South; Valerie June, Pushin' Against A Stone; Abigail Washburn, City Of Refuge; and Sarah Jarosz, Build Me Up From Bones and Dawn Landes - Bluebird.
If you'd like to hear more Caitlin Canty she writes and performs with several bands, including Down Like Silver, her ongoing duo project with Nashville's Peter Bradley Adams, and the indie-folk quartet Darlingside. She has one other full-length solo album available entitled Golden Hour (2012). Reckless

Skyline is an exceptional album: emotional, riveting and quietly liberating. It is a class apart.--Jamie Field near Hereford, England and Russ Elliot on assignment in St Thomas, USVI