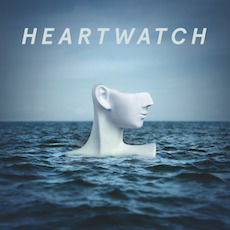 click on album cover for band website
\r\nimage © Breakup Records 2016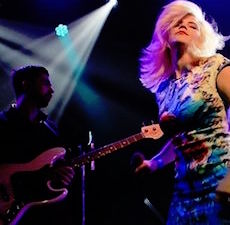 click on image to visit band FaceBook
Claire George (lead vocals)
image © Heartwatch 2016


&nbsp
(10 February 2016) Heartwatch is the new name for the San Francisco band previously named The Tropics. In late 2014 the group released their inaugural EP, Wind House, to national acclaim, solidifying their status as the Bay Area's favorite new band. Their critically adored live shows take a sonic victory lap through the very best of pop music from every decade since the 70s, crossing the finish line in the present golden age of west coast music. Their new self-titled mini-LP is reviewed here.
Fronted by lead vocalist Claire George, Heartwatch also includes: Eric Silverman (guitar, keys), Rowan Peter (guitar, vocals), Nate Skelton (bass), Kern Sigala (drums). As The Tropics, the band released their first singles, "Sleepless" and "Sons & Daughters" in May 2014 and September 2014 respectively. Their first EP, entitled Wind House, followed in October 2014. The bonus track "Take You Home" dropped in January 2015. The band name appears to have changed before the "Faultline" single emerged in July 2015. Heartwatch's February 2016 self-titled EP has six tracks, including "Faultines" (youtube) and is released on Breakup Records.
Heartwatch's new EP is comprised of radio-friendly pop-songs, none running more than three and a half minutes. Production is superb on all six songs with Claire George's sweet vocals gliding well atop the indie arrangements and right up front. "Faultlines" opens the recording with guitar and keyboard balanced in the instrumental mix alongside the rhythm section.
"Never Let You Go" is the bookend track to "Faultiness" with a matching arrangement, but more pronounced guitar part. Here Claire's vocalise contributes more as an instrument carrying the melody in the mix. The lead singer's power shines right through in the very lightly arranged verses of "Bored at Best." Lush keyboards and rich bass round out the sound.
Shimmering electric guitar, crisp percussion and thick bass provide the foundation for the heartfelt ballad "Broken Bones." Claire's self-harmonies in the chorus add texture and additional strength in the choruses. Listen for her stunning vocal solo after the instrumental break. "Gone Too Long" continues in a similar vein,vocals soaring well over the band's lushest arrangements."Teeth" is the EP's final song. It is an upbeat pop rock song sung atop electric guitar and percussion. It left us longing for more.
Heartwatch is certain to draw additional acclaim from their self-titled EP. Here, well-produced, radio-friendly, indie-styled tracks showcase Claire George's stunning lead vocal work. We reviewed this EP listening to the mp3s on our Sigma line. This record is certain to propel Heartwatch into a brighter and broader spotlight. Bravo!