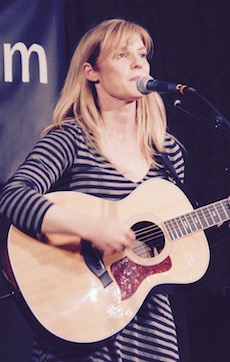 Rachel Garlin
\r\nclick image to visit Rachel's website
\r\nphoto: © Keith Patankar 2016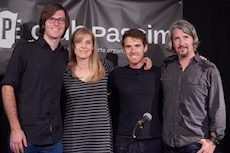 L-R: Aaron, Rachel, Dylan, Jon
photo © Keith Patankar 2016


&nbsp
(06 Jun 2016) Folk songstress and storyteller, Rachel Garlin, arrived back on her old stomping grounds and performed at Club Passim in Cambridge, MA on Sunday, June 5th before a full house. She donated all of the proceeds to Mothers Out Front, a grassroots organization mobilizing for making climate change an issue. A number of her friends from her college days were in attendance as well as former coaches, and the entire audience was supportive and enthusiastic.
Rachel was most personable and quite comedic throughout her lead-ins to her songs. She was definitely endearing herself to the crowd and listening to her personalization and backgrounds to her songs helped set the stage. Local musicians -- Jon Evans on double bass, Dylan McKinstry on guitars, banjo and mandolin; and Aaron Edgcomb on percussion -- accompanied Rachel who played acoustic guitar throughout the set.
The set was comprised of her back catalog, some new songs off her latest album, Wink at July, as well as an upcoming album she is doing with Jon Evans where studio takes are available at shows on a new EP. The clear vocal tones and simple guitar created an atmosphere of toe-tapping tunes, and wonderful stories.
A particularly touching tune, "The Sea You See," was a tribute to her Scottish mother who was travelling from home as a young woman, on her way to New Zealand, but ended her journey in the USA. Rachel's ballads and imaginative narratives reflect who she is and what is of importance to her.
Another fun melody appears in "Gwendolyn Said," a nod to the poet Gwendolyn Brooks. "Broke Down House" was the story of some friends who were thinking of selling their home, but in the end, they couldn't leave due to the memories ensconced in their home. Other songs highlighting the night included "Up on a Ladder in Boots" and "I Have, I Will."
Rachel Garlin's performance was charming, and she was able to create sharp images through her wonderful storytelling. Her beautiful tonal quality and simple melodies captured the heart and mind. She has polish and finesse, as well as a sweetness to the music. It was an enjoyable evening of anecdotes, music and entertainment.--Audrey Elliot in Boston, MA