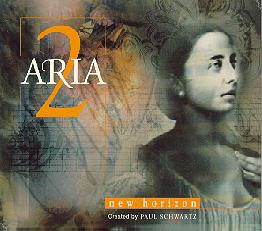 Image © 1999 Astor Place Recordings, LLC
&nbsp
The followup album to Paul Schwartz' Aria (Astor Place TCD 4009, 1997),entitled Aria 2 New Horizon (Astor Place TCD 4017) is more focused and highly polished when compared to the debut. Foremost a vocal work, yet again a contemporary-classical opera crossover, Schwartz began with well-known pieces from various composers, coupled them with his own and created highly unique and modern arrangements featuring the stunning and hypnotic vocals of Tony Award nominee Rebecca Luker. You can order the album fromamazon.com today. Aria's debut album can also be ordered fromamazon.com.
Professionally and richly orchestrated in every way, the album contains equal installments of modern instrumentation-gorgeous guitars, electronics and percussion contribute to the contemporary and progressive effervescence of the album. The album includes unique arrangements of Monteverdi's "Lament of Arianna," Verdi's "Addio," Offenbach's "Barcarolle" as well asa version of Fauré's "Pavane." Four of the tracks are instrumentals while the balance of the album is vocally oriented.
Featured on both the debut and this followup album, Rebecca Luker's highlyemotive vocals are crystal clear, instrumental in their quality, and undescribably lush at the same time. A certain highlight of the album isSchwartz' contemporary arrangement and Luker's vocal rendition of "Ave Maria."Contrasting lead vocals are provided by Clair Marlo on the Croation and English versions of "Sviraj (Lullabye)." The one male vocal number, "Leiermann" arranged by Schwartz from Schubert's "Die Wintereise," is sung (in German) by Steve Barton.
While some crossovers are quirky with styles vastly oscillating track to track, this album has a strong direction and is highly thematic, rich in texture, wonderfully produced and consistently strong across the twelve individual tracks. A gatefold with lovely artwork and a removable booklet adorns the compact disc. As with the debut album, lyrics, their translationand contributing artists are included. Certain to win international acclaimand broad appeal, Aria 2 New Horizon is worth a cross country journey-amust listen!