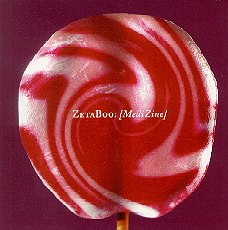 Image © 2000\r\n\r\nZetaBoo
&nbsp
(13 December 2000)The second album by Finland's ZetaBoo is entitled MediZine(Aito Records Ltd (Finland) AICD002, 2000). The group of four musicians was founded in 1994, and their debut album ZetaBoo was released three years later. However, this follow-up album took four more years to be released, as all the ZetaBoo members had other projects to be involved in.
The bass player Pekka Lehti and the drummer Marko Timonen have both been touring and recording with a famous Finnish folk group Värttinä. One of the group's singers, Riikka Väyrynen, is also known as one of the Finnish Adiemus Singers that performed in the project's third album Dances Of Time. Singer-songwriter Anna-Mari Kähärä took part with Riikka in the world-famous Adiemus project by singing in their concerts and also on Dances Of Time.
Like the debut album ZetaBoo, the new MediZine album features a great deal of different musical elements and influences such as pop, jazz, ethno, even new age. This makes the album very difficult to categorize. For example,if you listen to piece "$,$,$...", you may feel instantly jazzy and can hear Brian Setzer-type rock-a-billy mood in the piece,or you may feel like Elvin Jones would be a drummer in Stray Cats. As, on the other hand, a piece called "Tonto" has a very smooth mandolin accompaniment with catchy and thematic dialogue between Anna-Mari'saccordion playing and Mr. Lehti's guitar, polished with deep but spacious jungle groove by bass and drums.
Some of those who like Adiemus-type music might be surprised to know that MediZine and its precedessor ZetaBoo both feature some Adiemus elements! Namely, almost all pieces have been sung by using meaningless textures, and the group does use all kinds of (more or less weird) percussion instruments like Adiemus. Who on earth could believe that even normal kettle lids or brushes could be used on a recordor even live performances like ZetaBoo has done.
I am unable to pick out any particular favourites from this album. The pieces seem to work excellently both when listening them from the album and when being in a concert. ZetaBoo arranged a tour of Finland just some months ago to celebrate the new album release,and I obtained this album straight after their concert here in Oulu (Sep 30, 2000). The whole evening was totally enjoyable and I had a wonderful chat with Anna-Mari and other band members afterwards!
Both the tour and new album feature a saxophonist David Wilczewski, and he really has impressed me with his high virtuosity on both live and on record! This wonderful US resident musician has been involved in various projects of Marvin Gaye, Lisa Nilsson, Roland Vazquez, Herbie Hancock, Don Cherry and Kenny Wheeler, to name but just a few! Although Mr. Wilczewski appears only in one of the album's pieces, the whole album contains very enjoyable music. "Hiisi/Dickens" was born when Mr. Saari took the drum beat from Mr.Timonen who felt first that the whole piece was a catastrophe because the drummer's part and it's time signature were totally different than what other players have.
It is very reasonable to hope that all ZetaBoo albums will be released worldwide and that the group could span their touring schedules outside Finland as well, and maybe gain such the huge success that Värttinä has enjoyed! --Suvi Kaikkonnen