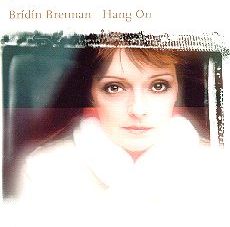 Image © \r\nMDM Records 2001
&nbsp
(8 April 2001) The first single from Bridin Brennan is entitled"Hang On" (Grapevine (Ireland) CDGPS 300, 2001). Released in anticipation ofher full length album, the single includes the title track and a second vocalnumber entitled "Deep Deep Sleep." An instrumental version of "Hang On" isalso included on the CD. Bridin is the youngest of the Brennan clan from Gweedore, County Donegal, Ireland. Produced in Dublin by Chris O'Brien and Graham Murphy, Bridin is backed by Ray Harman (guitars), Wayne Sheehy (drums) and Karen Hamill (backing vocals).
In contrast to the melancholy music of her sisters Enya andMáire, Bridin's music is evidently more accessible and pop-oriented. "HangOn" is a medium tempo track; Bridin's soft vocal textures are similar toher sisters'. The accomplished vocal delivery is obviously the result ofyears of backing the family band Clannad. From her management, musicallyvery different from her siblings, she still has the unmistakable hauntingvoice that is peculiar to her family. This quality blended with outstandingcontemporary songs looks like bringing another generation of this familyto the forefront of chart music once again."
The everso gentle ballad "Deep Deep Sleep" is evocativelyand sensually sung over light guitar, keyboard and percussion, and providesan enlightening contrast to the title track. Its lovely instrumental bridge and the instrumental version of "Hang On" both illustrate the superbcontemporary arrangements we can expect on Bridin's forthcoming album. At this time the single is available only in Ireland yet we fully expect the album to be released worldwide. Corrs and Naimee Coleman fans alike will be keen to hear it; worth a journey, like this debut single, we anticipate the album will be a must listen!