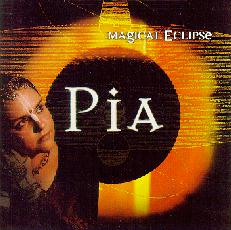 Image © 1999 New World Music Ltd.
&nbsp
Recently reviewed in this digest, Pia's debut album Benediction Moon was voted by New World customers Best New Album 1998.Her latest recording, Magical Eclipse (New World Music (UK) NWCD 474, 1999), is a stunning followup that builds upon the debut album with eight wonderful tracks of heartfelt expressive vocal excursions with a variety of supporting instrumentation. Writingabout the album, New World Music said it best:"Backed by superb musicians such as Pete Booker and John Richardson, her voice ismagical, and the melodies echo out of enthralling arrangements where guitar, keyboards,flute and percussion all interweave." This is an absolutely tremendous album -- a must listen for anyone that enjoyed her first album and a fabulous introduction for those that have yet to hear Pia's debut recording.
Predominantly written by Pia herself but sharing credits on several trackswith Pete Booker, the songs vary in style from highly expressive dramatic ballads to highly developed numbers based on traditional pieces ("Govindam"). Lyrics are mainly in English but also include Pia's native tongue. Tracks have beensequenced to permit the album to develop to a natural crescendo and productionquality -- depth, dynamic range and imaging -- is absolutely superb throughout.
Three of the album's tracks extend over the seven minute mark and withsuch length provide a unique insight to Pia's writing and vocal talents. "The Way I Found Her" has a whispy lead vocal track augmented by acoustic guitar, awesome backing vocals and sensitive percussion. The vocal work spans popular, progressive and world textures and contributesto the overall success of the piece which, due to it's tremendous quality, doesn't seem to run for its almost eight minutes. More thoroughly developed orchestration and intense percussion enables "Eclipse" to build the style further, with Pia contrasting a very powerful lead vocal with multi-tracked backing vocals. "Chasing The Sun" (7:10) closes the album with pop, new age and tribal sounding world music fusing together.Read further reviews, listen to soundbites and order the album from amazon.comhere.

Pia's Magical Eclipse with it's broad variety and tremendous production is certainly one of the best new female vocal albums releasedthis year and, worth a journey, is a must listen.