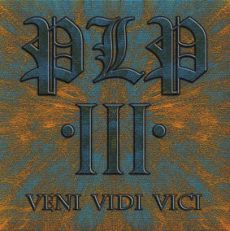 Image © 2001 \r\nCrimsonic Label
&nbsp
(03 June 2001) Veni, Vidi, Vici (Crimsonic (Sweden) CLSCD 106,2001) is the latest album from Musical Discoveries featured artist Pär Lindh Project. Comprised of ten tracks includingtwo epics, the album illustrates a significant development of the band'ssound in line with their performance at NearFEST 2000 and over their last album Live in America (review). WhileVeni Vidi Vici begins very much in line with Mundus Incompertusinstrumentally, the album departs vocally, with Magdalena Hagberg's vocalsmixed up subtantially higher after fading in during the progressive jazzstyled title track.
Pär Lindh Project's lineup has been reduced since their last album toPär Lindh (keyboards), Magdalena Hagberg (vocals and violin) and Nisse Bielfeld (drums and vocals). Guests include: Jonas Reingold (bass),John Hermansen (guitar), Jocke Ramsell (guitar-no. 10), Marcus Jäderholm (bass-no. 10), Nilas Blixt (horn), Eric Ullman (bassoon) and Jens Johnanson (flute). The band's sound remains quite progressive blendingtheir former keyboard-heavy Emerson, Lake and Palmer sound with more of Magdalena's stunning vocals and a jazz influence. The 13:30 epic "Gradus and Parmassum" is a tremendous progressive track that, with several distinct movements blending male and female vocals, is illustrative of the evolution in the band's sound.
"Tower of Thoughts" is a heavier track blending metal-edged gutar withstrong keyboard work, but it is laced with a sweet mix of Magdalena's heavenly vocal work and, with similar themes, it works extremely well alongside "Gradus and Parmassum." Magdalena evocatively sings the "River of Tales" ballad over a gentle piano-based arrangement. With its extremelycrisp percussion mix and robust guitar solo, the heavier instrumental style of "Juxtapoint" is offset by Magdalena's lovely lead vocal part.
Conducted by Erik Hellerstedt, "Le Grand Chambardement" is tremendous—yet brief—track performed by choir alone. A photo of the choir is included within the booklet accompanying the compact disc. The instrumental "Adagio Con Flauto" serves as an introduction to "Hymn" which continues to develop the theme with choir and church organ accompanying Magdalena's sensually sung lead vocal and evocatively played violinpart. But not to be fooled by the introduction, "Hymn" develops into a typical Pär Lindh Project-style progressive rocker blending keyboardviolin and vocals to stunning effect. ELP-style keyboards dominate thebeginning of "The Premonition" an epic closing bookend to the album echoing themes first appearing in earlier tracks. Keyboard, violin,and guitar solos perfectly compliment Magdalena's lead vocal.
You can read further information about the album at Pär Lindh Project'swebsite and order the Japaneseversion of the album from amazon.com here. PLP enthusiasts that have enjoyed Mundus Incompertus(order from amazon.comhere), Gothic Impressions (order from amazon.comhere), and Bilbo as well as Live in America are certain to adore this latest release Veni, Vidi, Vici. Clearly worth a trans-Atlantic journey, this album is a must listen!