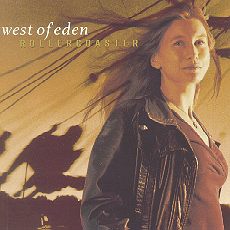 Image © 2001 Reactive Records
&nbsp
(06 June 2001) The latest album from West Of Eden, entitled Rollercoaster (Reactive Records (Sweden), is the second fromthis six-piece Celtic crossover group. Comprised of twelve averagelength tracks, the band has developed their sound, making it evenmore accessible than on their self-titled debut album (review).
Fronted by stunning vocalist Jenny Schaub who also plays accordion, the band also consists of Martin Schaub (piano, keyboard, acousticguitar, mandolin, harmony vocals, accordion and additional electric guitar), Lars Borg (bass), David Ekh (electric guitars,dobro, e-box, nylon-stringed guitars), Ola Karlevo (drums, percussion) and Tobias Edvardson (fiddle and harmony vocals).Guest performances by David Stiernholm (whistles, oboe) andJorgen Fischer (Uillean pipes), Sventa Gustafsson (bodhran)and others as well as a four-piece a string ensemble on four of the tracks round out the album's lineup. The album waswritten by Martin and Jenny Schaub.
The upbeat title track that reintroduces familiar audiencesto Jenny's sweet voice opens the album. Layers of harmony vocalsand traditional instrumentation blend during the chorus contributingto the accessibility of the band's sound. "The One" and "HoldYour Horses" continue to develop the band's accessible sound,uptempo with richly arranged vocals and lush arrangements blending modern with traditional instruments.
The traditional folk-oriented ballad "(I Still Remember) How To Forget" begins with a calling whistle part before Jenny's gentlelead vocal begins to carry the tune. A contemporary arrangementof traditional instruments during the bridge is highly notable."Short & Sweet" and "Mandolin Song" are similarly arranged but are both vocally more delicate. Jenny's vocals in "My Alien" aredelightful and are mixed way up; the acoustic guitar is wonderful.The "Crescent Moon" and "The Swings" ballads are quite enjoyable with Jenny's vocals being perfectly complimented by the supporting arrangements, especially in the tracks' choruses.
The upbeat tunes "In A Little While" and Corrs-like "Didn't You, Didn't I" balance pop accessibility with folk roots in typical West of Eden style blending traditional with modern instrumentation. Instrumental work in the bridge of each track is especially notable. The album closes with an everso quiet ballad entitled "Just That I Love You" dominated by Jenny's vocals with very light, almost non-existent instrumental backing.
You can find out a lot more about West of Eden at theirwebsite. There you'llfind photos, further information, soundbites and ordering information. A most enjoyable follow-up album perfectly blendingstunning vocals with traditional and modern instrumentation, thisnew one from West of Eden is worth a trans-Atlantic journeyand is a must listen!