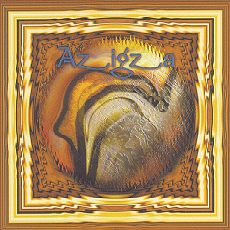 Image © 2000 Azigza
\r\n
&nbsp
(06 June 2001) The debut album from Azigzga is a self-titled nine-track recording blending Middle Eastern percussion andinstrumentation with progressive textures and the vocal workof Cyoakha Grace. The album, which is receiving a lot of attention since the group was booked for ProgDay 2001, is on the Lionharp Music label.
azigza also consists of Kevin Evans (guitars), Aryeh Frankfurter(violins, viola, cello, harp, guitar, mandolin), Stephan Junca(drums and percussion), Pierce McDowall (bass, sitar, tamboura)and Raja (tabla, kaneera, djembe, zils, drums, percussion) andPedro Rivera (djembe, doumbek, conga, shakers, zils, percussion).
Cyoakha's vocals soar above complex instrumental arrangementsin the upbeat progressive track "Glass" and the darkly evocative string-rich and percussive "Remember." Progressive arrangements of traditionally-based sounds work quite well especially in theinstrumental "Ratzinitza." "Petra" shares similar instrumental, vocal and percussive intensity and with its complex arrangement is less accessible.
"Touch Moon Window" and "Distance" have superb vocal passages and blend traditional sounds with experimental-style instrumentals.We especially enjoyed the layers of vocals and string accompanimentin the worldly track "Zaman." The heartfelt and soaring jazz style vocal passages of "Friends" are underscored by Middle Eastern-oriented arrangements. The final track of the album, entitled "Edallah yaRashidi," is an incredible instrumental soundtrack-like number.
Read further about azigza and listen to soundbites at their website. Certainto attract further attention from the progressive rock press inthe near future, this band is worth further exploration. Wefound their album intriguing and worth a journey. It's a very nice listen!