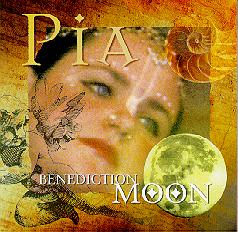 Image © 1998 New World Music Ltd.
&nbsp
First heard almost seven months ago, the debut album from New World Music recordingartist, Pia [Gaurãngi Devi Dasi], is clearly a work of timeless quality laced with dreamy female vocals and balanced with light traditional acoustic and electronic instrumentation. Entitled Benediction Moon, (New World Music NWCD 445, 1998) the album has been released in both the UK and the USA.

From the liner notes, "Following a period performing the rock opera Bhagavad Gita, she studied with the renowned Bengali musician and vocalist Haridas Ganguli, and has toured extensively performing Bhajans (traditional Indian spiritual songs). Pia has performed with artists such as Boy George, John Richardson, and Dream Academy."

Pia's songs are range from the evocative moody style of Enya -- illustrated in "Radhe" and especially in the stunning "Feel Free" -- to soaring ballads similar those sung by Sarah Brightman; John Richardson's "Angelus Cantus" for example.

English ("Angelus Cantus," "Prayer" and "Feel Free") and foreign lyrics ("Siren Song") are accompanied by vocalise in spots on the album's six tracks that range in length from 4:43 to 11:19. Pia's work is filled with a rich yet heavenly voice produced to be a true testament to the sheer power, extensive range ("Benediction Moon") and superb delivery of this extremely talented vocal artist.

Read further reviews, listen to soundbites and order the album from amazon.comhere.This album is a work of stunning proportions and is quite clearly a must listen!