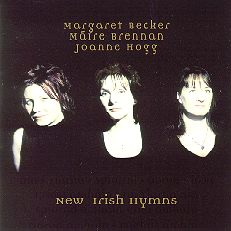 M Becker, M Brennan, J Hogg
\r\nImage © 2001 Kingsway Music
&nbsp
(11 November 2001) The collaborative album New Irish Hymns (Kingsway Music (UK) KMCD2329, 2001) is the brainchild of Irish composer / writer / conductor Keith Getty. Featuring the stunning voices of Máire Brennan of Clannad, Joanne Hogg of Iona, and Margaret Becker, New Irish Hymns is a faith-inspiring collection of ten newChristian hymns that range from the ethereal to the energetic.
In addition to the talents of Máire Brennan, JoanneHogg, and Margaret Becker, Keith Getty has recruited a fine set of instrumental players who add wonderful texture to the songs through their playing of guitars, whistles, pipes, percussion, and orchestrated strings.
Fans of Máire Brennan's solo albums and Iona's workswill find much to appreciate in New Irish Hymns. The opening track "Your Hand O God Has Guided," in fact, sharesmuch in common with "The Big Rock" from Máire Brennan's third solo album, "Perfect Time; rich syncopated strings, uillean pipes, tin whistle, and tribal drums work togetherto create a triumphal and swelling mood.
Songs like "With the Early Morning" and "Over Fields of Green" similarly focus on issues of Christian unity and praise through use of folk-based melodies punctuated by driving string arrangements, tight guitar strumming, and use various other traditional Celtic instruments.
Of course, no Celtic album would be complete withoutat least a few downtempo numbers; and "New Irish Hymns" is no different. "Jesus Draw Me Ever Nearer" is a lovely song that sits comfortably next to traditional spirituals ike "Amazing Grace." The soothing "My Hope" features a wonderfully-played piano lead backed by a company of rich strings. One of the highlights on the album, "This Fragile Vessel" openswith expansive orchestration to which Máire Brennan'sever-distinctive vocals are joined. It is especially enjoyable to here Máire's pure voice without overmuch use of reverb effects or overdubbed harmonies.
The cumulative effect of "New Irish Hymns" is togenerate a sense of positive affirmation in the listener. Although this album does not attempt to hide its Christian message, all those who appreciate Celtic music will find this recording to be a wonderful listen.--Justin Elswick