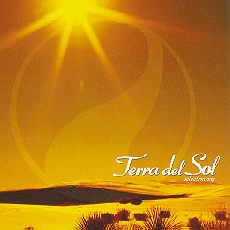 Image © 2001 \r\nChillball Music GmbH\r\n
&nbsp
(25 November 2001) Already acclaimed in its original release country, Selection One (Chillball (Germany) RTD 113.3783.2, 2001) is a wide-ranging collection of new age, world and dance-oriented keyboard material played or programmed by Alberto Hauss. Produced for Matiz Music, the album is comprised of fourteen lovely tracks.
Rhythmic percussion underscores each of the instrumental melodies with bits of acoustic and spanish guitar, Fender strat, Indian flute, violin and tenor sax adding to lush keyboard arrangements. A clever blend of well-produced world themes, dance music and relaxing new age elements is certain to delight a broad range of listeners.
The standout new age-oriented track "Deja Vue," with itswirling and evocative synths, includes layers of Freud's Cora O'Donovan on backing vocals. The short "Le Soleil Levant" has a lovely and mournful female vocal lead. "Clyde's Cafe," with almost-spoken bits Maria Chica Sanchez, combines Spanish influences with jazz effectively blending instrumentals with vocal elements. In a similar blend of jazz, new age and dance, Lollo's lovely French language vocals add to the upbeat "Je Dance," clearly one of the album's standout tracks--a "Nova Step Mix" version concludes the recording.
Selection One's production quality is superb; instruments are perfectly mixed and imaged and the album sounds tremendous played quietly in the background or at full volume. World sounds range from Spanish guitar, through new age to Indian. The album produces a wonderful inner tranquility when listened to in its entirety. Two dance-oriented mixes of previously included numbers end the album on a high spot.
Certain to please world music audiences, the instrumentally lush Selection One is a vast production by talented artists and worthy of further exploration. Currently available in European territories, sound samples of all tracks and further reviews are available at amazon.dehere. Vocally sparse, this one is for instrumental lovers -- a very nice listen!