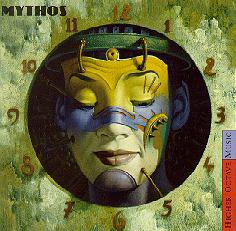 Image © 1998 Spark Records
&nbsp
Mythos' self-titled album (Higher Octave Music (USA) HOMCD 46572, 1998) is their first international release.We agree completely with the notes provided on the album's back cover: "Hauntingly powerful vocals accentuate the warm acoustic centrepiece of Paul Schmidt's guitar and Bob D'Eith's piano. The album's rich classicalmelodies blend with African tribal rhythms and traditionalOriental and Middle Eastern tones to create a sound thatis unique, otherworldly, and elegant. With over an hourof music, this self-titled recording includes the bestof the previously released Introspection plusseven new tracks." Mythos hails from Vancouver, BC in Canada and have been popular there for severalyears; this release will certainly broaden their audience and widen the appeal of this masterwork.

Well written with tremendous time and care, Mythos' music is classically centered, and is bright and airy with catchy complex melodies of extraordinarydepth. The artists indeed combine extremely accurate guitar playing with wonderful keyboards and lush non-lyrical heavenly sensual female vocals provided either by Jennifer Scott, Christine Duncan or Annette Ducharme. The vocal work, in a word, is stunning.Production quality of the album is first rate throughout the recording with obvious effort appliedto create outstanding imaging. Overall the albumhas much of a soundtrack quality although each of thealbum's brilliant tracks work well on their own.

Clearly set in what some might call the New Age / World genre, their music will certainly appeal to fans of Adiemus, Beautiful World, Enya and Era. The label reckons the album fits into the Delerium, Enigma, Deep Forest genre as well. A must listen.