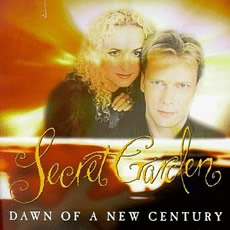 Image © 1999 Mercury Records


Image © Universal Music 2000

&nbsp
Secret Garden's latest album, Dawn Of A New Century (Mercury Records 538 838 2, 1999), like their twoearlier albums, combines contemporary classical music with Celtic themes. With perfect production, the album's thirteen tracks are instrumentally rich, featuring Fionnuala Sherry's stunning violin parts and the tremendous keyboard work of Rolf Løvland. Once again Løvland has composed all the music, and has also arranged and produced the album with Fionnuala Sherry as co-producer. Additional vocals have been contributed by Karen Matheson (Capercaillie),Anne Karin Kaasa, Nikki Matheson and the Irish choir,Anuna, conducted by Michael McGlynn. Fionnuala makes her vocal debut in the everso sweet ballad "Sona."
The artists have significantly improved the stature of their vocal arrangements especially in the title track.Violin passages are a trademark of any Secret Garden release and they have reached new heights this time.The tremendous fiddle performances in the elaborately arranged traditional dance tunes "Elan," "Children Of The River" and "Lore Of The Loom" would all be equally at home within either the Riverdance or the Lord Of The Dance soundtracks. "In Our Tears" and "Aquarell" are typical of Secret Garden, both combining the accuracy and warmth of Rolf's keys with Fionnula's sensitive violin work.
Karen Matheson's vocals in "Prayer" bring Capercaillieto mind; the sound is later developed further with another vocalist in "Dreamcatcher" with more of a classical feel. "Evensong" has obvious Anuna vocal influences while Secret Garden's instrumental arrangements breathe a unique warmth into them. A dynamically stunning contemporary classical piece featuring violin, keys and lush orchestral parts called "Divertimento" is a clear testament to the artists' songwriting and performing capabilities and analbum highlight.
The title track is truly epic in its proportions - a memorable melody arises from a powerful fusion of traditional Celtic and classical progressions; it is presented with narration, choir and orchestra andbuilds to a fantastic climax as the album concludes. You can find soundbites, further reviews and order the album at amazon.com

here. A tremendous 170 minute DVD is also available and can beordered from amazon.comhere. Clearly, this stunning album is a must listen. CD and DVD: