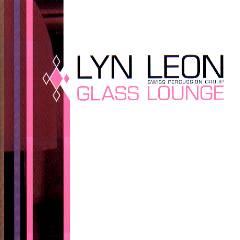 Image © Percords 2002



Stephan, Carolyn, Matthias
Image © Percords 2002
&nbsp
(13 June 2001) Lyn Leon (formerly The Swiss Percussion Group) are New York singer Carolyn Leonhart and Swiss multi-instrumentalists Stephan Diethelm and Matthias Eser, with guest musicians on bass and drums. Their album Glass Lounge(Percords (Switzerland) PERCORDS 001-04, 2001)embraces a pleasing combination of cool jazz and soul, with a laid-back vibe, which makes for great late-night listening. The album is available either in a standard jewel box format or in a limited edition must have glass-bottomed case.
Indeed Carolyn, some-time backing singer with Steely Dan, has certainly brought some of that band's relaxed aura to the table here, and her smooth, intimate, bluesy, yet perfectly pitched vocals are a delight.But it is the extremely unusual instrumentation that makes this album stand out from others of its type.
Both men play the same instruments in various permutations. These vary from subtle Fender Rhodes chords and lightly struck mallet percussion, to, most unusually, glasses (or bowls) filled with water to produce different pitches, then rubbed or struck, to give an ethereal, sustained note and the emphasis is on warmth throughout this excellent album. Often these instruments cut across the songs delightfully, while mobile bassist Wolf Zwaiuer and jazzy drummer Kaspar Rast lay down a variety of infectious grooves.
"Never" opens with a slow throb and we hear sustained glass notes almost immediately, while "Stronger than That" is a brisker tune, dominated by fast mallet percussion runs. "Would You Catch Me" is another up-tempo piece with infectious bass playing, while "66th Street" is a slow cha-cha, with a surreal mid section "Childish" has a vocal performance that Peggy Lee would have appreciated, and some more sustained glass playing, while "Priquer" reminds me of former Prince band members Wendy and Lisa is at their quirkiest.
"Marimba Lounge" has more percussion cutting across a complex drum pattern drifting into a lovely, laid back song. "The Answer" suggests Weather Report with complex patterns weaving in and out of the song, while, in contrast "Everywhere and Nowhere," after a slow start is the albums poppiest song, with it's infectious chorus, Carolyn suggesting Randy Crawford in her vocal, and some delightful Marimba.
"Anytime," again, has some infectious percussion, while "Photo" utilises an almost lazy, discordant percussion accompaniment, and the closing (mainly) instrumental, "Silver Storm" carries the music to its logical conclusion--jazz.
After repeated listens, this album is now a firm favourite. Classy, atmospheric, yet challenging if listened to deeper, it will please anyone with an interest in the cooler side of jazz and soul. And Carolyn is a great singer, too.--Stephen Lambe
The album is available worldwide through the ensemble'swebsite. Pay them a visit!