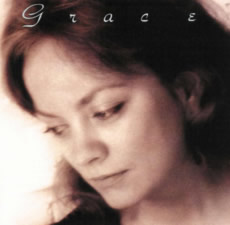 Image © Blix Street Records 1996

More Grace Griffith
Minstrel Song
Sands Of Time
Interview

&nbsp
(updated 22 June 2003) Grace Griffith is the vocalist/guitarist who is one half of the team that forms the nucleus of the East Coast Celtic group Connemara. Her first solo release is actually a re-package of Every Hue and Shade, minus a few tracks and also adding a few tracks, and it is a package of very soothing, beautiful heartfelt folk music. Although in Connemara, Grace strickly performs Celtic Music, in Grace (Blix Street Records (USA) G2-10028,1996) she expands her horizons to not only include Celtic, but also American folk and eventhe famous Gershwin showtune from Porgy and Bess, "Summertime."
Grace is joined by a number of impressive musicians including past and present members of Connemara, Martin Simpson on the very country-feeling "When My Ship Comes In", Celtic percussionist Myron Bretholtz, Zan McLeod, and guitarist Al Petteway. There is a very jazzy feel to the impressive "Hold me Forever," with some really great sax playing by Bob Read. Most of this album ventures into the Celtic territory that Grace really shines in and the album opens with the thought provoking "Water, Fire and Smoke", which asks us to remember Mother Earth, and the Ancient Celtic religion.
Next is "Star of the County Down"--nice to hear the vocals, as most versions today are instrumental-- then a great version of Dougie Maclean's "Turning Away." The most mysticCeltic experience comes with "The Quiet Land of Erin", followed by a musical version of the W. B. Yeats poem "The Lake Isle of Innisfree" here performed with beautiful interactions between Griffith and guitarist Petteway. Griffith and Martin Simpson both conjure up pagan Celtic visions on "Demeter's Daughter," and the album closes with Connemara performing the cut "Sailing/Ships are Sailing" from the album Siren Song (Blix Street Records(USA) G2-10031, 1995).
If before you listen to this album you were a tiger, when you finish listening you be a lamb. To sum up, the interaction between all the fine musicians and Grace's smokey, lush and often mystic and evocotive voice makes for a very satisfactory listening experience. This album will leave you wanting to run to the woods to purify and renew yourself to worldslong forgotten.--Dennis R. Stone
About Grace's debut album, correspondent Steven Digman writes,"[It] is the privacy of her voice! There's no public pop, which means: shake whatever you got, just quality--vocal quality. And that's the essence of Grace Griffith--her ability to convey the privacy of song. It's just personal the way she sings, and I think that is what the listener's will appreciate, especially in today's market of musical noise."

Read further reviews, listen to soundbites and order the album from amazon.com here. Clearly worth a journey, the album is a very nice listen!