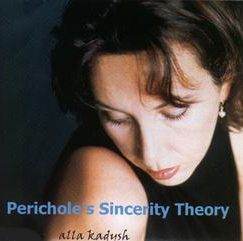 Image © 1996 \r\n\r\nAlla Kadysh
&nbsp
(01 April 2000) Currently living in Canada, Alla Kadysh has a sultry Russian accent and a songwriting style that embraces jazz, folk, and ethereal World Beat. Her eleven-track debut album, Perichole's Sincerity Theory (SOCOM (Canada) 1996) is attracting attention from radio stations and the print media alike because of its unusual combination of styles. The eclectic singer described by CMW media as "Loreena McKennitt meets Sarah McLachlan with a dose of Marlene Deitrich." Kadysh has sung back-up for well-known Russian recording artists and toured the European continent with various shows as well as with her own band. She also works as a session singer, writes music for films and television and performs in different venues in and around Toronto. Furtherinformation about the artist and the album's title are availableat the artist's website.
The vocally laced album features heartfelt songs sung in acontemporary and worldly style with stunning vocals, soaringat times to incredible heights, primarily accompanied by light instrumentation. Alla's extensive vocal range illustrated as the album progresses.We asked Alla about artists that may have influenced her songwriting. "I don't think I'm influenced by any particular artist when writing, but styles do influence me. For example, I was listening to different Celtic bands before I wrote "Wrong Century," so it has some Celtic flavor, and I was into French chanson for "Bear with Me". She is always craving something new and interestingand consequently there isn't an artist or band she listens to allthe time. She told us, "I could listen to a song I like 56 timesa day for three weeks in a row and never come back to it again. The CDchanger in my car holds 6 CDs. I can tell you what's in it at this moment: Portugese Fado singer Misia Sting's "Fields of Gold";Sholeh Haghighat—traditional Persian music with amazing vocals; Astor Piazzola "Songs From The Heavy Heart";French band "Paris Combo"; and a women of jazz compilation featuring Sarah Vaughan, Dinah Washington, Rita Reys and Nina Simone." Alla also travels with a tape of whatever music she's rehearsing at the time.
Contrasts are evident ranging from the upbeat contemporary opening track "Woman From The Wrong Century" to the swinging jazz influences of "Dummy Babe" and the worldly textures of multi-tracked "Soul Of The Perichole." "Nothing's Wrong" and "Bear With Me" hav a certain cabaret flare while "So Pretty," with its sensitive vocal part, resembles a quiet torch ballad. Alla plays piano and keyboards and isaccompanied by Wes Wraggett (electric and acousticguitars, keyboards and samples) and other supporting musicians.
Alla had couple of years of training in Musical Theatre college and some private vocal tutoring. Her style developed from stage experience. Alla's career is her music; She told us, "I'm a proffessional performer. I do everything from the studio side singing to private partys." She continued, explaining about her live performances, "I play almost every Friday in different Chapters and Indigo bookstores around Toronto, some clubs and restaurants, festivals if I'm lucky and whatever other gigs I can get."
She told about the songwriting process,"The melody and the story idea come first, it is never a problem. Then there's the long process of fitting the lyrics into the melody where I'm cursing my English every 20 seconds and sleep with the Oxford [dictionary] under the pillow, unless I'm writing the Russian song in which case it just flies."SHhe told us about the studios she uses in different stages. "Some songs I arrange myself and record bits and pieces at my home studio, some i have no idea what to do with. Wes Wraggett, composer and musician, arranged few songs on my CD. Then everything goes into professional studio and gets recorded with live musicians."
Artwork for the album includes lovely photographs illustratingAlla's personal beauty. She told us, "the pictures were done by a professional photographer, and my step daughter Julia did all the computer graphics for both the album and the website." Whenasked about the web, she told us, "The internet has been a great promotional tool so far. I used to call peopletrying to book the gig or get some press and they would invariably ask, 'Alla ... who?' Now I tell them, 'You know, one of my songs is No. 1 in Canada on a world fusion chart of MP3.com.' This usually gets me some attention. Not to mention the convinience of being able to send your demo over the net."
You can hear Alla's songs at
mp3.com and order her albumPerichole's Sincerity Theory at amazon.com here. Certainly worth further exploration, the album is vocallystimulating and a relaxing listen!