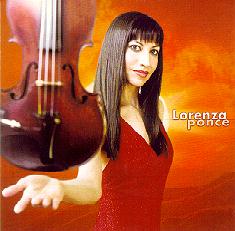 Image © 1999 \r\n\r\nLMP Records
&nbsp
(05 March 2000) Released after touring with Kitaro as his lead violinist, Lorenza Ponce's debut album Imago (Angel (USA) 7243 5 555568 2 0, 1997) was widely acclaimed as an instrumental and vocal masterwork (see Celestial Voicesreview©1998-2000 Graham Lubin). Since releasing Imago, New York-based Lorenza Ponce has touredon Sheryl Crow's 1999 Globe Sessions tour and was a featured violinist and vocalist for new age megastar John Tesh's One World 1999 tour. Ponce has also performed alongside Stevie Nicks, Deborah Harry and did session work for Tricky, Jon Anderson (Yes), Siverchair and Ben Folds Five as well as those she has toured with.Lorenza's second, self-titled album (LMP Records (USA) LMP 0101, 1999)has pulsing world beats, exotic instrumentation and has culled itsinspiration from her travels around the world. It is indeed a look straight into the heart of a mesmerizing artist.
The new album is comprised of eight stunning tracks with lush worldly or contemporary classical crossover arrangements and featuremoody evocative and sensual vocals. Asianand Middle Eastern themes derived from strings and percussion are combined with contemporary electronic sounds to create a highlymemorable soundscape. Most of the album's tracks are producedby Lorenza with Floyd Fisher.Five of the tracks sport vocals while theremaining three are purely instrumental. The percussion, vocalsand strings are introduced in the album's opening track "Deeply"solos for each illustrate the virtuosity of the individual performances.
Lorenza's vocals carry the song "Saved" supported by a light,worldly instrumental arrangement. Multi-tracking in the chorusadds an Enya-like texture to the sound. "The Vision" is an especially worldly instrumental with supporting vocalise to addtexture. The violn work is gorgeous, naturally! "Ruby" hasstunning vocal work, sharp worldly percussion and a tremendousstring arrangement that contribute to the overall texture ofthe track. "Into The Daylight" is written, performed and was produced by Lorenza. Sensitive vocals and a more pronouncedviolin arrangement with uptempo percussion contribute to theaccessibility of the song.
Lorenza's voilin virtuosity is the feature attraction in the lovely ballad-paced instrumental "Can You Hear Me" whichlike the track that follows moves away from the earlier worldsound of the album. She continues into the intro of "The Gift" where her vocals resume. A soft, sensitive, multi-tracked ballad, the song features stunning vocal work and equally soft violin rich instrumental arrangements. In the album'slovely classical contemporary crossover closing track, "Beloved," multi-tracked strings seem to share a melody similar to that from Mark Snow's "Suite from the X-Files" (review).
Lorenza Ponce's self-titled album features world tunes,sensitive ballads and classical contemporary crossover trackscertain to please a broad audience. Checkout a soundbite atLorenza's
mp3.com website. With vocal and instrumentalvirtuousity including spellbinding violin performances, her newalbum is worth extensive exploration, a long distance journeyfor sure—a must listen!