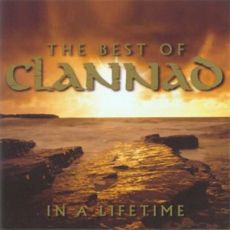 Image © BMG Music 2003
&nbsp
(08 November 2003) The name Clannad stands for an abbreviation of Clann As Dobhar, in English Family from Dore (Gweedore, Co. Donegal). This group from Ireland has been successfully existing for over thirtyyears now, and in addition to enhancing the status of Irish language which they use as their mother tongue, they have also been able to boost the strong Irish music culture even further. Not forgeting the fact that Clannad has been a springboard to the solo career of the lead vocalist of the group, Máire (Moya) Brennan as well as her sister Enya who was performed in Clannad in 1979-1982. As a mark of the success, the group has been able to win numerous major music awards such as Bafta and Ivor Novello, as well as make music for many movies and television series.
One part of Clannad's anniversary as a band is the release of a new collection entitled In A Lifetime, as well as reissuing some of their older studio albums with new remixed songs as bonus tracks. This collection covers the material from Clannad's first big hits (such as the duet"In A Lifetime" with Bono of U2 and "Theme From Harry's Game" which was a number one hit in the UK in 1982-1983) to the "Robin of Sherwood" TV series (starring Michael Praed) music as well as music from latter albums Anam (1990), Lore (1996) and Landmarks (1998).
Although this compilation is not Clannad's first, it certainlydeserves special attenton. Whereas previous compilations have covered mostly the group's earlier career and the more traditional songs and pieces, this one spans from years 1982 to 1998 and continues the series of the group's compilations. Band members--Máire and her brothers Paul and Ciarán as well as her uncles Noel and Padraig Duggan--have chosen their own favourites for this compilation.
Of course many long-time fans of Clannad, Máire and Enya may already have almost all of the original albums and other compilations as well, but this one contains some great tracks that may be difficult to obtain elsewhere. These tracks include "What Will I Do" from the film Message In A Bottle (1998), a great duet between Máire and Paul Young, "Both Sides Now," from the movie Switch (1991), a piece called "Christmas Angels," originally released as a single in 1997 as well as the new, great remixes of some Clannad songs (and Máire's collaboration piece "Saltwater" with Chicane) on the bonus disc of the Limited Edition.

Read further reviews, listen to soundbites and order the album from amazon.com here.So, no matter if you are new to the band or a long time enthusiast, this compilation is really a must listen!--Suvi Kaikkonen