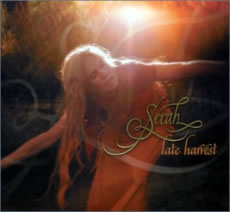 Image © Great Northern Arts 2002
&nbsp
(18 January 2004) New Age/World Music artist Serah's newest release, Late Harvest (Great Northern Arts/Ryko (USA), 2002),derives its name from an old fable that tells the tale of a vineyard owner who journeyed from his village on a quest to defend his ideals, and returned home very late in the summer, well after the normal harvesting time. There he discovered that all of the people who helped him harvest in previous years had waited for him out of deference. The grapes hadn't spoiled, but instead were tremendously sweet and fragrant, and with them the village created a heady dessert wine called the 'Late Harvest' wine.
The story of an individual voyaging to a distant land, upholding strong moral and humanitarian ideals and returning home to reap a sweet harvest supported by their friends and admirers could be Serah's own story. In the 80s, she traveled to Africa to work in a drought-stricken region of Northern Kenya. She took along her guitar and after work, shared her music with the local families, as they shared their music with her.
She returned to America with the firm belief that music can reach across cultural barriers to inspire and heal. With that in mind, she has gathered an incredible family of multi-cultural musicians around her, not least of which is Senegal's renowned Wasis Diop who co-produced and co-arranged quite a few of the songs on Late Harvest, as well as contributing vocals, guitar and percussion.
In addition to her own standout compositions, on this album Serah takes us in a new direction, bringing her own fusion of African and western musical influences to well known pop standards by Van Morrison ("Crazy Love"), Christopher Cross ("Sailing"), and Ben E. King ("Stand By Me"), which is already a hit on the AC charts.
Serah's original contributions to Late Harvest are a celebration of the human experience, with themes ranging from romantic love--I'm partial to the bouncing "I Think I Know," with a beautiful assist from Diop--to spirituality and our ongoing struggle to be the best that we can be. "Psalm Song" and "Inner Voice Dialogues" particularly resonate.
The centerpiece of the album is the haunting "Dolce," which uses beautiful imagery and amazing instrumentals and, for me, expresses the struggles and rewards of the long journey we all must take to find the best in ourselves and each other.
The mood of the album is wide-ranging, with tracks spanning moods from the uplifting to the meditational, which is probably why it hasn't left my 5-disc CD changer since the day I got it. Recommended for its evocative imagery, thought-provoking lyrics, beautiful music and amazing African flavor, anyone who has enjoyed Serah's other albums (Senegal Moon, Flight of the Stork, Wing of Mercy, Out of the Wind) will love it, and for everyone else, this is definitely worth a listen. For a taste of what Late Harvest offers, there are mp3s and very interesting

behind-the-scenes videos at her website. The album is available from her site as well as amazon.com. Enjoy!--Anna Weil