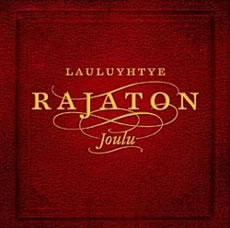 Image © Plastinka Records 2003

More Rajaton
Live in Oulu 2003
Sanat
Nova/Boundless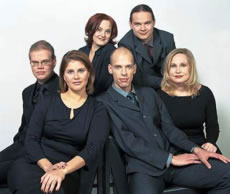 Image © Plastinka Records 2003

&nbsp
(18 January 2004) During the past years, the Finnish a cappella ensemble Rajaton has achieved success both in Finland as well as other countries across the world. At the end of October 2003 the group of five singers--two sopranos, one alto, one baritone and one bass--released in Finland their latest album entitled Joulu(Plastinka Records (Finland) PLACD 006, 2003) (translated as "Christmas"), and this album is the fourth album in the group's history.
When listening to this album--a two-CD set--one doesn't need to wonder why the album went Gold in Finland in just about two months, because both the first "studio" disc and the other "live" disc (recorded in the church but not in concert) once again show what kind of harmony and the "steel" collaboration can be at its best. In addition, both of these albums have very professional producers; whereas disc one has been produced by a multi-talented person (Mrs.) Anna-Mari Kähärä, the producer of the other disc is a long-term choir conductor (Mr.) Pasi Hyökki. The sales were surely boosted also by the recent, greatly outcarried and nearly sold-out Rajaton Christmas Tour, which included concerts in fourteencities around Finland.
Once again, the choice of the pieces must have been difficult since there are so many songs to choose from, but Rajaton has succeeded to make the Christmas album as a whole, not just a collection of various songs. In addition to the arrangements ofalready familiar Christmas songs, there are also both brand new songs that have been especially composed for Rajaton, as well as arrangements of a bit more unfamiliar songs, too. Among the list of composers there are e.g. Sibelius, Mia Makaroff and even Anna-Mari Kähärä herself, and even the ensemble's bass singer Jussi Chydenius has also both arranged and composed some of the pieces. This shows the versatility of the singers very well indeed!
Many listeners could imagine to hear only "basic" arrangements of those carols already familiar, but with Rajaton it just isn't so all the time. For example a piece called "Kulkuset" (Jingle Bells) has evolved in the hands of a Finnish jazz pianist/composer Mr. Iiro Rantala, into a very humorous and uniquely funny wholeness with its "reggae" rhythms, although a foreigner who doesn't understand Finnish would wonder what there is in common with reggae and a sleighride. The secret is, that the words "reggae" and "reki" (sleigh) are pronounced quite similarly to each other, so that makes the thing very amusing!
The first disc contains mostly "jolly" and happy Christmas pieces and the other one is a bit more serene, and each to complimentsthe other, forming a wholeness to the album. Christmas music for every taste so to say, and with very well interpreted as well! The only thing that is lacking are the lyrics and their English translations, so if the album would be released outside Finland as well, it should also contain lyrics and their translations as well. It would be a big pity if the album remains released only in Finland, since I believe that this kind of brilliant material, even though it's all Christmas, has a potential to sell well enough in other countries as well. The result of such steel collaboration really deserves a greater audience than just us Finns, because this double album is a must-listen!--Suvi Kaikkonen