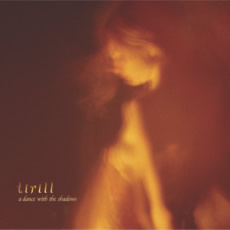 Image © The Wild Places 2003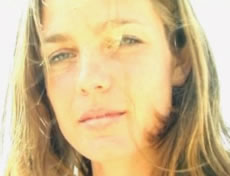 Tirill Mohn
Image © The Wild Places 2003

More Tirill Mohn
Interview and Photos
Nine and Fifty Swans (2011)
Tales from Tranquil August Gardens (2011)
White Willow's Sacrament (2000)

&nbsp
(01 February 2004) Norwegian multi-instrumentalist Tirill Mohn will be best known to progressive music fans as violinist with progressive rock band White Willow, playing on their debut album Ignis Fatuus as well as performing in the live incarnation of the band for a number of years. Her first solo album--three years in the making and including songs dating back as far as 1996--will certainly appeal to all those who enjoy the more lyrical, folky aspects of the band. It is entitled A Dance with the Shadows (The Wild Places (USA) WILD013, 2004).
The ambience throughout is one of haunting beauty--of mystery, longing and calm. The tone is set even before the CD is removed from its case, by a wonderfully presented booklet, with its subtle, ghost-like eroticism. This is continued as the album weaves through an almost impossibly beautiful 50 minutes. Though each of the eleven songs maintains the same, tranquil atmosphere, the arrangements are amazingly varied. Tirill and Oystein Vesaas' wonderfully liquid production lifts each instrument from the speakers, especially the vocals which are delightfully intimate.
Tirill herself is a revelation, singing lead on ten out of the eleven songs in her unpretentious, girlish and deeply effective soprano, writing, arranging and contributing: violins, keyboards, electric and acoustic guitars, percussion and flutes. The other musician (of several) worthy of specific note is Ketil Vestrum Einarsen on flutes. Readers of our reviewof White Willow's Sacrament album will know of our regard for Ketil's virtuosity. Here, again, he is wonderful, delivering a more atmospheric, less showy performance. Interestingly, there are no kit drums on the album, though a variety of percussive instruments keep time through most songs, lending a pleasing, intimate feel to the music.
The album opens in broody, melancholic fashion.Strange, ambient noises and hushed voices introduce "Nights are Colder," which makes excellent use of a lower male voice singing in unison with Tirill. "Don't Dare to Love You" begins with Tirill's voice and an acoustic guitar singing a lovely, simple tune over lush keyboards and percussion, with subtle interventions from Ketil's flute. This tone continues on "Winter Roses"--familiar from the pre-release mp3s--with its delightful chorus. "June's Flowers" employs cello, guitar, flutes and lovely harmony vocals to articulate a delightful, simple arrangement.
Highlight of "Dressed in Beauty" is the fragile theme played by Tirill's overdubbed violins during the vocal sections, while the songs mid-section adds an unexpected sinister note. "Heavy Heaves" again allows Ketil's breathy flute to dominate over funereal keyboards and more surreal noises, while Tirill sings a mantra-like refrain. The brooding "Vendela" is the song in which listeners will find most parallels with White Willow. Lead vocal duties are here handed over to Odd Hakon Solbakken and White Willow's Sylvia Erichsen, and the edgy backing builds to something bordering rock music for the only time on the album.
The last few songs are lighter with a more traditional folk feel. Wailing flute and gentle piano introduce the quiet "Gold's of Morning," which its superbly intricate arrangement. Highlight, here, is Ketil's flute which breaks into a half-familiar folk tune as the song concludes. "It was Blue" has simpler, yet equally delightful instrumentation--light and melodic with Espen Lette's accordion to the fore. Trekkspill (an accordion-like instrument) and gypsy-style violin give "Ruby" a sensual, Eastern European feel, and the album finishes in similarly Southern European style with the playful "When you sleep" featuring the impressive bouzouki of Christos Sarakatsianos.
The album also includes a hidden instrumental version of "It was Blue" (before track one) and a charming video of the same song. This is a quite stunning album, which rewards repeated plays and considerable concentration to unpick Tirill's intricate, sensitive arrangements and each song's subtle melodies. On the other hand, as the root of each song remains Tirill's nylon-stringed guitar, it is not difficult to imagine them performed entirely solo. Lyrically, the album considers simple themes, moments of melancholy and joy, the sadness of passing seasons and remembered love.
However, whether you choose to concentrate on every moment or allow the general mood of the album to wash over you, this is an exceptional album by a hugely talented musician. Buy it for those quiet, contemplative moments. Return to read our interview with Tirill planned for publication in March 2004.--Stephen Lambe