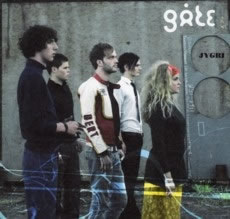 Image © Warner Music Norway 2003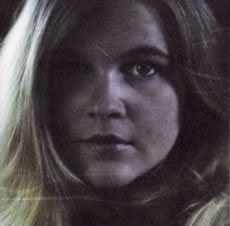 Gunnhild Sundli (vocals)
Image © Warner Music Norway 2003

&nbsp
(21 March 2004) On a trip to Oslo in February 2004, we were introduced to the music of Gåte by Jacob Holm Lupo of progressive rock band White Willow. Gåte--their name describes a small Scandinavian riddle handed down from generation to generation--are a five-piece band hailing from Trondelag in mid-Norway. They revolve around the brother sister combination of Gunnhild (vocals, fiddle) and Sveinung (keyboards and fiddle) Sundli who arrive steeped in the folk music of the region. Realising that a combination of tradition folk performance and contemporary music might be viable, they recruited Magnus Bormark (guitar, synths), Gjermund Landro (bass and guitar) and Martin Langlic (drums) to bring their vision to life.
The resulting debut album, Jygri (Warner Music (Norway) 5050466-6973-2-5, 2003) has been an amazing success in the Scandinavian countries, selling over 40,000 copies and has won the band awards and considerable acclaim. The band's record company have understandably decided to focus on the Scandinavian countries in terms of release and promotion, but it is high time this band had a larger audience. The album presents a selection of traditional folk songs sung in Norwegian by Gunnhild who has an extraordinary voice--imagine Bjork with the girlishness removed and more power--combined with extraordinary arrangements and playing, fusing passionate fiddle-driven Celtic-style rock with electronica, dance beats progressive music and, principally, heavy rock.
The album opens with "Bendik og Arolilja," which has a folky keyboard and vocal intro, before kicking into a high-energy Celtic rock workout, driven by a winning fiddle riff and a catchy--almost yodelled--chorus. "Snale mi jente" opens with Gunnhild and Sveinung's mother singing a folk tune, before developing into another throbbing rock tune dominated by fiddles and rasping, metallic guitars, with some progressive-style synth fighting for a place in the mix, with Gunnhild almost shouting over the dense arrangement. The melody of "Til Deg" broods over a quickly played acoustic guitar, before the bands kicks in with another hard rock tour de force. Instrumental "Springleik" combines fiddle-driven, danceable folk with electronic music in plausible fashion, before lifting into twin-fiddle heaven!
"Stengd dor" is a slow, yet sinister piece, disturbing vocals sung over a doom-laden piano figure, later taken up powerfully by the whole band. "Kara tu omn," a song with a simple melody originally written for children, again has a dance-style electronic introduction before building into a splendid guitar driven piece with orchestral synths adding to the drama. "Jyrgi" is more authentic, a brief acapella vocal from Gunnhild, while "Brurematrsj fra Jamtland," from Sweden, is an anthemic march which builds regally behind Gunnhild's wordless, catchy refrain.
"Skromt" broods over picked electric guitar and electronic percussion, before guitar and fiddle take up a relatively gentle, melodic theme in one of the album's slightly more complex pieces. "Inga Litimor" has a strong, folky melody, which breaks engagingly into a piece of dance electronica, providing an interesting prelude to the standout track on the album, the remarkable, 9-minute, "Margit Hjukse." Atmospheric noises lead immediately into a huge heavy rock riff battling with swirling synth for supremacy, before breaking into the vocal verse accompanied only by accordion style keyboards and cymbals. Gradually, the band comes back in leading again into the riff, while the second verse is busier, before a tense final verse gradually builds in intensity before breaking into that great final riff. This is played just once on its own before the band kick in with a huge ending, with Gunnhild singing her heart out. The album says farewell with the gentle, melodic, keyboard-dominated "Solbonn."
The reviewed copy also includes a four-track bonus CD, featuring the excellent, typical "Statt opp," an acapella version of "Til Deg," a superb live "Bendik og Arolilja" and a demo of the live favourite "Litle Fuglen."
This is an intense, rewarding listening experience. Gunnhild's voice, though possibly an acquired taste, will delight many, while the accessible, imaginative, brilliantly played music rocks very hard but has enough moments of invention to make keep many progressive rock fans happy. With its vocals re-recorded in English, there is no reason why this band shouldn't develop a healthy indie / hard rock following all over the world while "Bendik og Arolilja," already a single in Norway, is so good it could easily chart abroad.
The band are currently working on their new album, and it will be interesting to hear whether they stick with traditional--albeit transformed--tunes, or develop their own material in a similar vein. We wait with interest.--Stephen Lambe