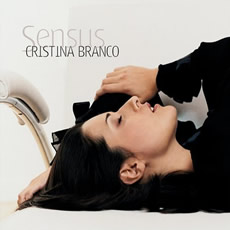 Image © Universal Classics 2004
&nbsp
(08 November 2004) Sensus (Decca Records / Universal Classics (USA), 2004) is the heart of Portuguese soul, exquisitely presented by modern day fado artist, Christina Branco. Fado is considered to be the oldest urban folk music, and was adopted by Lisbon's working class by the early twentieth century. Due to the melancholy nature of the songs and the strong emotional power, fado is sometimes coined as the "Portu blues."
The late Amalia Rodrigues who died in 1999, was the reigning diva of fado, having been worshipped by the Portuguese, and even awarded a state funeral and official mourning for three days. In being compared to Amalia, Christina says, "Besides loving her verymuch, loving the way she sang and all the songs she recorded, it's different for me. She was a very sad person -- I'm not. I have no particular problems, except the normal problems of every teenager, or every adult has. I have to be an optimist. Why be sad if I'm not?"
Christina has revitalized fado, and employs the essential element of saudade, a Portuguese word meaning longing, or nostalgia for unrealized dreams. Her stunning alto voice is divine, and exemplifies the deep, rich passion and emotion of this music genre which connects poetry, music and vocals. "Nowadays, some of the people my age prefer the traditional roots, they prefer to sing only traditional fado. But there are other people like me that prefer to show the traditional part, yes, but are trying to make new compositions, to mix different styles...because you are being influenced all the time by different cultures."
The music throughout this album has a lightness mixed with haunting melodies, highlighting the soulfulness and passion of the songs. Her guitarist/music director/husband, Custódio Castelo, is an integral element in their joint musical efforts in mesmerizing the listener. The sensual ballads accompanied by guitar and piano presented by Christina are chosen from modern Portuguese poets such as Pedro Homem De Mello, Maria Teresa Horta and Vinicius De Moraes as well as from sixteenth century poets Luis Vaz De Camoes and William Shakespeare, whose sonnets have recently been published in an excellent Portuguese translation and are sung in Portuguese here for the first time.
Christina's expressive, lush vocals are captivating. Reading through the English translations of her ballads helps one torealize the intensity and subtlety of the connection between the words and music. Her dramatic interpretations are powerful and full of a subdued energy. "Each piece of music is born when I discover a new poem. The words are the major element of my whole concept."
Even though these songs are performed in Portuguese, the sensitivity and meaning is not lost to the English-speaking ear due to the magnificent vocal and instrumental interpretations. Christina exudes intense passion with a contemporary edge to this incredible mournful traditional music. Her voice is sensual and one can actually feel the emotions as her stunning vocals radiate from this collection. She has successfully and expressively

blended voice, poetry and music. Sensus, enhanced by Christina Branco's dazzling and awesome voice, is a work of beauty that should be part of everyone's music collection.