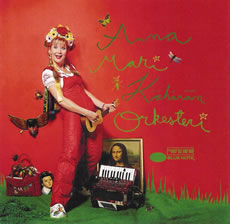 Image © EMI Music Finland 2005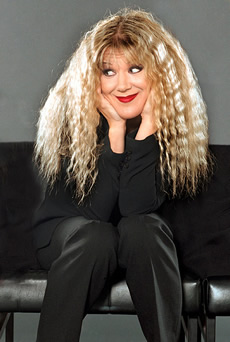 Image © EMI Music Finland 2005

&nbsp
(31 May 2005) Anna-Mari Kähärä has been involved in many various music and theatre productions during her life as a professional musician, and already so far, her musical CV leaves its reader gasping air with all kinds of commitments such as her own groups How Many Sisters and ZetaBoo, the duo and the bigger ensemble with the past Sibelius Violin Competition winner Mr. Pekka Kuusisto, not to forget Anna-Mari's outstanding collaboration with the world-renowned composer Karl "Adiemus" Jenkins together with eight other stunning Finnish female singers.
In the middle of all this, Anna-Mari has continued writing material for both ZetaBoo and herself, so it was not until now that her debut "solo" album became completed and finally released. The word "solo" has been put inside quotes just because Anna-Mari has gathered Pekka Kuusisto and some other of her music friends to play for her on this disc. Her debut album is self-titled Anna-Mari Kähärä Orchestra (EMI (Finland) 7243 973846 2 0, 2005).
The album starts with a very poignant song, "Requiem", tough, rough and very sad piece just like the song's lyrics are. Although this version is also great, one must wonder why Anna-Mari has not taken her How Many Sisters mates Pirjo Aittomäki and Mervi Hiltunen to become guest musicians, since the version at the How Many Sisters concert some time ago was at least equally great!
Already the first piece shows the singing abilities of all of the musicians, but in the next piece, "Lynmouth Widow", the voices are even more primitive, if not raw, to say it frankly--sounding like Björk or Joni Mitchell at times. It might have helped Anna-Mari very much to be part of Adiemus, since in this case her voice is indeed quite on the class of its own!
Next there is "I Hear Drums", a bit repetitive piece but perhaps it is why it is so interesting! The piece features the drums throughout indeed, and it kind of forms the core of the song in addition to Anna-Mari's (and others) singing. Very clever. After all that intensive drumming then the mood relaxes to a soft ballad-like "Love Is In Your Heart", once again a piece featured on the live show of 2003 before the release of the album. Then follows "Dead Love", a rhythmic, quite jazzy piece with very poignant lyrics as well as a funny "telephone" voice of Anna-Mari, and a great, melodic piece "War", where everyone is once again doing the vocal parts in glorious harmony.
A great album has a great ending too, this time it is a ballad-like piece "So This Is Love" with its quite bitter lyrics written by Lorna Crozier. But, it's not that melancholic, as the musicians had some greatly ironic choreography on the stage when performing this with Anna-Mari live in 2003, just when they sang the "raining" point. Also, the chorus's "la-la-la"s in the middle are rather hilarious than sad, which is quite a contrast to the lyrics.
As Anna-Mari told in one of the past interviews how her friend called these tracks as "miniature movies", and listers will surely. Each of these are telling their own story to the listener, and although having not so cohesive album as traditionally one would think, this brings a whole new dimension to the music. Who said everything in music should be cohesive?
Anyway, as all the pieces are sung in English, I really hope that this album would once be released outside Finland, so that people would then have the chance to get to listen such awesome, unique, brilliant, and, maybe a bit shocking music. It really deserves to be listened also by others than the hardcore fans of this kind of multi-approach music,and although it might require from the listener to focus on the music a bit more than usual, it is really worth for a try. Well done, Anna-Mari and others!
In the meantime of waiting for the possible (and definitely desirable) release of the album outside Finland, one can always take a peek at Anna-Mari's new (though Finnish) website and another option is of course to buy this stunningly unique album from Finland.--Suvi Kaikkonen in Oulu, Finland