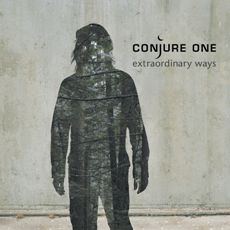 Image © Nettwerk Productions 2005
&nbsp
(31 July 2005) Delerium and Frontline Assembly cofounder Rhys Fulber has prepared a second solo-project under the Conjure One moniker. The album, entitled Extraordinary Ways is the follow up to 2002's widely successful self-titled debut, Conjure One (review). Whilst Conjure One was a cinematic, Middle-eastern tinged masterpiece, Extraordinary Ways finds Rhys and company with feet a bit more firmly planted on the ground with more straightforward a familiar song structures and instrumentation.
Enthusiasts of the first album, however, need not fear. Extraordinary Ways still reflects Rhys' penchant for epic-laden productions that are spine-tingling, transporting pieces of electronic heaven. Three singers from the first album--Chemda Kalili, Poe ("Jane"), and Joanna Stevens (Solar Twin)--return for vocal duties. In addition, up-and-coming trance-diva Tiff Lacey (Lost Witness, ATB, and Paul Oakenfold) is featured on "Face the Music." Most intriguing is Rhys Fulber's debut as a lead vocalist on a remake of the Buzzcocks' song "I Believe." Ashwin Sood and Sean Ashby (Sarah McLachlan), Leah Randi (Pink and ex-Abandoned Pools) and London-based composer Chris Elliott are also featured as instrumentalists or arrangers on the album.
Jane's three tracks, "Endless Dream," "One Word" and "Extraordinary Ways" are all breathtaking in their individual ways, and form a sort of trilogy that provides the backbone of the entire album. "Endless Dream" is an immediate attention-grabber. Sharing some similarities with "Center of the Sun" from the first Conjure One album, "Endless Dream" quickly orients the album in the direction of dream-world etherealism. The ghostly piano and Jane's sibilant whispers create a sense mystery. Of course, the chorus reaches near-perfection as guitars and orchestral strings combine in grand fashion, bedding Jane's razor sharp voice in a wall of sound.
Listeners may be suprised at the first minute of "One Word." A bouncing Erasure-esque synth bubbles while a bass pulse and sweet spanish-styled guitar rift back Jane's almost gentle voice. Those who know Jane's former work as a solo artist will likely wonder at the carefree mood; but, "One Word" suddenly shifts directions at the one minute mark. As the song moves into minor chord territory, one realizes the brilliant emotional tension created by the transition from major to minor. The best part of the song occurs at the 2:35 mark as the song modulates again and Jane sings in register that causes her voice to absolutely explode. A full listen to "One Word" proves it to be one of the best tracks on the album.
Extraordinary Ways is anthemic, direct, and glorious. Both musically majestic and lyrically potent, the track has a strange melancholy quality that is juxtaposed with a hopeful message. Jane's affirming and ever-driving voice carries the track as guitars soar against a relentless beat. Tiff Lacey's track "Face the Music" is a pleasant-enough, energizing track perfect for a Friday night drive to the club. No doubt, Tiff Lacey is a talented singer. This track could provide Conjure One with a radio hit.
Joanna Stevens, the statuesque vocal wonder of electronica duo, Solar Twins, gives an impassioned and dazzling performance on the supernal "Dying Light." Accompanied by gossamer piano, aquatic synth noises and an expansive backbeat, Joanna Stevens vocalizes as if she's offering an ancient prayer to a sleeping god. Easily on par with singers like Azam Ali (Vas, Niyaz) and Ofra Haza, Ms. Stevens once again makes us lament that there hasn't been a follow up album for the Solar Twins.
Chemda's lyrical track, "Forever Lost" with its postmodern, futuristic sound is a sure winner. As always, Rhys knows his "hooks," and "Forever Lost" perfectly taps that aural sweet spot. Strumming acoustic guitars lend a fresh, organic sound that plays perfectly with the electronic elements that sustain the song.
Extraordinary Ways also features three largely ambient, instrumental pieces: Pilgrimage, Beyond Being, and Into the Escape. All three are intriguing in their own right, combining undulating synth waves with flutes, occasional ethnic vocals (perhaps featuring Chemda on "Into the Escape") and soft guitar swaths. Fans of Enigma or Mythos will find much to appreciate here.
Finally, "I Believe" is a somewhat anomalous track featuring Rhys on vocals. On its own, the song is actually quite likeable. Calling to mind the 80's classic "Video Killed the Radio Star," the track bounces along quite nicely as Rhys filtered voice chimes over the backbeat. Although not the strongest track, it is good to see Mr. Fulber change up his vibe and experiment with his sound. Extraordinary Ways is the perfect album as the season transitions fromSummer to Fall--part warm

and electric, part mournful and contemplative, Rhys' music again takes listeners on fascinating journey.--Justin Elswick in Provo, Utah and Russ Elliot in New York