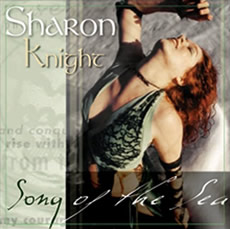 Image © Trance Jam Records 2004
&nbsp
(25 September 2005) Sharon Knight's second solo album, Song of the Sea (Trance Jam Records (USA) 804747003, 2004), is a blend of traditional Celtic and rock/pop music. The CD features lyrical tales of muses and sirens, magical spells, pirates, phoenixes and otherworldly heroes. The images projected throughout her music evokes ethereal vocals and dramatic poetic lyrics. Sharon's voice and style has been likened with Fairport Convention, Stevie Nicks, Tori Amos and Loreena McKennitt.
Song of the Sea includes performances by Irish vocalist Shay Black and Gary Hegedus of Stellamara. This album is actually her fifth recording. Her previous works include Incantation, Pandemoneaeon, Temple of Dreams Live and Siren Songs. She captivates her listeners with haunting ballads, lively jigs and reels and humerous interludes in her songs. In her current album, she utilizes a wide variety of instruments to set the mood including the mandola, mandocello, violin, acoustic and electric guitar, Uilleann pipes, whistles, piano, keyboard and percussion.
Sharon's soaring vocals complement her wonderful storytelling skills and musicianship. She brings an enchantment to her music and creates a wonderful imagery in the mind of the listener. She has certainly achieved the title of the Celtic inspired teller of tales. She co-authored all of the songs except a couple of traditional ones that were arranged with her co-writer, Winter.
"The sea has always felt like a bridge to another world, a deeper world within, that is closer to the divine than our everyday lives an afford us. Song of the Sea was written in the spirit of tapping these oceanic archetypes to kindle the magick within," according to Sharon.
Her passion and inspiration are clearly evident with her lush vocals and fabulous instrumentals. Some standout tracks include the haunting title track, "Song of the Sea," the melodic "Phoenix From the Ashes" and the ballad "Captain Blackheart." Another song of note is "Siren Moon" which continues to expound upon the mystical images created throughout this soothing album. The classic "Pipe on the Hob" is a fun, toe-tapping Irish melody highlighted with the tin whistle.
The lush vocals and magical melodies create a contemporary Celtic aura throughout Song of the Sea. Her art derives from her vision and deep desire to live in a more magical world where we are "possessed of a deep sense of connection to the earth, seeing the world as alive and interconnected, and aware of subtle energies as yet unseen by the human eye."

Sharon Knight has certainly accomplished creating a fascinating, romantic and fanciful collection of compositions that are relaxing and soothing to the soul.--Audrey Elliot in New York