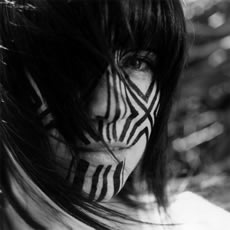 Orenda Fink: Invisible Ones
Image © Saddle Creek 2005
&nbsp
(05 November 2005) With Invisible Ones (Saddle Creek (USA) LBJ-75 CD, 2005), Orenda Fink has creatively expanded upon her eerie Azure Ray country/goth roots, and created a empyreal, inspired collection of neo-folk songs. Like Maria Taylor--the other half of Azure Ray--Orenda decided that she wanted to experiment with new styles and forms of songwriting (Maria Taylor's 11:11 album review). The songs on Invisible Ones were Inspired by Orenda's travels to India, Cambodia, and Haiti, Orenda and incorporate her thoughts and feelings about the human condition. Topics of spirituality, race, mysticism, love, betrayal, and identity inform these songs.
The album was engineered by Andy LeMaster (Now It's Overhead) and co-produced by Andy LeMaster and Orenda Fink and features appearances by Todd Fink (The Faint), Scott Amendola, Dave Sitek (TV On The Radio), Martin Perna (Antibalas), Dan McCarthy (Mayday and McCarthy Trenching), Nate Walcott (Bright Eyes, The Faint, Rilo Kiley), Patterson Hood (Drive-By Truckers), and Rozna Zila and Sandy M. Saint-Cyr (Troupe Macandal).
Invisible Ones sees Orenda Fink joining the company of such acclaimed acts as Cowboy Junkies, Thea Gilmore, Carla Werner and Sarah McLachlan. The noisome, but strangely restrained "Leave It All" is a rock/folk ballad that for all of its electric guitar work still leaves space for Orenda's supernal and lush harmonies. Easily the standout track on the album, "Invisible Ones Guard the Gate" is another deeply visionary number that sounds like a jam session featuring Fiona Apple, Alison Krauss and Suzanne Vega. With its haunted piano bar saloon-type instrumentation and elegiac lyrics, "Invisible Ones Guard the Gate" is the type of song that burns itself into the mind and heart.
The quirky "Blind Asylum" is a strange melding of bluegrass and neo-classical styles that relies upon rapidly plucked pizz strings to accompany Orenda's phantasmal crooning. "Les Invisibles" is a unique and emotional piece featuring a Haitian choir.
"Miracle Worker" is another deeply appealing song that is epic in an 80s-esque sort of way--transcendent piano and booming percussion bring to mind songs like Dream Academy's "Life in a Northern Town." "No Evolution" pulls from 70's rock and soul influences and allows Orenda to use her voice in a more assertive way. "Easter Island" is a lovely and spooky rumination that conjures up a dreamlike state of subtle menace and anger. The tribal rhythms and sharp voices of the indigenous choir on "Animals" contrast beautifully with Orenda Fink's smooth and ghostly voicings.
Like her fellow Azure Ray band member, Maria Taylor, Orenda Fink has proven that she is more than just a female shoegazer artist with another pretty voice. With material that is both more experimental and musically diverse than Azure Ray's, "Invisible Ones" stands as a bright star in the musical

universe. Ms. Fink has every right to be proud of this nuanced and exceptional record.--Justin Elswick in Provo, Utah and Russ Elliot in New York