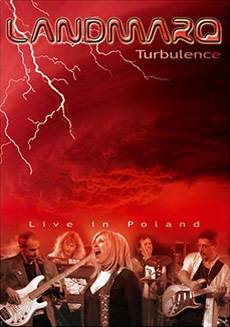 DVD Front Cover
Image © Metal Mind Productions 2006

More Landmarq:
Tracy Hitchings Feature (2000)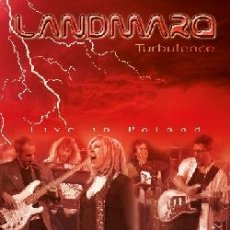 Digipack CD Cover
Image © Metal Mind Productions 2009

&nbsp
(23 April 2006 updated 02 August 2009) Landmarq's recent career has been a stop-start affair. Although Musical Discoveries featured artist Tracy Hitchings (feature) has now been an official member of the band for ten years, she has recorded only one studio album with the band The Science of Coincidence (1998) and two live albums Thunderstruck (1999) and Aftershock (2002). Since those albums were recorded, the band has had two changes of keyboard player, with the talented but mercurial Gonzalo Carrera (now a member of the revamped Karnataka) replacing Steve Leigh in 2002, only to move on himself, to be replaced by the excellent Mike Varty, whose other projects include the resurgent progressive rock band Credo and Jannison Edge. Meanwhile, drummer Dave Wagstaffe continues to play in the Oliver Wakeman Band, bassist Steve Gee has played with former Yes guitarist Peter Banks and Tracy continues with her vocal coaching career in London.
When we briefly met with members of the band at the Progaid recording session in early 2005, they made it quite clear that they wanted to increase the amount of time spent on Landmarq, with a new album and DVD in the works. With this new album due later in 2006, the DVD project, a brilliant 85-minute performance filmed in Katowice, Poland is now happily with us. Entitled, Turbulence - Live in Poland (Metal Mind Productions (Poland) MMPDVD 0062, 2006), the all-region DVD is marvelous. The nine-track digipack album (Metal Mind Productions (Poland) MASS CD0957 DG, 2009)perfectly compliments the DVD edition.
Overall, the concert is beautifully shot, a good theatre venue providing excellent lighting and back projections, and there are no other frills. The concert is shot as played without the extra effects that can so often taint a live DVD, and the camerawork throughout is tasteful with good attention to detail. As for the music, the intention is clearly to present as much new material as possible, though some of it has been played live for a years), with only new arrangements of "Landslide" and "Lighthouse" featured from the released back catalogue.
Overall, this material comes across very well indeed. While the music provides few real surprise, this is excellent progressive rock, with plenty of dynamics, changes of pace and quality musicianship--the factor that makes the music special is the way that the music combines--and occasionally clashes with the singing and writing of vocalist Tracy Hitchings. Unusually for a progressive rock band with few metallic leanings, Landmarq have always employed power singers, firstly with Damian Wilson and now Tracy, whose leanings are clearly in two different areas--towards the epic, emotional music of hard rock bands like Heart, and towards West End/Broadway musicals. This gives the music a melodic and emotional edge not always associated with progressive rock.
The set begins with the fabulous "Entertaining Angels," an atmospheric keyboard / guitar opening out into an excellent slice of melodic progressive rock, with Tracy's vocal melody showing a distinct Heart influence. The lengthy "Calm Before The Storm" continues the set, with a jazzy opening section leading into the brooding, minor key song "Strange but Beautiful," itself segueing into Steve Gee's powerful, complex "Spiderman" with the edgy instrumental "From the Abyss," giving Gee, Varty and guitarist Uwe D'Rose the opportunity to solo impressively. The lovely ballad "Prayer" is up next, with a great vocal performance from Tracy. A dramatic piano solo heralds the epic "Thunderstruck," an older piece with a thunderously complex unison keyboard / guitar motif, which leads into a more playful and jazzy mid section before a Marillion-esque crescendo builds to a powerful climax.
"Walking on Eggshells" begins with some delicate guitar before becoming a lovely ballad with some impressive ensemble playing, while the jaunty instrumental "Landslide" allows the band to let off steam, and gives Dave Wagstaffe the chance to solo impressively. The excellent "Timeline" is up next, a strong slice of progressive rock with an impressive chorus, followed by the equally impressive, up tempo "Mountains of Anglia" written by Steve Gee, which has slower mid section that should appeal to Pink Floyd fans. The set closes with the classic "Lighthouse," a big, theatrical ballad building into powerful progressive work out with each member of the band again able to let rip.
This is all excellent material, played with subtlety, skill and dexterity by a mature and confident band. Uwe D'Rose,

in particular, is hugely impressive bringing huge versatility and economy to his playing, while newcomer Mike Varty keeps up the standard of the band's keyboard players.
The DVD has some tantalising extras, including video footage from various eras of the band, plus some side projects. There are some worthwhile audio-only tracks that completists will want, and the various other extras, like interviews and band biographies are also pleasingly professional. However, it is the concert that most will buy this DVD for, and it is both a superb live record of Landmarq in

action and an appetising taster of the delights to be found on the new album.--Stephen Lambe in Tewkesbury, England and Russ Elliot in New York