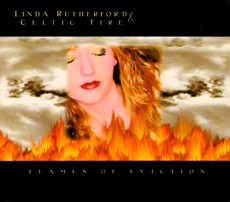 Image © 1999\r\n\r\nCeltic Fire Music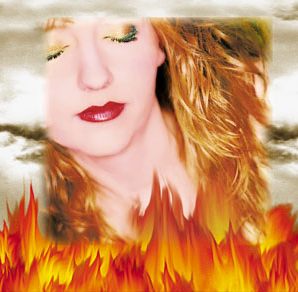 Front Cover Closeup
Image © 1999 Celtic Fire Music

&nbsp
(21 May 2000) Linda Rutherford & Celtic Fire's already well-acclaimed 10-track second album is entitled Flames Of Eviction (Celtic Fire (USA) FOE-10CD, 1999). This initial concise review will be expanded into a feature when our exclusive Musical Discoveries interview with the artists and reviewof the band's debut album Stop The Rain are completed.
Formed in 1995 and based in Hilton, NY (northwest of central Rochester) and fronted by the stunning vocalist, songwriter and multi-instrumentalist, Linda Rutherford the band also includes family members Tony (accordian, keyboards, vocals), Johnny (drums) and Rosheen (electric and acoustic guitars). Linda plays fiddle, mandolin, acoustic guitar, keyboards, tin whistle, saxophone and flute. Celtic Fire also includes Francis White (bass) and Don Mancuso (lead and rhythm guitars, vocals). The album'ssongs are written by Rutherford family members in various combinations. The group is managed and directed by Bruce Pilato of Pilato Entertainment (Asia, ELP,Greg Lake, Carl Palmer, Tacye, AnthonyPhillips, and many others). This album's music is as wonderful asScott Hamilton's everso well-designed album cover.
Celtic Fire's latest album blends traditional Irish instrumentation and song structures with highly accessible original rock tunes. LikeThe Corrs and Capercaillie, jigs and reels are often major parts of instrumental bridges within the group's songs. Stunning vocals adorn the majority of the rich instrumentally arranged songs on Flames Of Eviction and are a notable step up from the debut album according to other reviewers. With the public's growing interest in modern interpretation of traditional folk music arising from successful dance musicals Riverdance and Lord Of The Dance, fans of these shows as well as Clannad, Capercaillie, Iona, Ronan Hardiman and other progressive Celtic recording artists are certain to enjoy Celtic Fire's music and Linda Rutherford's vocal prowess.
Lyrical themes within the album deal with serious subjectsincluding domestic violence and sexual assault. The title track sung in English and Gaelic ("An Gorta Mor") that opens thealbum refers to the plight Irish citizens faced during thedevastating great Potato Famine that struck their homelandin the 1840s. Comprised of two distinct styles—an acousticCrosby, Stills & Nash-style harmony and a more agressive rocktheme—the highly accessible tune typifies the depth and power of Celtic Fire.
Upbeat Celtic-rock numbers ("I Said No" and "Nowhere toRun") feature traditional pipe instrumentation, acoustic guitarand lovely vocal passages laced with lots of backing vocals.The richly arranged "King Of The Faries" is the group's rockingtransformation-featuring accordian—of an old Celtic reel and Irish set dance. The album's serious vocally-laced rockers ("What I Am," "Vengeance" and "I Believe") combine agressive electric guitar with vocal harmonies and traditional instrument-based solos featuring whistles, pipes, fiddles and even Jethro Tull-style flutes.
"Too Far" builds an effective blend alternating between traditional, alternative rock and reggae themes. We especially enjoyed "Silence," a ballad with Linda's soaring lead vocal sung over densely arranged traditional and electronic instrumentation with lovely backing vocal harmonies in the choruses. Rosheen's "The Answer" is a heavy rocker lushly arranged featuring accordian and fiddle. It combines modern rock sounds with stunning vocals; modern and traditional arrangements comprise a reel within the instrumental bridge.A reprise of the title track concludes the song.
You can hear soundbites from Celtic Fire's debut album, access other reviews and order the band's albums at their website.Worth a cross-country journey, this new album is absolutely a must listen!