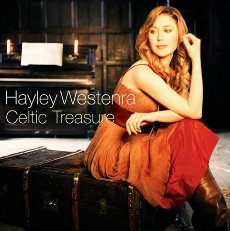 Image © Decca Music Group 2007

More Hayley Westenra:
Interview and Photos (2003)
Pure (2003)
Live From New Zealand (2005)
Odyssey (2005)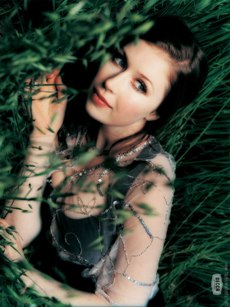 Image © Decca Music Group 2007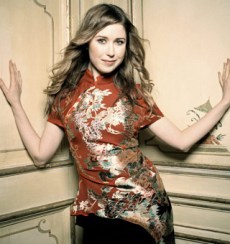 Image © Decca Music Group 2007


&nbsp
(01 July 2007) The ninteen year old New Zealand chanteuse, Hayley Westenra, has released another stellar album of traditional Irish tunes, American classics and some new compositions. Celtic Treasure, aptly recorded in Dublin, Ireland, has thirteen heavenly tracks and is being released mid-March in the US. The UK version, Treasure, was released on February 26th with a slightly different lineup and fifteen tracks. Nevertheless, Hayley's incredible and dynamic vocals step to the forefront in this dazzling array of songs.
This amazing classical crossover songstress does not disappoint as her angelic voice reaches new heights in this album. Hayley has an extensive vocal range and she can tackle any song effortlessly and superbly. She has a wonderfully maturity and richness of voice which can only be described as vocal perfection. Her past albums have already shown her great musical versatility, and her extraordinary talent continues to flourish.
According to Hayley, "I come from a musical family, and one with a real sense of history. My forefathers, who came from Ireland, were on the Midlothian's maiden voyage from England to Christchurch, New Zealand in 1851. My grandmother used to sit me on her knee and sing songs like "Danny Boy" from as early as I can remember, and each one had a fascinating story of its own. A singer herself in her earlier years, she has always been a never-ending source of songs, and she travelled round the country picking up new songs to perform. It's this legacy of music that she's been passing down to me since my childhood, and it's many of these beautiful old songs that I've explored here on my new album. But new music has to be written, new songs created, otherwise we are robbing the future of a past, and I've included on my album some new songs that I have written with people I've met on my travels around the world. I love the idea that in years to come, songs that I have sung, and maybe even some that I have helped to create, might get passed down through generations of families until they too become a part of history."
Her opening track, "Let Me Lie," is a song that Hayley co-wrote with with Sarah Class, who arranged the music for her first album, Pure. The song describes the connection we have with the earth. Hayley's soaring and stunning vocals are flawless. The music flows with wonderful richness and her Celtic roots are clearly seen in this original song. "Scarborough Fair" has a lovely, haunting melody. The orchestral instrumentals create an amazing backdrop for her beautiful singing. Her expansive talent is astonishing. Her rendition of the American folk tune, "Shenandoah," is lush and ethereal. Beautiful strings accompany Hayley's incredible singing. The feeling the listener is left with is pure bliss. "This is an American folk song that originated as a river shanty but became popular with sea-going crews around the early 1800's, and another of my Grandmother's favourites. There are literally dozens of verses, but I've chosen the ones that mean the most to me. It's great how the music evolves like this."
A haunting flute solo is the prelude to the exciting, vibrant and explosive "Summerfly." Wpnderful fiddling enhances this delightful song. Hayley said that she first heard this song a few years back and loved how it felt. After closely listening to the lyrics, "I realised it was about the feeling of being young and how summertime simply flies by all too soon." Hayley fully embraces the lyrics and the energetic melody becomes mesmerizing. The American hymn, "Whispering Hope," has a backing choir which gives the song a fresh, new sound amidst the traditional theme.
The classic "Danny Boy" is certainly a standout track. Hayley said, "There's a bit of mystery behind the origins of the song. The lyrics first appeared in print in a traditional Irish music book, however I believe it was an English/American creation. Nanna and I used to sing the song all the time. When I told her on the phone I was going to record it, she just started singing it back down the line to me." Her soothing version is stunning and simple piano accompanies her exquisite solo. The result is perfection with absolutely gorgeous soprano tones emanating from this talented artist.
Her writing efforts succeed with "Summer Rain" which she co-penned with songwriter Jeff Franzel who was in her band on a US tour. She had the idea for the song, and Jeff helped her develop it into a reality. She said, "It's a love song describing the way love can revive just like the rain on a warm day. I had the melody and had the lyrics and really wanted to take the song to completion, give a bit of structure to it. Sometimes those little details make the difference." Her distinctive vocals and the entrancing melody combine to create a winner with this contemporary song. "The Last Rose of Summer" is a tender, emotive ballad that is a traditional Irish folk song. Hayley sings it to perfection.
"One Fine Day" is from Puccini's opera "Madame Butterfly." Although the lyrics are traditionally sung in Italian, Hayley changed course and decided to present her version in English. She explained, "Long before I was old enough to go to the opera itself I had heard this version that I am performing here. It's in more of a song format, perhaps less dramatic than that performed by the divas of the time, but none the less poignant in that the story is just as gripping carried on a melody, that must rank among the greatest of the last century."She certainly does justice to this famed aria and takes a justified risk in performing this piece. Her tone is exquisite and unfaltering.
"Sonny" is another Irish folk tune where Hayley accompanies herself on the piano. It's one of her favorite songs which about a mother singing to her son saying, "Don't leave me here by myself; your father's gone away; don't leave me." Hayley's grandmother used to sing this song to her and it left a deep impression on her due to the heartbreaking lyrics. The poignant and impressive vocals continue with "The Water is Wide." Each vocal stanza crescendos as the piece progresses and Hayley's magnificent voice is beautifully showcased.
"Melancholy Interlude" is a stunning English Renaissance piece by composer John Dowland.She was so taken by the music when she first heard it played on guitar. She immediately loaded it onto her laptop. "I was in Japan at the time and it was about 2 o'clock in the morning and got so excited hearing it! I just thought, 'Wow, this has an amazing melody and would work really well as a song' so I immediately started writing lyrics to it. Maybe I should be scared that all the John Dowland fans (he has a fanatical following) are going to hunt me down!" The haunting and melancholy melody suits Hayley to a tee, highlighting her sensational voice. The final track, "Abide With Me," is very uplifting hymn and has a refined elegance. She said, "While it would appear to be quite a sombre song, it's actually a hymn which has the ability to pull you from your despair. I've recorded the first verse a cappella as I think the words deserve to be pondered upon and fully taken in."
In addition to her new album, Hayley is joining the tour of "Celtic Woman," a group made up of four Irish vocalists and an Irish fiddle player. Hayley said that she will tour with the group across America and she has already filmed a PBS television special with them. Also, Hayley continues her work with UNICEF and is one of the youngest ever Ambassadors for this wonderful organization. She is planning a second trip to Ghana and has set up "Hayley's Bikes for Ghana." This project has already provided 6,000 bikes for children in Ghana so they can attend school and find a better future. Her charitable involvements have also brought her to the Women's Environmental Network which is a group that raises awareness of environmental issues affecting women. She is fervent in her efforts to highlight the dangers of pollution, global warming and nutritional issues. On another note, she is scheduled to sing at the 2007 World Cup Finals for rugby.
Hayley Westenra's tribute to her Celtic ancestry is just wonderful. Celtic Treasure is even more special since these tunes were chosen especially by Hayley and have personal meaning to her. Her voice is glorious and she continues to improve and impress with age. Her striking beauty and incredible vocal talent are beyond words.

But, simply said, Hayley Westenra is a singing sensation. Her crystalline voice is pure ecstacy and the world is truly blessed to enjoy her astonishing and breathtaking talent.