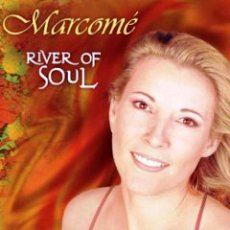 Image © Marcomé 2007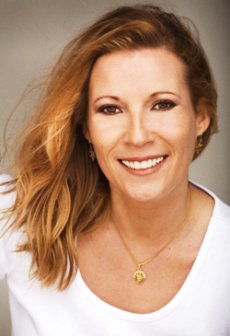 Image © Marcomé 2007


&nbsp
(26 January 2007) Multi-talented Canadian-born musical artist Marcomé (pronounced Marcomay) has re-released her second album, River of Soul (Marco Productions / Prao Publishing (Canada) PRAOCD02, 2007). The album is a mélange of new world beat, latin, African, middle-far-eastern, jazz, African and Arabic rhythms combined with spirited, lovingly executed, enchanting, vocal stylings. Marcomé carefully fuses different world music influences with jazz style and classical vocals creating a new world music genre. She has an intriguing wordless language that heightens the imagery of a place filled with spirituality, imagination, sensitivity and a sense of dream-like wonder.
In addition to being a keyboardist, programmer and sound engineer as well as a proficient percussionist, Marcomé produces, arranges and engineers her musical work. After completing her post-graduate studies in commerce and communications, she worked in theatre, in both music composition and sound creation. She then entered into the music industry. This background is the source of both her musical inspiration and artistic sense, and her industry collaborations include work with such artists as Diana Krall, Cecilia Bartoli, Le Cirque du Soleil, Branford Marsalis, Sir George Martin, Tom Waits, Daniel Lanois, Pat Metheny and Yes.
There is a purity and wonderful clarity in Marcomé's exquisite vocals. The amalgamation of varied sounds creates an ethereal feel to her creations. Her debut album, Seven Seas, was released in 1995. She began writing new compositions for River of Soul album in 1998 for this 2007 release. Marcomé has once again partnered with Michel Robidoux, who also adds his exquisite guitar playing, enhancing certain tracks with colorful warmth and impeccable taste. Michel Dupire's sophisticated percussion also adds a distinctive touch to Marcomé's sound. Lastly, Marcomé also had the pleasure of adding Martin Lord Ferguson to the team. Martin produced and arranged Cirque du Soleil's "KÀ" (2005).
Marcomé is a vocal stylist with a pure and strong voice. By layering her vocal tracks and by understanding the subtle use of space, reverb and time delay, she has been able to create an ethereal voice - an instrument in itself. Marcomé also creates her own languages by using various poetic devices. From this she gets a new and fresh vocal and musical sound. Since her first album, she has matured and evolved both emotionally and spiritually.
Marcomé's sublime vocals are showcased in this cavalcade of sound ecstasy. The journey begins with "Dawn's Spirit," bringing an exotic, dreamy quality to mind. The imagery of the sun rising is beautifully captured in the wonderful music. Marcomé's music has a similar intensity and aura as that of Enya. "River of Life" evokes a flow of energy and emotions. She says, "Come and run in the river, Let the waters rejoice in your life," and this song is certainly emotionally upbeat.
There is an alluring and mysterious sound to "Arabica." She speaks of Scheherazade and one can imagine being surrounded by the sandy desert, with tent flaps waving in the breeze. The Middle Eastern tones are perfectly captured, whisking you away to an exotic destination. She changes pace with her examination of darkness, pain, fear and solitude in "Locked Inside." Marcomé's luxuriant tones help to depict that strenth of character comes from working through the emotional pains.
One of the standout tracks on this album is called "World is Singing." The African influences create an earthiness of this uplifting song. Marcomé depicts a musical lushness telling everyone to raise their voice and join the chorus in unity as the world needs voices. The ethereal "Meteora" employs the wonderful poetic imaginitive language in a flowing, esoteric style. She carries through with alluring imagery in the vivid "Tupitera." It's back to Africa for the hypnotically percussive "Terra Africana."
"Learning to Fly" has a wonderful harmonic feel as you're advised to pick yourself up, dust yourself off and get off the ground, dancin' the night away. "Elated" has a soothing and relaxing melody with a very sumptuous feel. The final track is "Nostrie Tiempo" with its soaring and exquisite vocals. This moving song represents a celebration of spirit, freeing the body, freeing the spirit, allowing one to move in the circle of the sacred ritual of the River of Soul. The sound mesmerizes and Marcomé's magnificent vocalese is full of fascination and charisma.
The depth of quality in River of Soul is exceptional. Marcomé presents her craft expertly

and enthralls the listener from stem to stern. She does not fail in capturing the sublime in this brilliant musical tapestry. One experiences an intimate journey that personifies the majestic spirit of life.--Audrey Elliot in New York